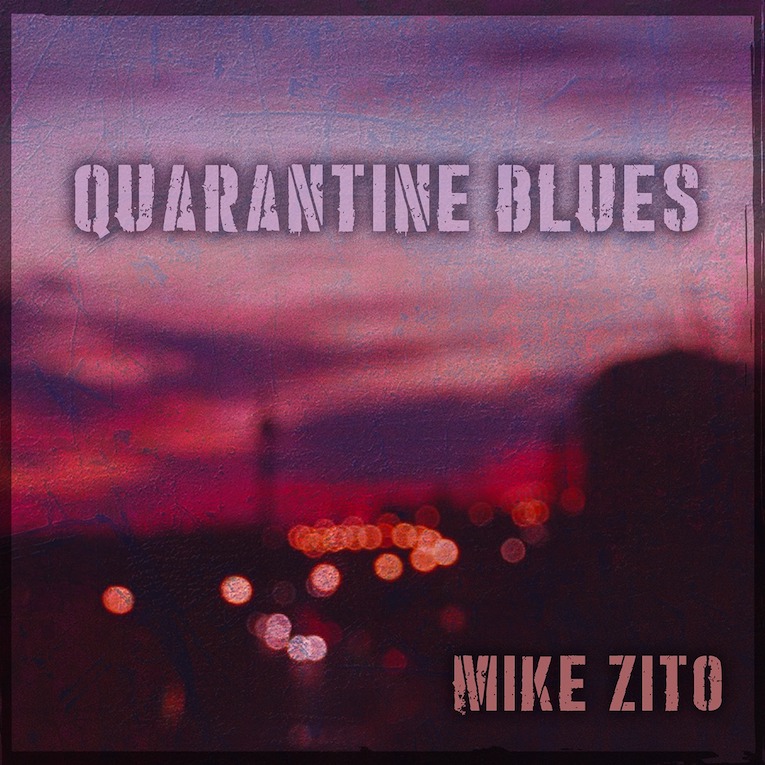 By Mike O'Cull
Blues/rock guitar man and all-around cool guy Mike Zito has made the best of a bad situation by releasing a hot new album called Quarantine Blues. The record dropped March 28th, 2020 on Gulf Coast Records after being written, recorded, and mixed over the last two weeks while Zito and his band were in quarantine after returning home from Europe after all of his gigs were canceled due to the COVID-19 pandemic currently disrupting the entire world. The album is a free release done especially for Zito's legion of loyal fans. It was also a challenging distraction for Zito and company to let them concentrate on taking positive action in the middle of a huge negative occurrence. His fans responded by supporting his GoFundMe campaign from around the globe and showing much love for the man and his music.
"I followed no rules, I wrote what I was feeling regardless of style or genre and used my feelings of fear, hope, love, and rebelliousness to fuel my creativity," says Zito. He collaborated on tracks with rock legend Tracii Guns (L.A. Guns, Guns N' Roses) and his label mate Guy Hale for this new set as well as revisiting a song from his Royal Southern Brotherhood days called "Hurts My Heart." In short, he did what felt right and let these sessions become whatever they were meant to be. The result of this burst of musical effort is an 11-song record that is perfectly in and of its time. Zito is one of the preeminent roots musicians of modern days and every bit of his firepower is in full effect on each of these cuts.
The aptly-titled "Don't Let The World Get You Down" opens things up with a strong rock groove and much lyrical wisdom. The song drives like a later-period Bruce Springsteen populist anthem and speaks to the blue-collar DNA present in the American people. A short, melodic guitar solo bridges the vocal sections, which remind all who listen that these hard times will surely pass. It's a song that will touch the heart of anyone who came up on American rock and roll.
"Don't Touch Me" is Zito's collaboration with Tracii Guns and the song drives harder due to Guns' Hollywood glam metal sensibilities and guitar style. Again, Zito's vocals exhort listeners to "stand back, stand strong" in the face of adversity while still expressing the alienation of seeing a world of ghost towns. The title, alone, makes it a necessary part of any social distancing soundtrack and its edgy rhythm guitars and abrupt ending are pure rock and roll.
Zito's title track, "Quarantine Blues," is overrun with his dirty-toned slide guitar work and lyrically keys in on the kind of blues one gets in these unique times. "I can't touch my woman, I can't sleep in my bed," he wails, tapping into the feelings of social isolation so many people are experiencing for the first time right now. The song is all guitar, drums, and field holler vocals and this minimalistic approach pays off in a major way, making it up-close and personal. Zito's guitar tone is to die for, as well, and he works it for all that it's worth.
"Dust Up" is hard-edged and soulful in an early ZZ Top kind of way and will undoubtedly lead to many a blown speaker. The drums punch and Zito rips guitar licks above them like a house on fire. His end solo breaks from the Texas rock template and gets a little outside in a most beautiful way and inserts a lot of personality into this straight-ahead cut.
Zito's "After The Storm" relates the frustration of being on a successful tour and then seeing the world shut its doors. Still, it's ultimately a song of resilience and of the hope of getting back to business once this is all over. It's a chugging mid-tempo blast of rock encouragement that's heartfelt and genuine.
Quarantine Blues is an excellent record from wall to wall and knowing that it was written and tracked in only 14 days makes it even more impressive. Zito is very much at the peak of his powers, pandemic or not, and his performances speak for themselves quite eloquently. These are some of the best songs of his career and are not to be missed. Turn this set up loud and it will keep your soul alive.

For more information on Mike Zito and Quarantine Blues:
Quarantine Blues is free. See SoundCloud Link here.