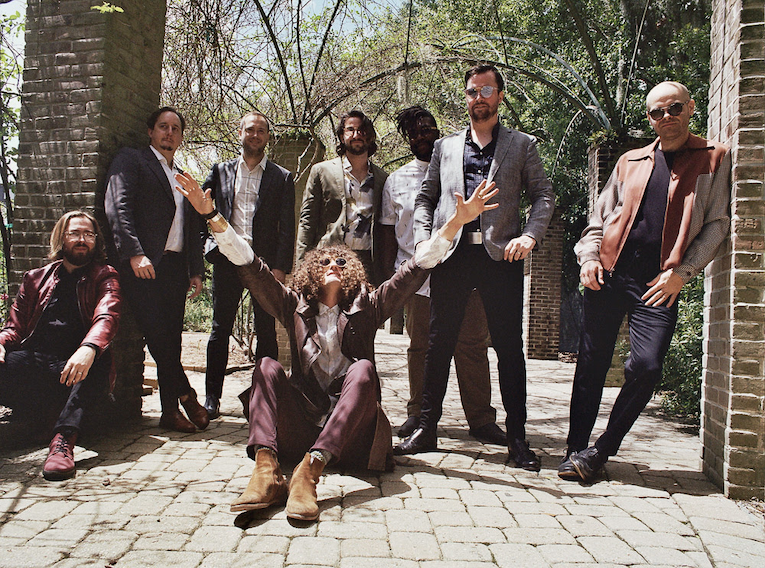 Chart-topping rock band, The Revivalists, are raising spirits with the release of their live studio video for "You and I (Made In Muscle Shoals)." The fan-favorite song was re-imagined for the band's recent Made In Muscle Shoals EP after first appearing on Take Good Care (Loma Vista Recordings) – a treat for fans who have been hearing the song live for years.
Recorded and filmed at the legendary FAME Recording Studio in Muscle Shoals, Alabama, the new version of "You and I" propels front man David Shaw's incredible, instantly recognizable vocals forward as the band create a new groovy take on the track. "We had no preconceived notion about how we wanted the songs to change before going into FAME Studios. We really wanted the vibe of the room to guide us to that place. 'You and I' really took its shape once Zack landed on that new riff you hear in the beginning," shares Shaw.
Watch 'You And I (Made In Muscle Shoals)'

At the top of the year, The Revivalists surprised fans with their live studio EP, Made In Muscle Shoals, which features brilliant re-imaginings of the band's hit singles "Oh No," "Change," and "All My Friends" from their latest studio album, Take Good Care, a soulful rendition of The Bee Gees' "To Love Somebody," a gorgeous stripped down piano-and-vocal take of their platinum-selling hit "Wish I Knew You," and brand new song "Bitter End."
The band also released an accompanying documentary which was recorded and filmed at the legendary FAME Recording Studio in Muscle Shoals, Alabama and directed by Jay Sansone of Human Being Media. Capturing the essence of the band at this exciting time in their 10-year journey, the documentary gives the deepest insight yet into what makes the band tick against the backdrop of Muscle Shoals, a location steeped in the many classic styles of American music that informs the New Orleans-based band's signature sound. Press here to watch the documentary and press here to stream/download the EP.
Due to CDC guidelines and in compliance with local, state and federal government mandates regarding COVID-19, select dates on The Revivalists' Into The Stars Tour have been rescheduled. Please visit www.therevivalists.com for more information.
Praise for The Revivalists
"The Revivalists' sound covers a lot of ground and harkens back to many of their diverse influences…but they are constantly moving forward." – Grammy.com
"The Revivalists have a great vibe…good old-fashioned rock and roll…" – Variety
"The Revivalists are enjoying their 'overnight success' ten years in…" – Forbes
"… a creative, compelling blend of musical ingenuity and heart…" – Billboard
"A high energy, seamless blend of soulful, horn-abetted rock and roll…inching closer to pop superstardom…" – Relix
About The Revivalists
The Revivalists had been grinding for 10 years when their now platinum-selling single "Wish I Knew You" took off. Amassing more than 410 million total streams, the band has performed on numerous television shows including The Late Show with Stephen Colbert , Jimmy Kimmel LIVE!, Ellen, TODAY, and Austin City Limits, and have garnered major media attention from the likes of Rolling Stone, NPR, Billboard, Buzzfeed, Entertainment Weekly, USA Today, Forbes, Salon, HuffPost, Grammy.com, Alternative Press, Paste, UPROXX, Flaunt, Nylon, No Depression, and more for their "creative, compelling blend of musical ingenuity and heart" (Billboard) and their distinct mix of "just about every classic school of American music" (UPROXX).
Variety praised the band as "good old-fashioned rock and roll" while Rolling Stone lauded them as an "Artist You Need To Know" and Boston Herald called them "budding superstars." They were nominated for a Billboard Music Award and two iHeartRadio Music Awards, were named Billboard's Top New Rock Artist of 2017, and have three years of back-to-back sold out headline tours in their biggest venues to date. The Revivalists are: David Shaw [lead vocals, guitar], Zack Feinberg [guitar], Andrew Campanelli [drums], George Gekas [bass], Ed Williams [pedal steel guitar], Rob Ingraham [saxophone], Michael Girardot [keyboard, trumpet], and PJ Howard [drums, percussion].
The Revivalists Online 
Website
Facebook
Twitter/Instagram: @TheRevivalists