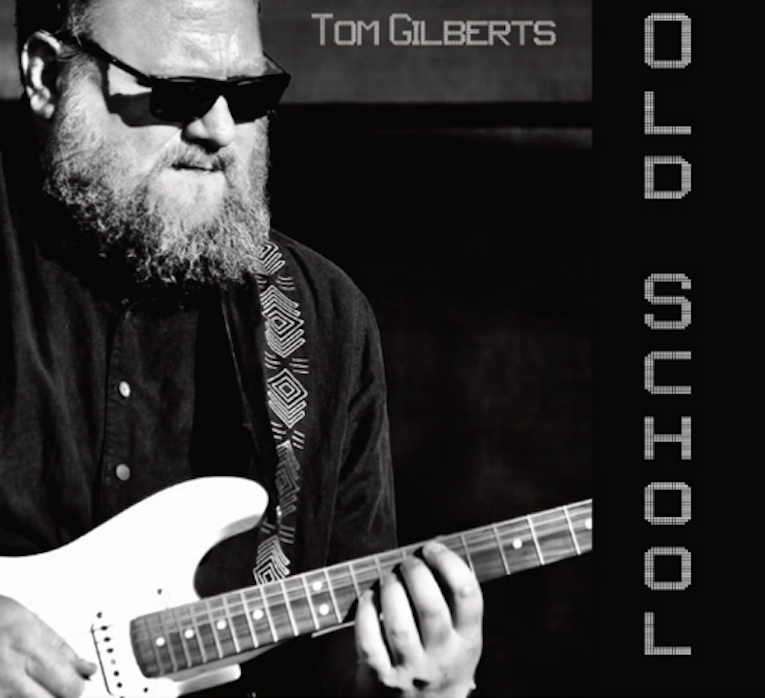 By Martine Ehrenclou
Be prepared to be blown away by masterful guitarist, singer songwriter Tom Gilberts' Old School, an all-original 12-track album of contemporary blues, roots and rock. Out April 17, 2020 on Polymerase Records, it was produced by the legendary guitar virtuoso Terry Robb.
This is what I hear on Old School: soulful, beautiful melodies and songs, a guitar maestro who has blues, rock and roots music running through his veins, and an expert trio. Gilberts is so immersed in these 12 tracks, that you'd be hard pressed to separate the man from his guitar playing, and performing with his tremendous musicians–drummer Brian Foxworth and bass player Dave Captein. Trios have to have it down and Gilberts' trio does, and then some.
All about expressive phrasing and tone, Tom Gilberts is one of the best guitar players I've heard. Old School, Gilberts' follow up to his 2018 release, Grit, is a joy to listen to, start to finish. This is not in-your-face blues, roots, and rock music. This is a musical feast for those who truly appreciate melodic tracks with a trio of musicians that sound so fresh, yet deeply seasoned.
Old School is for a Sunday afternoon, lying on your couch, your headphones on or speakers turned up, and your focus on the album and nothing else. That kind of focused listening might be old school but the album is not. It's pristine, with outstanding songs, killer and soulful guitar playing. Gilberts' guitar speaks to you not by banging you over the head with a 1000 notes but with beautiful tone and feel with space between the notes.
Who can get away with opening a record with a slow blues tune? Tom Gilberts does and he pulls it off with "Lady Luck" and his stunning guitar. Gilberts' vocals have lovely tone and deep-seated soul that complement the tune but don't override it. It's a laid back track in theory but nothing about it is laid back except the tempo. Using different textures and tones, Gilberts conveys such emotion through his guitar–his playing is a master lesson in contemporary blues. Let's not forget about the lyrics—plenty of bluesmen have written songs about luck or the lack of it, but this songwriter does it with novel phrasing and verse.
"Sun Vibe" is a beautiful roots-rock instrumental with melodic guitar, that to my ears, puts Gilberts right up with some of the current greats. Put those headphones on for this—it's a knockout song with artful drumming and bass from Foxworth and Captein. You can hear that Gilberts is at one with the music. Each time I listened to it, I had to look at the time when it ended—at 4 minutes it was too short.
This is a musician with confidence from years of dedication to his craft. There's zero showing off on this album—this trio is locked down tight—and I'd be willing to bet that the songs were created out of sheer love of the music.
On an album of standouts, "Dark Clouds" is one of my favorites. Opening with expert drumming, the acoustic guitar floats in, followed by an overlay of more acoustic guitar. Absolutely beautiful roots-rock. With a jazzy feel, Gilberts' playing is soulful, moving, transcendent. You can't beat hearing the spirit of the musician in a song that's performed with such skill.
There's more versions of blues and rock genres to be savored on Old School, including "My Paper Bag". With a Texas blues rock feel, this instrumental has great groove. "You Missed Me," about a relationship gone wrong but the object of affection returns, also has great groove plus interesting, jazzy chord changes. Gilberts' voice has shades of older, bluesy Steve Miller on this one. In keeping with the rest of the album, his guitar tone and phrasing are again, stunning. But this is what you get with Tom Gilberts.
Closing the album is a bang-up rock tune, "The Fuzz" and you guessed it, the guitar has fuzz distortion—think Hendrix. What a way to end a record with a song like this—a gritty rocker with some kind of rhythm. Gilberts, Foxworth and Captein just kill it.
Highly recommended. Old School is going in my permanent collection.
Listen to "Dark Cloud"

To sample more of Gilbert's music see here.
Tom Gilberts Online