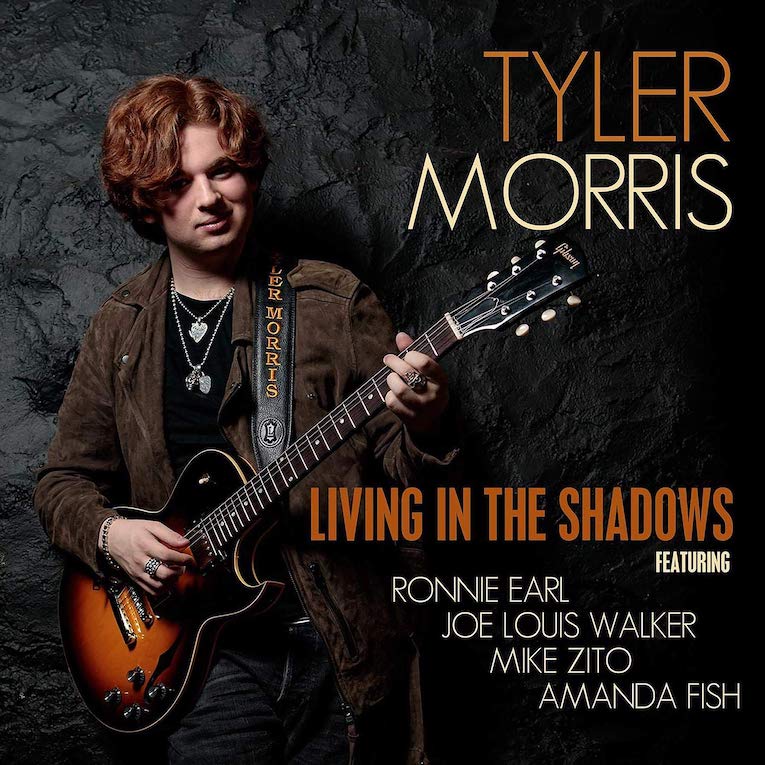 By Mike O'Cull
Up-and-coming guitar hero Tyler Morris continues building his legend with a brand new full-length release, Living In The Shadows, that hits the streets April 17th, 2020 thanks to the VizzTone Label Group. This is Tyler's fourth album and second for VizzTone and it's clear that the young guitarist is growing beyond all expectations. Produced by Mike Zito (Royal Southern Brotherhood, Mike Zito Band), Living In The Shadows contains a boatload of Morris' always-fired-up guitar work and his first go-round handling the majority of the lead vocals. That fact, alone, makes it a milestone record and Morris makes a fine showing on the microphone. Amanda Fish, Ronnie Earl, Joe Louis Walker and Mike Zito make guest appearances but this new set is very much Tyler's time to shine.
Morris got an early start on building a life in the blues, making his debut at the invitation of B.B. King's Blues Club musical director Gary King at just 11 years old. He has since gone on to become an excellent player, songwriter, and live performer and has played with notable musicians including Sammy Hagar, Steve Vai, Walter Trout, Christone "Kingfish" Ingram, Ronnie Earl, Yngwie Malmsteen, Leslie West, Robben Ford, Ronnie Montrose, and more. Morris is also an electrical engineer and has designed audio effects for the likes of Joe Bonamassa, Conan O'Brien, Brad Whitford (Aerosmith), Elliot Easton (The Cars), Brian May (Queen), and Warren Haynes. He's an emerging Renaissance Man who seems to have the magic touch with anything he does.
Living In The Shadows kicks off with the energetic rocker "Movin' On," a straight-up blues/rock burner with a driving groove. Morris hits the vocal mic with confidence and then launches into the kind of hard-edged classic rock guitar playing that's going to carry his name around the world. He plays and writes with the clarity, inventiveness, and power of blues/rock masters like Bonamassa, Billy Gibbons, and Pat Travers but also maintains his own individual vocabulary and attitude, just like those guys did.
"Everybody Wants To Go To Heaven" finds Morris dialing back the rock a bit and digging deeply into the blues. The track is a mid-tempo shuffle done with a laid-back vibe that allows Morris to display his phrasing ability. He plays his cards close to the vest, executing nicely-developed musical ideas rather than racing around the strings and he wears his old-school influences proudly. Tyler also does an outstanding job on Tony Joe White's eternally brilliant "Polk Salad Annie." The band rocks the swampy pocket just right and Morris puts on another phrasing clinic on both lead and rhythm.
The title track "Living In The Shadows" exists in the same wide-open space as ZZ Top's "Just Got Paid." Morris builds his solos well, continually raises the intensity, and never runs out of new things to play. Amanda Fish takes over the vocal spot on the rocked-out "Better Than You" and makes the most of the song's early-70s Stones energy. It's one of the electric guitar and piano tracks that sounds amazing coming out of a car stereo and will light up everyone in its vicinity. Every song here is worth your while but deep cuts like "Nine To Five" and "Young Man's Blues" are extra-special.
Tyler Morris is someone guitar fans need to get on their screens, as he has his entire career ahead of him. At only 21 years old, he shows the maturity and mojo of a veteran road dog and has the potential to grow himself into an otherworldly talent. Expect to hear his name a lot in the next decade. He's going to have a big impact on the future of the blues. Spin Living In The Shadows a few times and you'll know this to be true.