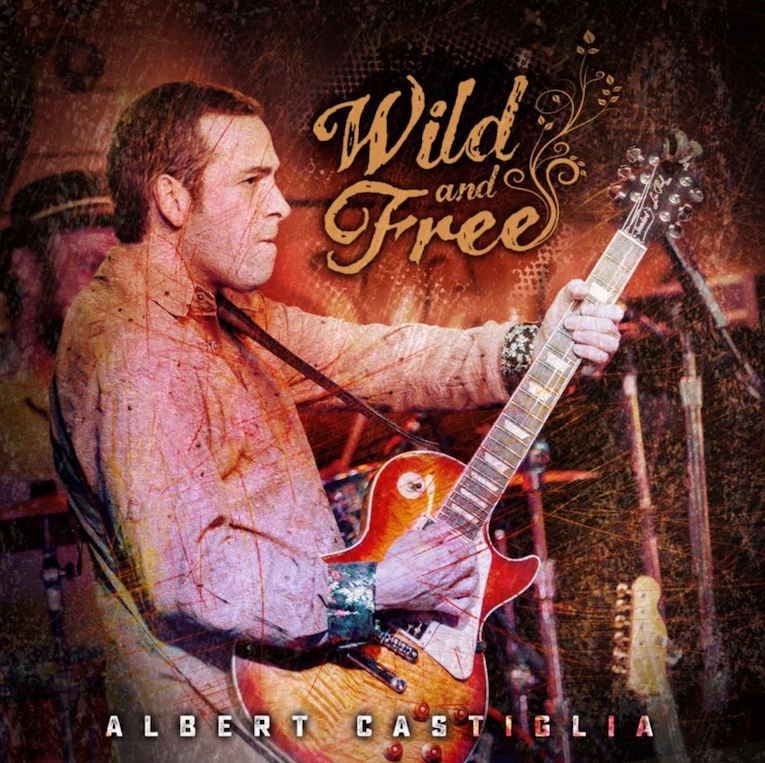 By Mike O'Cull
Florida blues/rock guitar slinger and 2020 Blues Music Awards nominee Albert Castiglia goes on the attack with a brand new live album, Wild and Free, that comes out April 3rd, 2020 on Gulf Coast Records. The set features Castiglia, his amazing band, and special guests Mike Zito, John Ginty, and Lewis Stephens raising the roof for an enthusiastic crowd at The Funky Biscuit in Boca Raton, Florida. The songs are cool, the playing is hot, and Castiglia comes off like a boss, fronting the band and effortlessly dealing out some of the mightiest guitar performances of his career. Like all great musicians, he hits his highest gear in front of an audience and these recordings do much to demonstrate why his stock in the music business is rapidly rising.
Albert Castiglia was jumped into the blues game by serving as a side player for Chicago harp legend Junior Wells. This was his apprenticeship in and introduction to playing blues music at its highest level. His years as a solo artist have produced nine extremely well-received albums as well as a metric ton of great press for his incendiary live shows, confident vocals, and fretboard prowess. Castiglia is a volcanic guitarist with chops to spare and a fast right hand who can stand shoulder-to-shoulder with any star players of the past or present. He has a bright future in front of him and is one big break away from breathing the rarified air at the top of the blues/rock world.
Castiglia goes hard from the outset, launching this party with the tougher-than-leather "Big Dog." His rock and roll influence immediately comes to the fore. Castiglia plays aggressively but intersperses his flurries of notes with sweet, soulful bends that display his blues credentials. This is post-Hendrix, post-SRV, and post-Bonamassa modern blues/rock that makes no apologies about its revved-up approach and shouldn't have to. His gruff and to-the-point lead vocals fit his style perfectly and advise those assembled to "let the big dog eat."
"Hoodoo On Me" follows, grafting a heavy Zeppelin-ish riff to a swinging rock pocket and giving Castiglia all the space he needs to get all the way down. It's a song about an evil, witchy woman who put a whole bunch of bad juju on him, going so far as to "burn up my best set of drawers." He goes even harder on guitar here, injecting speed picking and chromatic tension that help to create a manic, unpredictable energy that's tough to resist. "I Been Up All Night" is funky and full of sand. It's a gritty rhythmic workout that shows Castiglia's depth as a guitarist and his wah-pedal expertise.
Castiglia's slide gets into the mix on "Get Your Ass In The Van," ripping licks like an over-stimulated Elmore James. This is bare-knuckle blues at its best. The lyrics push the band members to "get your ass in the van, play some blues, and hit the road" while Albert's distorted guitar tone pours jet fuel all over the stage. "Keep On Swinging" downshifts a bit but is still a heavy-duty hip shaker. He keeps the energy high in everything he does in the same manner as the late Gary Moore did, which makes every inch of Wild and Free a stone gas for guitar fans. Deep cuts that aren't to be missed include "Too Much Seconal," and the pumped-up "I Tried To Tell Ya."
Castiglia more than proves his point with this record, showing his dominance as a player and live performer. Those who have followed him all along know just how good he is but a whole lot more people still need to find out. Wild and Free should do the trick.
Listen to "Let The Big Dog Eat" Thanks to Don Odell for the video. 

Albert Castiglia Online