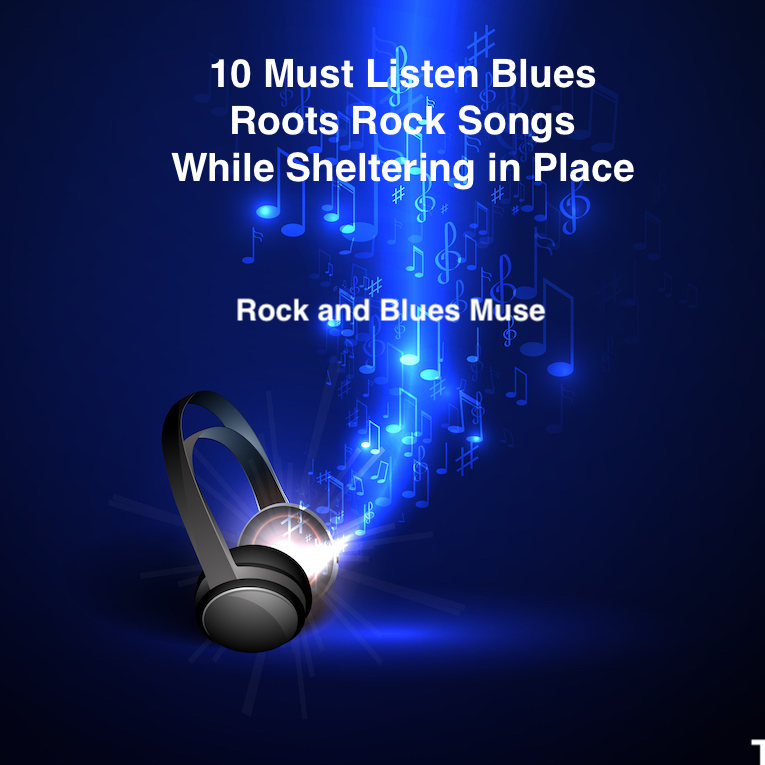 By Martine Ehrenclou
With the coronavirus (COVID-19) shelter-in-place orders, we are all starting to go a bit stir crazy with the confinement. Feeling a little blue? Here's an antidote. Enjoy some feel-good blues, roots and rock music to lift your mood.
I chose music that's more soothing, beautiful musically, or simply up-tempo that feels easy on the ears. You won't hear psychedelic rock guitar solos, metal, or in-your-face rock. These are some of my favorite artists too, some with new albums. I still want to support live music when it returns to venues and that means featuring currently performing and recording artists. I believe without question that live music will return in full force. We'll all be so excited to see our favorite artists live, that I'll bet that concerts and shows in local clubs will be jam packed with people.
This is feel-good music that people have responded to and that also makes me more uplifted and at peace. I hope you feel the same.
Perhaps we can all contribute to this. Please add your artist's name and song in the comments below and I will create an ongoing playlist of feel good music that you can access on Spotify or YouTube.
We can create this together. We are after all, in this shelter-in-place together. Stay safe and healthy and hang in there.
Music heals.
Josh Smith, Kirk Fletcher, Joe Bonamassa "Crosscut Saw"
Many thanks to Natasha at 1anitrasdance on YouTube for the expertly shot video.
Some of the best guitar playing around by these three virtuoso guitarists who are considered some of the best in the world. And this has such a fun, great groove. Josh Smith's latest album is Live At The Spud, Kirk Fletcher's latest album is Hold On and Joe Bonamassa's latest solo album is Live At The Sydney Opera House  All albums have active links to the artists' websites.


Grace Potter "Every Heartbeat"
Singer, songwriter, guitarist, multi-instrumentalist Grace Potter formed Grace Potter and the Nocturnals in 2002. After parting ways, she released her solo album Midnight in 2015. This tune is off her latest album, Daylight, released in 2019. She has collaborated with country music star Kenny Chesney and she received her first Grammy nomination for Best Country Duo.
Website


Larkin Poe "She's A Self-Made Man"
This track is the second song off Larkin Poe's upcoming album, Self Made Man out June 12th. Grammy nominees, Rebecca and Megan Lovell are singer/songwriter, multi-instrumentalist sisters who have created their own brand of roots rock and roll. Gritty, soulful and flavored with their Southern heritage.
Website 


Tom Gilberts "Lady Luck"
This is from masterful blues guitarist, singer, songwriter, Tom Gilberts' new album, Old School out April 17th. An all original 12 track album of contemporary blues, roots and rock, this musician has blues running through his veins. His guitar playing is tone, feel and just beautiful.
Website


Keb' Mo' "America The Beautiful"
Five-time Grammy Award winner and legendary bluesman, Keb' Mo' is a singer, guitarist, songwriter and producer living in Nashville. He is known as a modern master of American roots music through his understated excellence in his live and studio performances. This tune is off his album, Big Wide Grin. With 14 albums, 12 Grammy nominations, 11 Blues Foundation Awards, six BMI awards, his most recent albums are Moonlight, Mistletoe & You and Oklahoma, and the latter earned a Grammy nomination.
Website 


Beth Hart "Bad Woman Blues"
Grammy nominee, singer, songwriter, multi-instrumentalist Beth Hart is known for her expressive, passionate vocals and hit solo albums, collaborations with Joe Bonamassa, Jeff Beck, Slash and Buddy Guy. This song is from her latest album, War In My Mind and it's a fun rocker with groove.
Website 


The Revivalists "You And I (Made In Muscle Shoals)"
The Revivalists are raising spirits with the release of their live studio EP, Made in Muscle Shoals, and this song is no different. The band has been featured on The Late Show with Stephen Colbert, Jimmy Kimmel Live!, Ellen, Today, and Austin City Limits. They've garnered media attention for their compelling blend of good old fashioned rock and roll with heart.
Website 


Tedeschi Trucks Band "Midnight in Harlem"
Mutli Grammy Award winners, Tedeschi Trucks Band is blues rock roots band led by singer/guitarist, songwriter Susan Tedeschi and guitarist Derek Trucks. The song is off their Revelator album. Beloved by millions of fans for their meaningful songs, extraordinary musicianship, and Susan's soulful, beautiful vocals.
Website 


Christone "Kingfish" Ingram, "Hard Times (Shelter-At-Home Mix)"
Critically acclaimed bluesman, Christone "Kingfish" Ingram shares his acoustic video, "Hard Times (Shelter-At-Home Mix)" from his home. He shares some photos and short video of fans who sent him the items to show what they've been doing while also sheltering at home. His debut album Kingfish was nominated for a Grammy. Christone says, "In moments like we're all living in, I think music can help people better understand things and ultimately get through the 'Hard Times.'
Website 


Mike Zito "Quarantine Blues"
Blues/rock guitarist, singer-songwriter, producer, Mike Zito made the best of a bad situation after he and his band were in quarantine after all his European gigs were cancelled due to the coronavirus and recorded a new album, Quarantine Blues in two weeks. He collaborated on tracks with rock legend Tracii Guns and his label mate Guy Hale. With wise lyrics and a rock groove, Mike Zito's song touches the heart of everyone who loves rock and roll.
Website