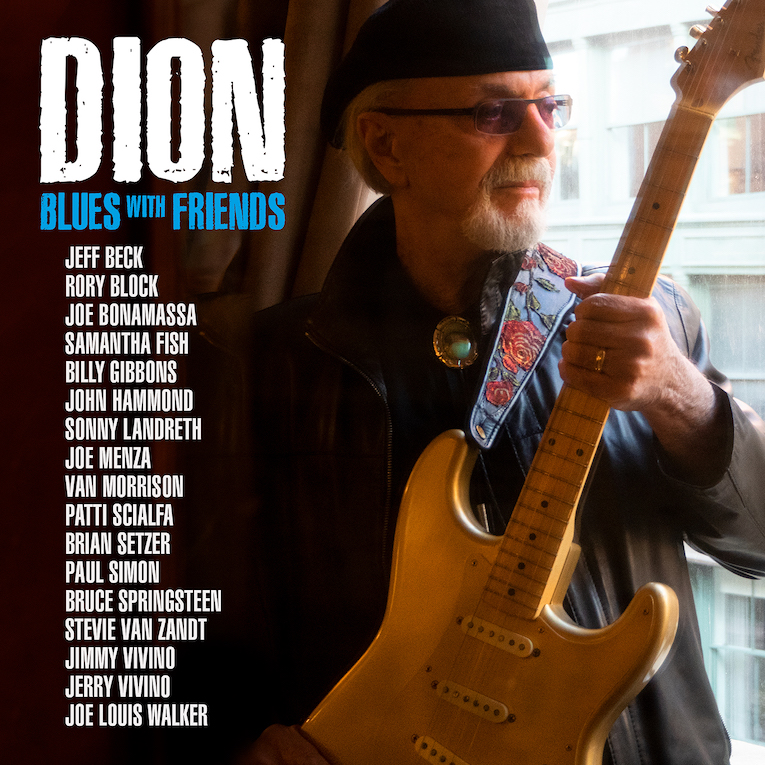 Dion announces Blues With Friends, CD out June 5th  via Keeping The Blues Alive Records. The album features the contemporary scene's blues/roots guitar slingers Jeff Beck, Billy Gibbons, Joe Bonamassa, Samantha Fish, John Hammond Jr, Sonny Landreth, Jerry and Jimmy Vivino, Joe Louis Walker, vintage guitar guru Joe Menza, as well as icons Brian Setzer, Stevie Van Zandt, Bruce Springsteen, Van Morrison, and Paul Simon.
The first single "Blues Comin' On" with Joe Bonamassa is available today to stream and download Here.
"Dion knows how to sing, and he knows just the right way to craft these songs, these blues songs. He's got some friends here to help him out, some true luminaries. But in the end, it's Dion by himself alone, and that masterful voice of his that will you returning to share these blues songs with him," Bob Dylan, from liner notes for Blues With Friends.
Dion's Blues With Friends represents a lifelong vision. Dion explains, "I wanted an album of songs that were strong and memorable and told stories that were worth telling." His songwriting efforts were supported by a cadre of great players, each of whom jumped at the chance to collaborate with the music legend they think of in heroic terms.
Listen to "Blues Comin' On"

Blues With Friends is available for pre-order at KTBArecords.com
Stream "Blues Comin' On" Here
Dion is quick to point out how enduring this creative relationship has been. "The blues have been at the heart of my music since the early 1960s. 'The Wanderer' is a twelve-bar blues and I was covering Willie Dixon and Jimmy Reed in my early years at Columbia—much to the dismay of my corporate masters." That's the way it's been for the man Lou Reed inducted into the Rock and Roll Hall of Fame more than thirty years ago. That night, Lou Reed said, "And then there is Dion—whose voice is unlike any other I had heard before—a voice that stood on its own, remarkable and unmistakably from New York. Bronx soul. "
As one of the first generation rock n' rollers still seriously pursuing new avenues of expression, Dion's Bronx soul is very much evidenced on this new album, a full-tilt blues offering. These are blues originals, destined to become classics in their own right. He came up with music and words for 12 of them and finished those with co-writer Mike Aquilina. The other two are "Hymn To Him, " which Dion wrote with Bill Tuohy and "Kickin' Child" written with Buddy Lucas.
Produced by Wayne Hood, Blues With Friends will be released through Keeping The Blues Alive Records, a new label started by Joe Bonamassa and his manager Roy Weisman and is an offshoot of Keeping The Blues Alive Foundation, Bonamassa's non-profit that aims to conserve the art of music and the rich culture and history of the blues.
For more information on Dion's Blues With Friends