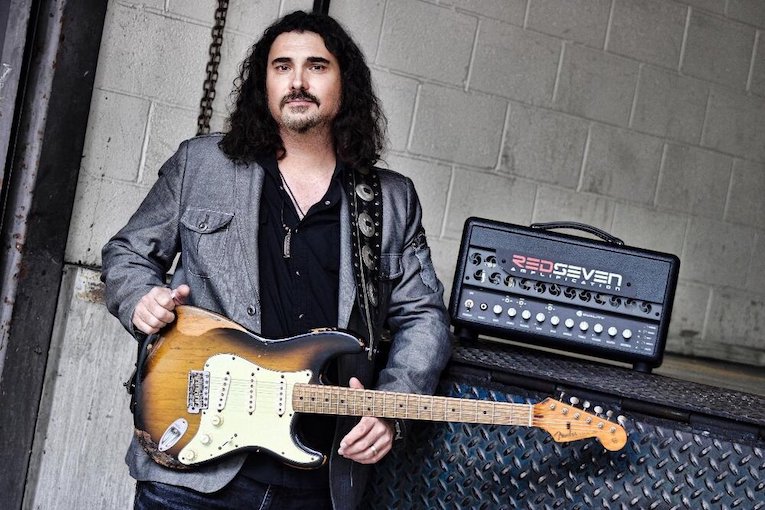 We are excited to premiere the video for "Rain Stomp" by blues/rockin' guitarist, singer/songwriter Alastair Greene, a song from his Live From The 805, a stellar live album with 20 live-wire tracks, released by Rip Cat Records.
Written by Alastair Greene, "Rain Stomp," is a rootsy blues-rock number featuring his masterful slide guitar and soulful, distinctive rock vocals. Just listen to his slide guitar solo and you can't help but be impressed with this talented musician and band. The power trio includes Greene on guitar and lead vocals, Jim Rankin on bass and harmony vocals, and Austin Beede on drums.
Alastair says, "Rain Stomp is a song I wrote during one of the really bad droughts here in California. I really dig how the video came out! We included some footage from our soundcheck for the show that we recorded audio and video for that ended up being the Live From The 805 record."
Live From the 805 is a powerful 20-song set, recorded in front of a sold out hometown crowd in Santa Barbara, CA. The album celebrates 20 years of Greene's blues rock power trio with original songs drawn from five of his studio records and a few choice covers. The album was chosen as one of Rock and Blues Muse' Top 20 Blues, Rock, Roots Albums of 2018
In fact Alastair Greene has been one of our favorite guitarists, singer-songwriters and we've suspected for a while now that he's headed for the top.
Watch "Rain Stomp"

Known as a rocking guitarist with strong roots in the blues, Alastair Greene has released eight previous records. In addition to many years with his own band, he toured internationally for seven years with rock legend, Alan Parsons, and spent the past year as guitarist in the Sugaray Rayford Band, for which he received a Blues Music Award nomination with Rayford for "Band of the Year." Greene also opened as "Special Guest" for John Mayall's show in Southern CA in late January 2020.
Snapped up by Tab Benoit and his Whiskey Bayou Records, Alastair Greene will be releasing a new all-original record sometime in 2020. Greene joined Benoit on the recent Legendary Rhythm and Blues Cruise to the Mexican Riviera and the two got to know each other on a couple of annual gigs at 'The Big Blues Bender.' Recording his original songs at Whiskey Bayou Studios in Louisiana, Greene and Benoit co-wrote, arranged and produced the 11 original songs. They recorded most of the tracks live in Benoit's studio with Greene on guitar and vocals, Benoit on drums, and Corey Duplechin on bass and vocals. Greene says that the songs reflect more straight-up blues than the last couple of records, while the songwriting stretches to different territories—blues rock filtered through a funky Louisiana rhythm section.
In the meantime, since touring has been halted due to the COVID -19 pandemic, you can catch Alastair Greene in his live stream 'Throwdown Thursdays', 1pm Pacific, 4pm Eastern on his Facebook page.
Also on your watchlist should be, Alastair Greene on Tab Benoit's 'Whiskey Bayou Wednesday's live streaming on Tab's Facebook page. 
Alastair Greene Online