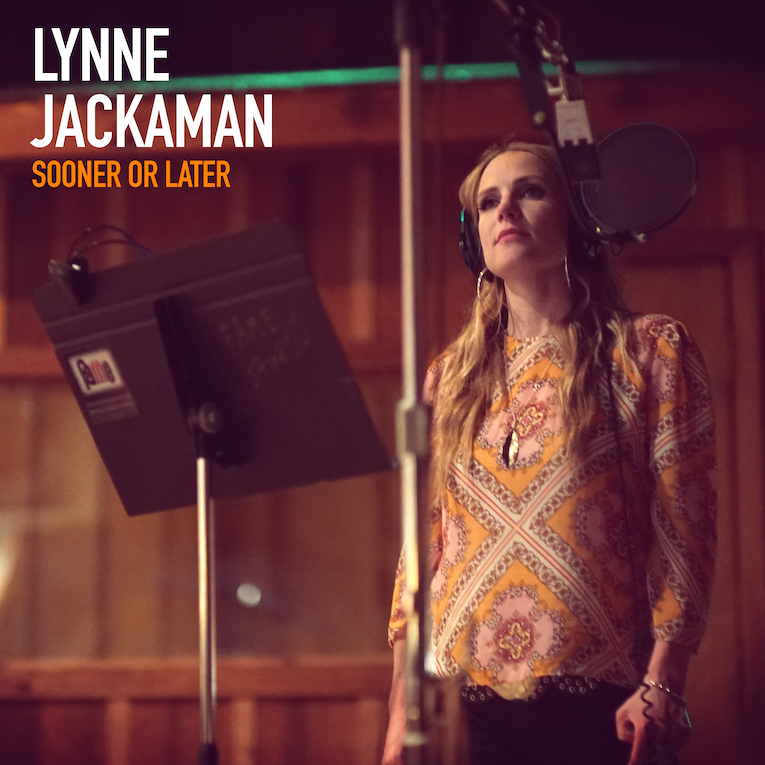 'Sooner Or Later' is the stunning new single from Lynne Jackaman, the first to be taken from forthcoming debut album 'One Shot' out August 14 on CD, DL and limited edition vinyl LP. Pre-order the album here.
Jackaman, former frontwoman of cult Southern Rock band Saint Jude, recorded 'One Shot' at the legendary FAME Studios in Muscle Shoals, Alabama. Jackaman's mighty voice is supported by a cast of its storied musicians: Spooner Oldham, whose organ playing helped bring 'When A Man Loves A Woman' and 'Mustang Sally' to life; Marvin and Aretha's keyboardist Clayton Ivey; Ray Charles' bassist Bob Wray; Bonnie Raitt's guitarist Will McFarlane; and The Shoals Sisters, backing vocalists for everyone from Etta James to Alicia Keys.
Those musicians all play on 'Sooner Or Later', which has an authentic Muscle Shoals sound in keeping with the legacy of FAME studios. That being said, 'One Shot' is no dusty tribute album in thrall to that heritage, but a record in tune with peers like Brittany Howard, Michael Kiwanuka and Yola.
"Recording at Muscle Shoals makes you up your game," comments Jackaman. "When you're singing, you look up and see albums on the wall by Etta James, Aretha Franklin, Clarence Carter, Bobbie Gentry… But the most arrogant thing anyone could do would be to try to imitate those artists. Aretha and Otis were the sum of everything going on around them politically, from growing up singing in the church. I grew up in a very different place in a very different way."
With her debut solo album, Jackaman knew she wanted to make a soul record rather than try to sound like her old band. 'One Shot' producer Jamie Evans had worked at Muscle Shoals the year before and suggested recording there might just be a possibility. John Gifford, Muscle Shoals' veteran in-house engineer and studio manager, championed Jackaman after hearing her demos, and the woman who grew up in Sidcup was on her way to Alabama.
"Jamie producing helped to make sure One Shot isn't a retro album," says Jackaman. "You've got these two relatively young, relatively inexperienced Brits in Muscle Shoals. We knew we wanted the album to have a nice balance between the contemporary and the classic. The classic sound is a tip of the hat."
Listen to "Sooner Or Later"

Written in the aftermath of a broken relationship, 'One Shot' is lyrically rich and varied in dissecting love turning sour. "I wanted to write in a way that still hits hard emotionally, but with an upside too," Jackaman explains. "I didn't want to just moan, to say instead 'Yeah, that's shit, but you can still get out of it.'"
The recording of 'One Shot' was crowd funded via the now defunct Pledge Music, with Jackaman's funding target achieved in just three weeks through Saint Jude's dedicated fanbase. She is remarkably stoic about Pledge Music's collapse last year, noting: "Nobody won. It was fascinating that a company set up to support artists ending up screwing them, but they went into liquidation and I'm sure people their side were affected too."
Having moved from East London, Jackaman is now happily living in West Yorkshire in a new relationship. She hopes 'One Shot' will help others going through the hard times she experienced while writing the album, saying: "I'm not frustrated anymore, I've moved on. I'm singing these songs now from the other side of the fence, and I just want to be proud when I sing them now. If anyone gets those feelings from these songs, that's amazing."
The album is being released into a very different world than when it was recorded. "I wasn't sure whether I should even be releasing music at this time," comments Jackaman. "It felt kind of trivial. But as time has passed, I've been thinking we need music more than ever, so I've decided to release 'One Shot' this summer rather than wait until the world goes back to normal…whatever and whenever that is. In these testing times, what are recording artists expected to do? And although touring is not possible at the moment, I hope the record propels you into the live feel we captured at Fame Studios."
Lynne Jackaman Online