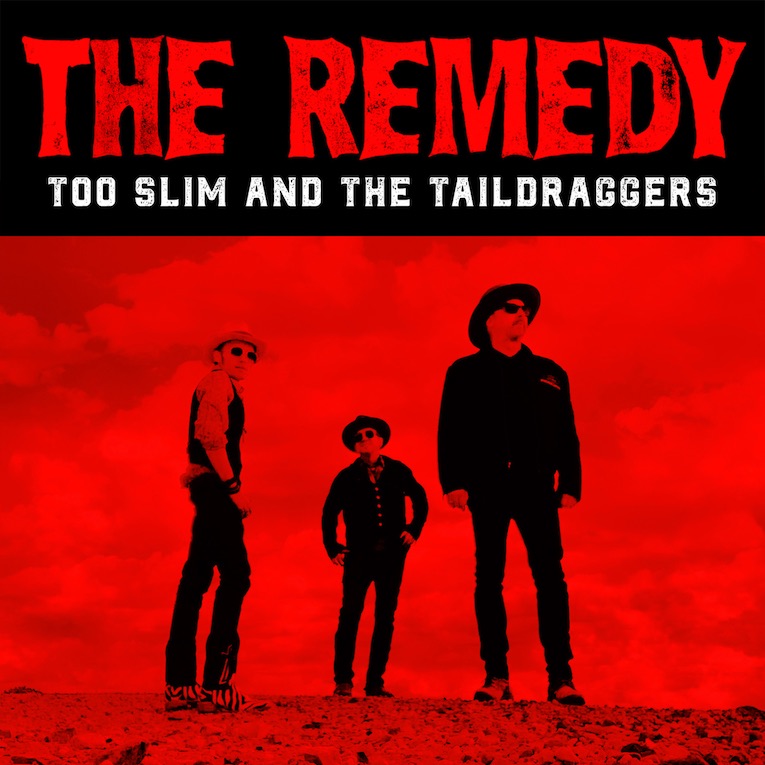 By Martine Ehrenclou
Badass blues rockers Too Slim and the Taildraggers trigger a new release, The Remedy, out July 17 via the Vizztone Label Group/Underworld, the follow up to their critically acclaimed High Desert Heat, which was nominated for a 2019 Blues Music Award in the Best Blues Rock Album category.
With 10 originals and one cover by Elmore James, The Remedy is a dynamic blues-infused rock and roots album, that once again proves the songwriting mettle of this hard-driving trio. Visual storytelling abounds, brought to life by multiple award-winner Tim Langford (Too Slim) on guitar and vocals, Zach Kasik on bass and vocals, and Jeff "Shakey" Fowlkes on drums. This time out, there are guest appearances from harmonica players Jason Ricci, Richard "Rosy" Rosenblatt and Sheldon Ziro. And what wonderful additions to the mix they are. Recorded in Nashville at Zach Kasik's Wild Feather Recording studio, The Remedy is produced by the band.
The Nashville-based Too Slim and The Taildraggers open the record with "Last Chance," a rhythmic rock and roll tune that's easily the most upbeat and fun kiss-off song I've heard in a while. With barroom-brawl vocals, Langford sings about the last chance for somebody who pushed him too far. With hints of Chuck Berry in the guitar solo, TSTT gets the party started.
Album standout, "Devil's Hostage" is a killer blues-rock track with tremendous groove. Langford's gritty vocals power the song about selling one's soul to the devil. The band is tight as pain, and it rocks. Tim Langford must subscribe to the Billy Gibbons school of guitar soloing–it isn't about cramming a thousand notes into a few seconds on the fretboard—it's about feel, melodic guitar and tone that many bust their chops trying to achieve. Inspired guitar playing here is an understatement. And it's an outstanding song.
With guest Sheldon Ziro on harmonica, "Keep the Party Rolling" is a high-energy tune that summons images of Too Slim and the Taildraggers performing live on stage, infusing the crowd with a vigorous boogie rock n' roll workout, with some scintillating harp playing from Ziro and a dizzying guitar solo by Langford.
There's masterful slide guitar playing, interesting roots tunes, and more tracks to make you envision a concert crowd going wild on The Remedy. The tone is heavy, hard-rocking but bright, as it always is with Too Slim and the Taildraggers. I can't think of any band with their sound and in this day and age that says a lot for their ingenuity.
There's darkness there too in Too Slim and the Taildraggers' songwriting arsenal. "Sure Shot" is a rootsy blues number with a moody feel. It opens with banjo, but banjo for a gunslinger in a one-horse town with spurs on the heels of his boots tapping percussion. The lyrics are haunting with references to the soul-stealing devil. A full story about temptation and desperation, and the knowing that the salve for what ails will lead to the end.
Funky groove with delightful and soulful harmonica rolls in on "Platinum Junkie." Kasik takes the lead on vocals with rhythmic vocal phrasing. Solid rock vocals are part of the ammunition for this tale of drug addiction, including a drug dealer at the corner store taking lives. A repetitive rhythm guitar part is the backdrop for this well-written song with so much imagery, it's a full story playing out in the hands of these outstanding musicians. The harp plays more than just an ancillary part, but adds another layer, another voice to this interesting tune.
With harmonica, the player has to be great. There's no way around that. The addition of these three superb harp players on the album infuses The Remedy with rich roots flavors and tones, adding another dimension to this great band. Too Slim and the Taildraggers fire on all cylinders on The Remedy with an eclectic mix of blues, blues/rock and roots music.
Listen to "Devil's Hostage"
Too Slim and the Taildraggers Online