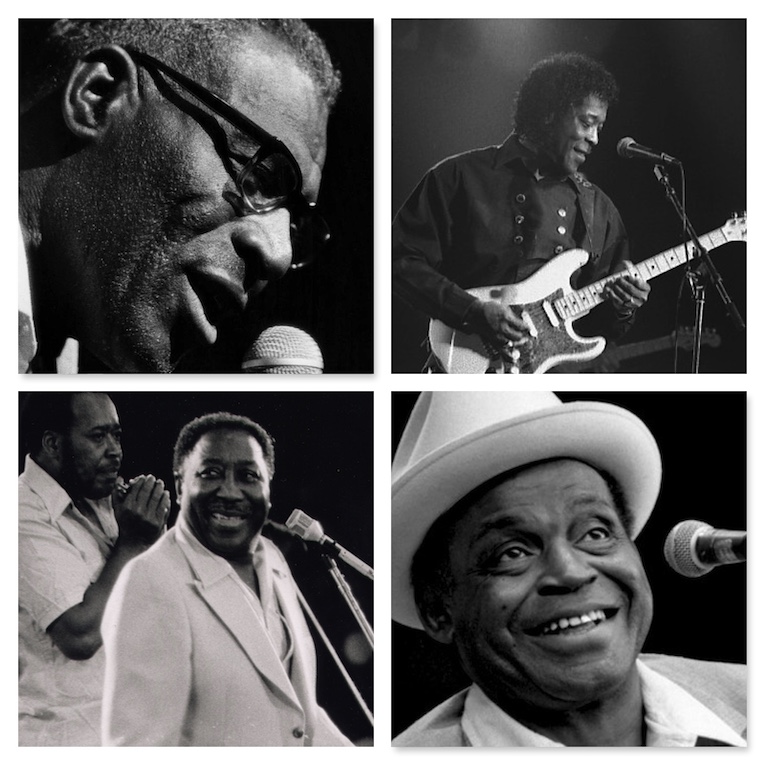 By Chris Wheatley
The body of work now known as Chicago Blues evolved in the city of Chicago during the 1940s and 1950s. Building upon its predecessor, Delta Blues, the Chicago sound kept the heartfelt, highly emotional style and basic twelve-bar compositions, but transferred these to small-band settings, with drums and bass backing. Spearheaded by the mighty Chess Records (run by brothers Leonard and Phil Chess), the Chicago Blues were literally and figuratively electric, modernizing the tradition whilst keeping it grounded. Powered by a flood of talented musicians from Mississippi and other Southern locales, who travelled North in search of work in the big industrial cities, Chicago Blues encompasses some of the greatest music ever recorded.
Howlin' Wolf
Any biography of Chester Arthur Burnett (the origin of the Howlin' Wolf moniker is disputed) reads like a who's who of the 1940s and 50s music. Wolf was taught guitar by no less a personage than Charley Patton, before being spotted by a talent scout by the name of Ike Turner (yes, that Ike Turner – R&B legend and future husband of Tina). Ike took Wolf to the Memphis Recording Service (soon to become Sun Records) where legendary producer Sam Phillips, the man who first recorded Elvis Presley, heard something special. "This is where the soul of man never dies," said Sam of Wolf's music. Wolf soon relocated to Chess Records in Chicago, assembling his own band and releasing a string of hits, many written by Willie Dixon (see below). No other singer sounds like the Wolf. Listen to Wang Dang Doodle and you will hear the antecedent of Clapton, Bonamassa and every blues musician down the line.
Junior Wells
From the early 50s until his death in the late 90s, Junior Wells stalked the stage with his mesmerizing 'tough guy' persona and equally hypnotic harmonica-playing. Wells' pioneered the Chicago amplified harp blues style, making his first recordings in '52, when he took on the formidable task of replacing Little Walter in Muddy Waters band (see elsewhere in this article for more on Walter and Waters). It wasn't long before Wells headed out on his own. Featuring Buddy Guy on guitar, Wells' 1965 album Hoodoo Man Blues remains a blues classic. With scattershot percussion, deep and dirty grooves and, of course, Wells' cutting, slicing, rolling harp, this is a must-listen record for any aficionado.
Bo Diddley
Ever wonder who wrote the blues classic "I'm A Man"? A Mississippi native who moved to Chicago, singer, guitarist and song-writer Bo Diddley did much to shape the blues-rock landscape. Whether you, realise it or not, you will have heard his trademark beat; it underpins so much that came after. Listen to "Hey Bo Diddley" for a great overview of his rollicking, infectious style. Throughout the 50s and 60s, Diddley released a string of hits, every one of which can't fail to shake you up and pull even the most reticent onto the dance floor. Check out "You Can't Judge A Book By Its Cover," for proof! Diddley also kick-started the solo career of a certain Marvin Gaye.
Buddy Guy
There isn't a blues musician alive (or arguably ever) who has influenced so many others. Born in Louisiana in 1936, the son of share-croppers, Buddy Guy moved to Chicago in '57.  As house-guitarist at the mighty Chess Records, Guy recorded with major players including Muddy Waters, Little Walter and Howlin' Wolf, but he had to wait several years before his own debut. By all accounts, the Chess brothers disapproved of Guy's' fiery, flashy style. Although he had recorded earlier singles, and featured prominently on the classic Hoodoo Man Blues (see above), it wasn't until 1967 that Guy's first solo outing I Left My Blues In San Francisco, was released. He has recorded albums in every decade since. Listen to this live performance of 1991s "Damn Right I've Got The Blues", to hear why Guy is revered as one of the pre-eminent masters of his craft.
Muddy Waters
McKinley Morganfield, better known as Muddy Waters, is widely held as the father of Chicago Blues. He was born in 1913, in Clarksdale, Mississippi (check out Robert Plant and Jimmy Page's tribute to that town, Walking Into Clarksdale, for extra credit!) and moved to Chicago in 1943, releasing his first recordings in '46. Working with Chess brothers, Waters laid down a string of blues classics and inspired a generation to follow his lead. Backed by such luminaries as Little Walter, Otis Spann and Willie Dixon, singles such as "Hoochie Coochie Man" and "Got My Mojo Working" remain at the pinnacle of not just the Chicago sound, but of the electric blues canon.
Willie Dixon
A contemporary of Muddy Waters (Dixon is just two years junior in age) Willie Dixon, a former Golden Gloves Heavyweight boxing champion, moved to Chicago in 1936. His career was stalled by a ten-month prison sentence as a conscientious objector to military service (predating Muhammad Ali, Dixon's objected to fighting for a country which viewed him as a second-class citizen). Nevertheless, during the heyday of Chess Records, Dixon played on, produced, and more importantly, wrote, many of the songs which became hits for his peers. A true architect of Chicago Blues, Dixon's compositions include the aforementioned "Wang Dang Doodle," "Hoochie Coochie Man," and "I Just Wanna Make Love To You" (here covered by the Rolling Stones.)
Otis Rush
Blues singer and guitarist Otis Rush's distinctive guitar sound lit up the Chicago scene light a lightning strike. A left-handed player (Rush re-stringed his guitar so that the low E became the bottom string) Rush moved to Chicago in 1949 and signed to Chess Records in 1960. He went on to record many wonderful blues albums as  leader, such as 1976s Right Place, Wrong Time, an electrifying record which bursts and crackles with febrile energy. As a writer, his work includes the wonderful, creeping, crawling swamp-blues "All Your Love" (later covered by John Mayall, Aerosmith and others.)
Little Walter
Marion Walter Jacobs, born 1930, is a name you will already have seen many times in this article. Recording as Little Walter, "the Jimi Hendrix of the harmonica," can lay claim to being a cornerstone of all blues-harp players. His virtuosity on the instrument needs to be heard to be fully appreciated. His sound graces many of Muddy Waters best-known songs (that's Walters harp you can hear on "Hoochie Coochie Man".) As a solo artist, Walter holds the distinction of recording the only harmonica-led instrumental to make it to the top of Billboard's R&B chart, with the amazing "Juke."  As a nice aside, and because I like it when things tie up, Little Walter once shared a stage with Ike Turner in the town of Clarksdale.)
Sonny Boy Williamson II
Harpist, singer and songwriter Sonny Boy Williamson II spans generations of blues legends. How many others could say that they worked with both King of the Delta Blues Robert Johnson and blues-guitar star Eric Clapton? Much of Williamson's life is lost in the mists of history and prone to deliberate misinformation. What we do know is that he went by many names, and that his style inspired Little Walter and every blue-harpist to come. His playing graces one of my favourite blues recordings, Elmore James' "Dust My Broom". Born sometime around the start of the twentieth century, Williamson enjoyed his greatest success recording and writing for Chess Records, and left behind an essential body of work.
Big Bill Broonzy
Born in 1903, singer, songwriter and guitarist Lee Conley Bradley toured with no less than Memphis Minnie before setting up home at Bluebird Record's Chicago studio as song-writer, producer and session man. Broonzy features on hundreds of Bluebird recordings. As a solo artist, he incorporated folk, spirituals, ragtime and contemporary music, laying the foundations for the Chicago Blues Sound, and performing at Carnegie Hall along the way. Listen to "C C Rider," and "When Did You Leave Heaven"  for an overview of his eclectic vision.