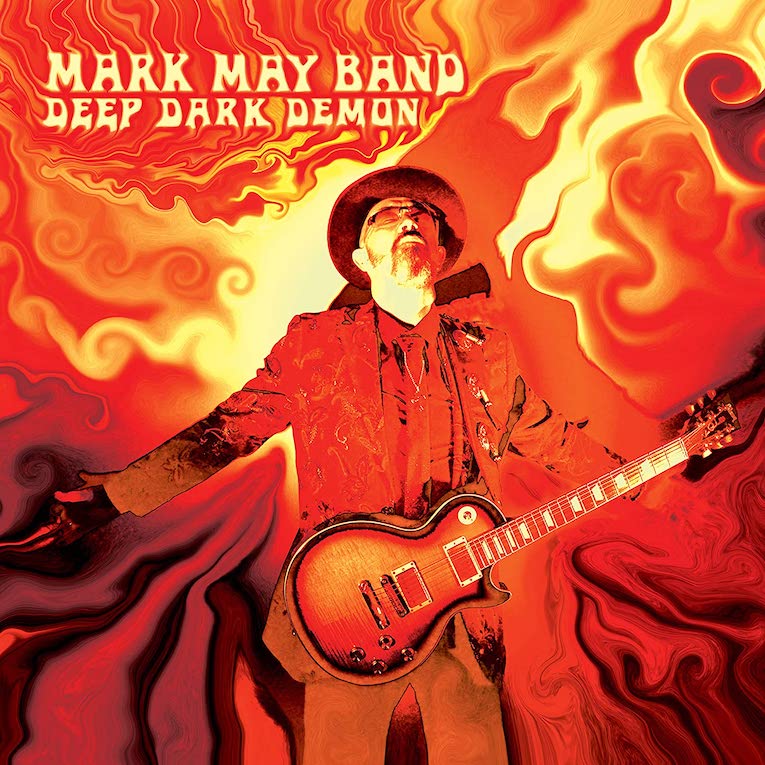 By Chris Wheatley
Ohio-born Mark May, a singer-songwriter, guitarist and former alumni of Dickey Betts Great Southern Band, releases his seventh album, Deep Dark Demon, July 17th on Mike Zito's Gulf Coast Records. May has made a name for himself in the Texas Blues scene, having been playing guitar since he was five years old. As an adult he honed his craft in biker bars and blues joints throughout Houston, before a demo-tape led to his 1995 debut 'Call On the Blues'. May cites Albert Collins and Jimi Hendrix as major influences and you can't ask for more incendiary inspiration that that.
"Harvey's Dirty Side," opens the show, whipping up a remarkably heavy sound. This is thumping rock with deep bass, bluesy lyrics and rolling riffs. Fans of Led Zeppelin and the Stones will find themselves well served here. "Harvey's Dirty Side" is blues rock at its best, with slide guitar riffs and wah wah drenched solos. An instrumental middle-passage with striding bass, nifty hi-hats and slow-burning guitar is particularly effective. Overall, the track lays down an ambitious statement of intent–"A city underwater, people trying to do their part, to save everybody, just like Noah's Ark," sings May. His voice is rich and soulful with a gritty edge.
For Deep Dark Demon (an intriguing title, to be sure) May relies on a stripped-down quartet format consisting of himself, bassist Dan Cooper (Black Crows, John Mayall, Allman Brothers), guitarist Kirk McKim (Julie Reeves, Redmon & Vale) and drummer Clyde Dempsey. Cooper has been working with May for thirty years, McKim for nearly twenty. Dempsey has a fascinating background, having toured and recorded with such diverse acts as Marc Almond, The Damned and The CIA (featuring members of The Kinks, UFO and Dr Feelgood).
"Barbecue and Blues," summons to mind The Beatles at their heaviest and most playful. The band cast off riffs as if it were effortless throughout a song which bounces and swings. "This party's shaping up in a real good way," sings May. Some wonderful 50s-style dual-guitar underpins a delightful break. "Barbecue and blues, you know it's gonna be alright." If ever a track wore its heart on its sleeve, it's this one.
Title-track "Deep Dark Demon," rolls out like a steam-powered locomotive, a musical journey into the juke-joints of May's youth. This is low-down urban blues, crawling across a beer-stained floor. May stretches out on guitar here, with some nicely understated yet wailing lines. Lyrical imagery of gypsy women and bad luck adds to the smoky, raw feel.
As a whole, the band is as tight as you could wish for. Instrumental flourishes and a variety of percussion spice up the arrangements and ensure that the recordings never feel stale. Dempsey's versatility on the sticks is admirable. From vintage Motown beats and jazzy touches, to shuffling, Latin-inflected rhythms and straight-out rock, he is always on the mark. Cooper's bass is the perfect foil, melodic when it needs to be, metronomic or swinging at other times. Keys and backing-guitar are effective and affecting.
"Something Good," is a slow-tempo, country-blues ballad. Chopping guitar and washes of warm keys roll and ride. The groovy, funky "Invisible Man" closes the show. An irresistible backbeat in the mould of Parliament or Booty's Collins, rockets the song into the stratosphere. There are some lovely old-school electronics here. Used sparingly enough so as not to overwhelm, they add a nice bit of colour. This track could slip into any Alan Parsons album of your choice. Overall, Deep Dark Demon provides a grab-bag of blues rock goodness, blending classic blues, Nuyorican Soul, vintage R&B and contemporary influences into something quite different and immensely enjoyable.
Watch "Harvey's Dirty Side"
Mark May Band Online