Joe Bonamassa is set to release a new solo studio album Royal Tea, on October 23rd via Provogue/J&R Adventures. The album was inspired by his British guitar heroes Jeff Beck, John Mayall & The Bluesbreakers, Eric Clapton and Cream and recorded at the legendary Abbey Road Studios.
Royal Tea was recorded with Bonamassa's touring band-Anton Fig on drums, Michael Rhodes on bass, and Reese Wynans on Keys. This album reconnects the 43-year-old with the guitar-slinging kid from upstate New York, who stumbled across the best of British blues music in his dad's vinyl collection – whose influences have shaped him to be the player he is today. These ten original tracks were co-written by Joe and a cast of homegrown notables including former Whitesnake guitarist Bernie Marsden, ex-Cream lyricist Pete Brown and national-treasure piano man Jools Holland.
"Writing this recording in London has done its job," Bonamassa says. "It really does sound inherently British. Bernie and I, we finish each other's sentences. We're cut from the same cloth."
Royal Tea was produced by longtime producer for Bonamassa, Kevin Shirley.
Watch "Why Does It Take So Long To Say Goodbye"

Joe Bonamassa will take the stage at the legendary Ryman Auditorium in Nashville on September 20th to present the album LIVE for the first time in a special Live Streaming Event broadcast around the world. Get your ticket now. Tickets and info:
Royal Tea will be released October 23, 2020 on the following formats:
• 48-page limited edition artbook includes the album on CD, shiny gold vinyl, with exclusive photos and 4 features especially written for this release: Abbey Road, British Blues, Royal Tea and Guitar Commentary.
• Transparent double vinyl (including a complimentary download for pre-orders from the MLG store)
• Deluxe Limited Edition Tin Case CD.
Free poster with pre-orders from the MLG store.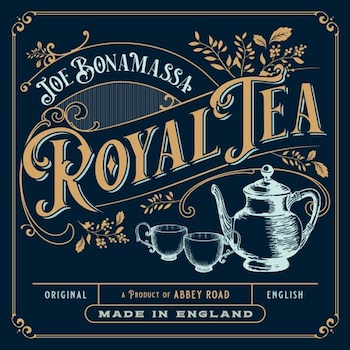 Pre-order Royal Tea