We are pleased to premiere the video "Chainsaw" by Peter Karp, from his album, Magnificent Heart released May 8, 2020 on Rose Cottage Records. The original tune features Karp on vocals and guitar and Jason Ricci on harmonica.
With clever humor and wit, Karp filmed the video "Chainsaw" himself on a country road surrounded by fields in front of his house in TN, playing his resonator guitar and singing, "I'm out on a limb, my Baby's got a chainsaw." Whimsical and playful, Karp gives us some much-needed humor in these stressful pandemic times. Pastural countryside with cows, a donkey and his dog are the backdrop for Karp's fun video with backing singers chiming in on "Out on a limb" and "Baby's got a chainsaw."
Raised in rural Alabama, Peter Karp is known as the songwriter's songwriter. Immersed in roots/blues and rock and roll, he writes songs that reflect tales as part of life's journey, spawned by passion and personal experience, blending roots/rock and blues with humor. Also a guitarist, he's known as a muscular slide guitar player and soulful singer.
Karp has collaborated with some of the best in the business, including a seven year partnership with Canadian Blues guitarist, Sue Foley releasing several albums together, including He Said She Said, and Beyond The Crossroads on Blind Pig Records. Rolling Stones guitarist Mick Taylor played on Karp's third release, The Arson's Match.
Says Peter Karp, "I wrote "Chainsaw" for another artist but decided to keep it for myself. Wrote it quick, recorded it quick. My band sang the backup vocals quick. Recorded it last year when life was a shared experience. I took my iPhone and shot and edited the video in 2 days. Filmed it in front of my house. Did it all by myself. These days I do most things all by myself. I did manage to coerce the cow and the mule that graze across the road to participate. My dog Frank also agreed to a cameo. Had to throw Frank a bone. Quality talent costs $."
Speaking of talent, there's quite a bit of it on Karp's album, Magnificent Heart, which he wrote and produced himself. He's in good company as it features Karp on slide guitar, solo guitar, piano and vocals, along with Kim Wilson (harmonica), Jason Ricci (harmonica), John Ginty (B3 organ), Jim Eingher (piano and keyboard), Paul Carbonara (guitar and solo guitar on "The Letter," "This World"), James Otis Karp (solo guitar on "Scared"), Niles Terrat (bass), Edward Williams (bass), Michael Catapano (drums/percussion), Cold City Horns (Jacob Wynne, trumpet and David Kasper, tenor sax), and Eyrn O'ree (background vocals).
Watch "Chainsaw"

With seven releases to his name, Magnificent Heart follows on the heels of last year's critically acclaimed Blue Flame. The album is a collection of 13 original songs written by Karp while touring relentlessly around the world.
Peter Karp began his career in music by forming his first band, They Came From Houses, which quickly became a staple of New York's nascent underground scene. The band shared stages with the likes of Marshall Crenshaw, Mink Deville, the Stray Cats, John Hammond Jr., George Thorogood and David Johansen, but eventually Karp became disillusioned with the music scene and walked away, preferring to spend his time caring for a new family instead of finding himself always out on the road.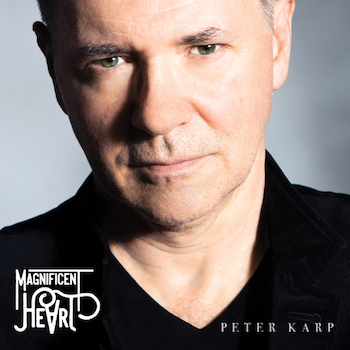 Peter Karp Online