By Mike O'Cull
Mississippi blues/rockers Magnolia Bayou dig down deep and crank it up loud on the band's new album Strange Place. The independent platter drops September 24th, 2020 and is jam-packed with the kind of epic rock music we took for granted in the 60s and 70s, music that blends a wide range of profound influences with the group's own Southern heritage and soul. In a scant three years together, band members Andrew Fulton (vocals, guitar), Dylan Palmiero (lead guitar), Josh Estes (bass), and Cedric Feazell (drums) have made a name for themselves up and down the Mississippi Blues Trail and rocked important venues including House Of 'Blues and Tipitina's' in New Orleans, Louisiana and the world-famous '3rd and Lindsley' in Nashville, Tennessee.
The band has also shared shows with major artists Bishop Gunn, Tyler Childers, Whiskey Myers, Aaron Lewis, Black Stone Cherry, Koe Wetzel, Shane Smith & The Saints, Wet Willie, Ray Wylie Hubbard, Fantastic Negrito, and more. With the release of Strange Place, Magnolia Bayou proves they're ready to level up and stand shoulder-to-shoulder with the biggest acts in the world.
Based in Gulfport, Mississippi, Magnolia Bayou has been turning up the heat on rock and roll fans across the South with a true believer's mix of gritty guitars, commanding vocals, and songs with the power to shake some bones everywhere the band goes. The Magnolia Bayou sound taps into the voodoo and folklore of their home state and contains elements of southern, psychedelic, funk, and blues-based rock and roll that the group has reinvented and bent to their will. Rather than imitate the records that inspired them, this crew picks up where those artists left off and makes fresh, new tracks destined to keep real music very much alive.
From the opening song "Dig Deep," Magnolia Bayou displays a masterful grasp of the language of rock and roll. The track is rough-edged, articulate, and carries echoes of The Rolling Stones, Hendrix, and early Aerosmith that come roaring out of your speakers. Andrew Fulton's urgent, expressive vocal instantly points this bunch toward stardom. The band plays like a single entity and their groove skills are outstanding and undeniable.
"Sleepin' In The Dog House" kicks off with a strong guitar hook and launches into a cool rock shuffle pocket. It's a convincing tale of a man in trouble at home who finds himself staked out in the yard due to bad behavior. It has a heavy chorus hook that's hard to forget and overflows with quality guitar work from Dylan Palmiero. Included also on Strange Placeis a brawny cover of the Son House classic "Preachin' Blues" that's defined by slashing slide guitar and pounding piano. It's one of the record's golden moments and will make you a Magnolia Bayou fan for life.

"From The Other Side" is spiritual, moody, and minor, starting as a slow burn that builds to an explosion. The voodoo factor is in full effect here and the band puts out a cinematic and artistic vibe that's positively chilling. "Hurricane" dips into that same thriller bag and paints a vivid picture of a natural and human disaster. Fulton's vocals are measured and dramatic and put both the mood and story across perfectly. Be sure to listen all the way through to experience the acoustic-tinged "Tupelo" and the closing cut "Thieves."
Strange Place is a transcendent blast of rock and roll with Southern swagger by any measure and Magnolia Bayou is one of the most crucial bands blowing up in the USA right now. Spend the upcoming months listening and you're guaranteed to stay hot all winter. Highly recommended.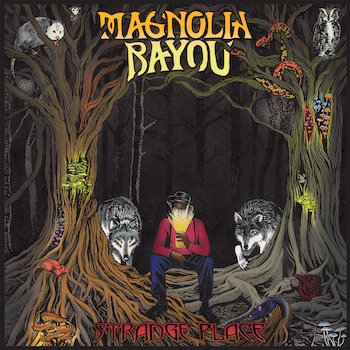 Magnolia Bayou Online