We are pleased to premiere the video "Firedancer" by the Jeremy Edge Project from their self-titled new album, The Jeremy Edge Project out August 28, 2020 via Deko Entertainment. A blistering guitar-driven blues rocker led by a talented guitarist, Edge's riffs explode on the scene along with his soulful singing.
After a long hiatus, former Candlelight Red guitarist Jeremy Edge returns with an album that's more contemporary blues-based rock. He is quickly establishing himself as an axe slinging guitarist/singer, stretching his musical horizons beyond hard rock and metal. For years Jeremy Edge has wanted to do something that put him back in touch with his early influences such as Stevie Ray Vaughan, Hendrix, Billy Gibbons, Blackmore and more. He certainly achieved that with "Firedancer" and then some.
The Jeremy Edge Project features guest performances by Brandon Yeagley (Crobot), Brett Hestla (Dark New Day), and master blues guitarist Josh Smith. The album was recorded and mixed by Grammy nominated engineer Mike Feretti (Warren Haynes, Sevendust)
Jeremy Edge says, "Firedancer is my debut as a vocalist on record. Originally intended as a track for guest vocalists, we ended up just having so much fun with the track, we kept all of my vocals. We experimented with a guitar intro because I was having a lot of fun using some vintage fuzz effects, it ended up being a great way to introduce the song which is already adrenaline filled."
Watch "Firedancer"

The Jeremy Edge Project LP features nine tracks varying from bluesy and soulful ballads to in your face rock grooves with blazing guitar. "Firedancer" has already grabbed plenty of attention from rock magazines/sites, and more surely to come. Jeremy Edge achieved four top 50 Active Rock singles with CLR, his previous band.
Jeremy had this to say about the new video, "Firedancer was a fun video to make. We wanted to add some of the psychedelic effects of the "Beat Club" era but not make something that was completely retro. This is the first time any of us had ever performed in front of a "green screen" so it was one of things where you really had to use your imagination and just get dropped into the song. We also featured an old vintage Sennheiser microphone in the video that was left to me by dad."
Order link The Jeremy Edge Project
Available on Vinyl, CD, and limited edition bundles (while supplies last) can be ordered here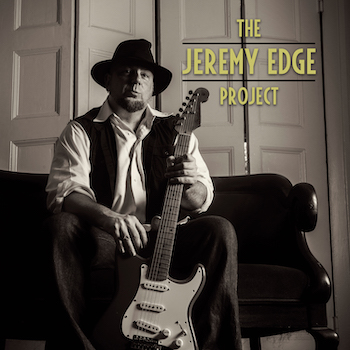 Jeremy Edge Project Online