By Mike' O'Cull
Everyone's favorite roots music duo Larkin Poe delivered the real-deal goods on their acoustic 'Poecast' live stream that went down October 4th, 2020. Grammy-nominated sisters Rebecca (guitar, vocals) and Megan Lovell (lap steel, vocals) stripped their sound to its essence for this not-quite-hour-long set of music and chat that followed on the heels of their full-band electric live stream that happened in September. Like that show, this one was captured in their Nashville, TN rehearsal space but this time the Lovells played with only percussion and upright bass support. The seated acoustic format was a sensational way to experience these two and showed just how much musical power they carry in their back pockets. What's even cooler was their admission that they didn't rehearse these acoustic versions at all and just went for them in front of the cameras.
The first song to get the unplugged treatment was "Self Made Man," which is the title cut of their most recent album. Larkin Poe's acoustic arrangement of the song played down its rock elements and emphasized the blues influence that runs through everything they do. Rebecca Lovell's voice is an instrument in its own right and hearing her belt this way proved that she required zero studio trickery to light up a room. She's also a fine guitarist and the vibe she threw down beneath sister Megan's lap steel was delicious. Megan's steel work breathed new life into a frequently-overlooked instrument that she has brought back to public consciousness.
A chat segment with the Lovells and their band followed in which they candidly discussed touring life and some of the more embarrassing onstage moments that inevitably happen. Rebecca's story about catching her heel on the back edge of a stage and falling over backwards onto an amplifier without a break in her playing was particularly entertaining. These informal discussion bits let us get to know the sisters as people in a more profound way and gave fans some insight as to what actually happens on tour.
Next up was the Southern gothic "Holy Ghost Fire," which is also from the Self Made Man record. The song truly revealed itself in this setting and was one of the most emotive performances on the 'Poecast.' The studio version is heavy and rocking but here the song became swampy and ghostly. Megan's steel playing soared and cried like a lost soul and was the perfect foil for her sister's gutsy vocals. More chat was next and the Lovells related stories about their ten-year-long "overnight success" and touring experiences such as their McDonald's Thanksgiving dinner in Europe, attending the Grammy Awards, and performing in Singapore.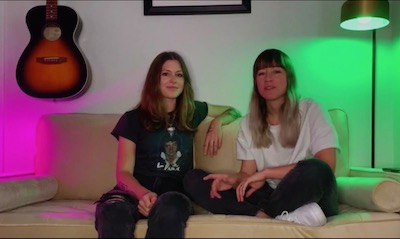 Larkin Poe's sweet back-porch version of their song "Easy Street" was a highlight of the show and brought out the old-time country heart that propelled it. In this setting, the track came off like a Carter Family obscurity that brought us up to speed and all involved helped teach the lesson. More touring stories came next about memorable moments like their photo with Bob Seger, Elvis Costello offering them his spot on Conan O'Brien, and Keith Urban gifting them with brand-new iPhones.
"Trouble In Mind" from Larkin Poe's 2016 release Reskinned done acoustically was one not to be missed and felt dramatically different from their studio version. Rebecca's voice was extra mighty here and grabbed your ears and refused to let go. "Tears of Blue To Gold" from Self Made Man also gleamed in its acoustic retelling, as did their cover of Robert Johnson's iconic "Come On In My Kitchen" that closed the official portion of the stream.
Never fear, however, because Rebecca and Megan blessed us with a special final segment performed right on their couch for a single camera. They treated us to their takes on the Moody Blues' "Nights In White Satin" and Bo Diddley's "Who Do You Love," the latter of which included some rewritten lyrics that made Bo's classic a better fit for Rebecca. Both are from Larkin Poe's upcoming album of acoustic covers Kindred Spirits. The sisters showed themselves to be master song stylists who can have their way with any song they decide to reinvent.
All in all, the acoustic 'Poecast' was a smashing success and gave fans an essential portion of live music to get them through the quiet year 2020 has turned out to be. The Lovells are an ultra-talented pair that remake the idea of roots music in their own image. Hopefully, they'll release this show on DVD for those who couldn't catch it. It wasn't like being in the same room with them but it was still an incredible show.
Larkin Poe Online