Epiphone a leading innovator in designing affordable professional instruments presents the new Epiphone Joe Bonamassa Les Paul Custom "Black Beauty" available worldwide. As the eighth signature guitar from the pre-eminent blues guitarist of his generation, Joe Bonamassa and Epiphone's Luthiers collaborated for two years at Epiphone headquarters in Nashville, TN to create the guitar which was based off one of his most-prized guitars, a 1958 Gibson Les Paul Custom "Black Beauty." The Epiphone Joe Bonamassa Les Paul Custom "Black Beauty" is officially available worldwide at all Authorized Gibson Dealers now. For more information see here.
One of the rarest electric guitars ever made and one of the most coveted, a 1958 Gibson™ Les Paul™ Custom in black–is widely known as the "Black Beauty." This limited-edition creation has a 50's neck profile for an era-correct feel, Les Paul Custom bound body and neck, non-weight relieved Mahogany body, unique vintage tuners, Orange Drop® capacitors, CTS® potentiometers, two Epiphone ProBucker™ 2 and one ProBucker™ 3 pickups, Switchcraft® output jack, and classic black hardshell case with gold hardware and yellow gold plush lining. Guitar spec sheet see here.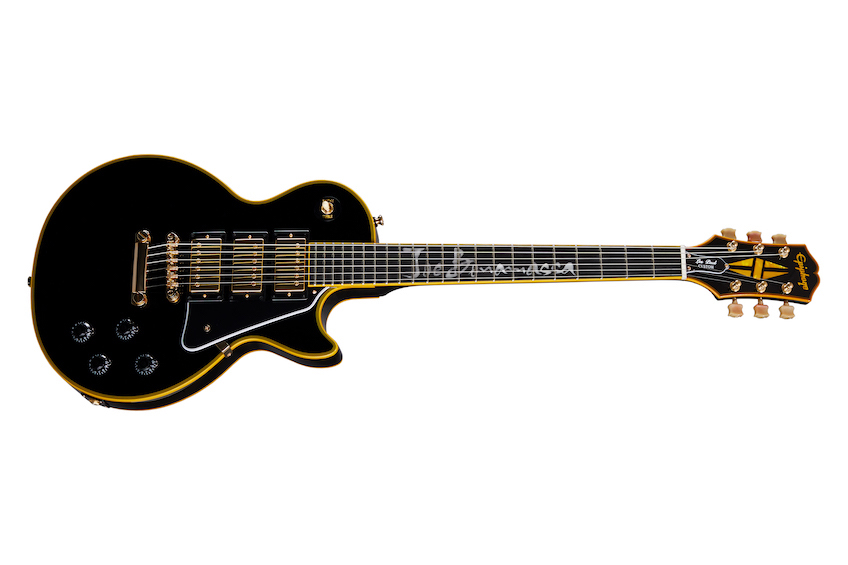 Joe Bonamassa and Epiphone are committed to producing affordable instruments for music lovers across the globe. "We based my new Epiphone signature on this 1958 Gibson Les Paul Custom," explains Joe Bonamassa. "I made it a super playable instrument, throaty but clean, and the lead pick up just barks. I fell in love with it, it's a great Black Beauty and you just play this thing into the ground. Epiphone did an excellent job re-creating this guitar and I'm excited to share it with everyone."
Order Link  for Joe Bonamassa Epiphone "Black Beauty" Les Paul Custom 
Watch Joe Bonamassa Play "Black Beauty"

"Working with Joe to recreate his 1958 Gibson Les Paul Custom Black Beauty was an incredible journey," says Cesar Gueikian, Chief Merchant Officer, Gibson. "Every one of the guitars in Joe's collection has a story; I encourage everyone to watch 'The Collection' with Joe Bonamassa on Gibson TV to learn more about this guitar."
Two-time GRAMMY nominee Joe Bonamassa has become renowned as one of the most gifted guitarists of his generation. Joe is set to release a new solo studio album Royal Tea, out October 23 via J&R Adventures. Inspired by his British heroes Jeff Beck, John Mayall & The Bluesbreakers, Eric Clapton, Led Zeppelin and Cream, Royal Tea was written and recorded at the legendary Abbey Road Studios. The ten original tracks were co-written by Bonamassa and a cast of homegrown notables including former Whitesnake guitarist Bernie Marsden, ex-Cream lyricist Pete Brown and national-treasure piano man Jools Holland. Bonamassa's long-standing producer Kevin Shirleyand regular touring band flew in for the recording sessions, which included Anton Fig(drums), Michael Rhodes (bass) and Reese Wynans (keys).
Pre-order link for Royal Tea by Joe Bonamassa 
About Joe Bonamassa:
As a professional musician for over 30 years, Joe Bonamassa continues to blaze a remarkably versatile artistic trail, and amass an authentic, innovative and soulful body of work. Bonamassa's career began onstage opening for B.B. King in 1989, when he was only 12 years old. Today, he is hailed worldwide as one of the greatest guitar players of his generation and is an ever-evolving singer-songwriter with over 40 albums to date including studio and live recordings, collaborative albums with blues sensation Beth Hart, and the adventurous side projects Black Country Communion and Rock Candy Funk Party, all under his own label, J&R Adventures. He founded and oversees the non-profit Keeping the Blues Alive Foundation to promote the heritage of blues music to the next generation, fund music scholarships, and conserve the art of music in schools. Currently, KTBA's Fueling Musicians Program is getting much needed funds into the hands of touring musicians out of work due to COVID-19 and has raised over $330,000 for them. Bonamassa has received two GRAMMY® nominations
Joe Bonamassa Online
Website
Epiphone Online