By Mike O'Cull
Brazilian blues/rock guitarist, vocalist, and songwriter Artur Menezes impresses on every level on his new record Fading Away, a super-hot eight-song set that comes out October 30th, 2020 on the VizzTone imprint. Produced by Josh Smith, the album features guest appearances by Smith as well as Joe Bonamassa. Menezes is a superior guitar slinger who combines vintage influences with his own contemporary style of songwriting that draws from soul, modern rock, and his personal take on blues-related music in the 21st Century. He uses complex arrangements, layered guitars, and background vocal tracks to set himself apart from the competition and creates a musical world with them that surpasses all expectations.
Fading Away is Artur's fifth album, his second in the US, and is the sort of career-making effort that leads artists to the big time. Already, Menezes has won the Gibson/Albert King Award for Best Guitarist at the Blues Foundation's 2018 International Blues Challenge in Memphis, where he also took third place in the overall competition. In 2019 he was the Grand Prize Winner in a contest promoted by Ernie Ball, winning the opportunity to perform at Eric Clapton's Crossroads Guitar Festival. He clearly has the skills that are required to get the right ears listening to him and this new record is likely to blow up everywhere great music is played. Menezes is a triple threat performer who does it all in an original style that's respectful to the past but lives fully in the here and now.
Menezes leads us off with his title track "Fading Away." The song starts with a heavy Hendrix/SRV guitar groove but quickly shifts into a more melodic verse and chorus. Artur's vocals are smooth and easy and move us toward his crunchy guitar solo in the tune's middle section. All this adds up to a memorable and accessible cut that will keep you listening from beginning to end. "Devil's Own" is next and features a scary movie/sound effect intro and then turns into a slow and solid blues/rock number with a "Dazed and Confused" vibe. Menezes tells us a dramatic story here with his words and music and pulls so much emotion out of himself that every second of it seems tortured and real.
Listen to "Come On"

"Come On" is a ripping rock song that shows Menezes in top form and also features a guest appearance from Joe Bonamassa. Joe is his usual high-octane self when his solo comes in after Artur works out on a slower, half-time break and the combination of the two players is positively combustible. It's one of the most happening moments captured on Fading Away and will have fans of hot guitar work smashing the "repeat" button.
Producer Josh Smith gets his turn to shine on the atmospherically funky "Free At Last." Smith is an epic player in his own right and gives this more involved and intricate track all his soul has to give. The songwriting here is fresh and free of genre cliches, as well, which elevates the listening experience to an even higher place. Menezes unquestionably has his writing game on point and never comes off as typical or generic.
There are only eight songs on Fading Away but each one swings for the fences and gets there. Listen all the way through to catch the mellowness of "Until I Can See" and the roughed-up autobiographical closer "Green Card Blues." Artur Menezes clearly has a way about him and seems destined for continually bigger things. Fading Away is a powerful statement of his intentions and abilities and will launch him to the top of the blues/rock universe. Don't miss it.
Order Link for Fading Away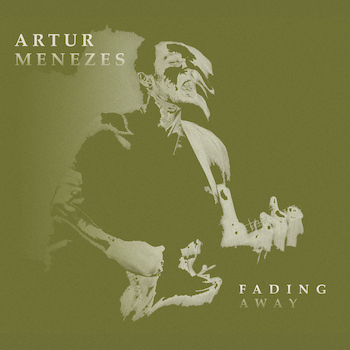 Artur Menezes Online