By Martine Ehrenclou
Rock/Blues guitarist, singer, songwriter Eric Johanson spent years on the road as a touring guitarist for Grammy winning bands such as Cyril Neville, and performed with Anders Osborne, JJ Grey, Eric Lindell, the Neville Brothers and Tab Benoit. Eric was discovered by Benoit who signed the Louisiana native to his Whiskey Bayou Records and produced his debut solo album, Burn It Down in 2017. Following that release, Eric spent the next two years on Benoit's tours, opening most of his shows, as well as performing festivals and doing tours of his own.
Johanson's next solo record, the critically acclaimed Below Sea Level released September 18, 2020 on Nola Blue Records, was produced by Luther Dickinson of North Mississippi Allstars at his Zebra Ranch Studios, with Cody Dickinson on drums. Below Sea Level features 12 original songs written by Johanson, and features his mind-blowing guitar, strong and soulful vocals, and songwriting that comes alive with imagery and vivid stories.
Martine Ehrenclou: I've been a fan of yours since your first album, Burn It Down. Congratulations on your new album, Below Sea Level. It's a great release, produced by Luther Dickinson. Can you tell me about how you connected with Luther & Cody Dickinson for the album?
Eric Johanson: I've been a fan of North Mississippi Allstars for years and met Luther a couple of times. In 2019 during Jazz Fest at one of the late-night shows, a Jimi Hendrix tribute show. I was invited to go play and Luther was on the bill as well, and we jammed and started talking afterward. I had already thought of him as somebody that I would love to work with on an album. And he floated the idea, like, "We have the studio and it'd be great to do your album there." We hatched the plans in April of 2019, and then it was a matter of just kicking around our schedules and who should play on the record. And we both thought Cody would be an obvious to play drums. I started kicking him songs toward the end of 2019 and we went in the studio at the end of February of 2020.
Martine: Boy, did you get lucky to record the album before Covid hit.
Eric: I know, I really did.
Martine: You were taken off the road with the pandemic. What have you been doing musically? Your acoustic live stream shows? I love those, by the way.
Eric: Awesome. The livestreams has definitely been a way of keeping that connection going. That's something that I didn't really picture doing before. One of the practical points was having a high energy sound, that band sound, and we were planning to go out and play summer festivals. If I pictured all of my gigs being acoustic guitar solo gigs, it would be a different album. I was picturing being out there on the road playing as a band. It wasn't clear to me at first that doing acoustic solo streaming would be a great idea because it's not exactly the sound that I'm trying to do.
Martine: I understand that.
Eric: I was trying to go out there and rock out with a band. Without any other options, I tried the livestreams a couple of times and I was surprised that people seem to dig it and showed up for it. I just kept doing it and people kept showing up. Now I can't imagine having not done it, because of course, this went on longer than any of us would have imagined.
It's been a way of keeping connected with people. It's really been great on a number of levels. I think that making those connections where you recognize people's names and you remember them, and the fact that people are able to see you multiple times a month and make comments like, "I liked the way you did that song tonight" is a cool thing. It's a deepening relationship, which hopefully will carry over when the touring does start again.
Martine: Your acoustic livestreams also show another side to you. I'm sure they attract additional fans to your music.
Eric: Yeah, I think so too. It definitely does show a different side because there's no way to really think too much about it because you're doing it every week.
Martine: What was the recording process like at Zebra Ranch Studio with Luther Dickinson?
Eric: We basically had a three days in the studio together, which was the longest window we could find. We just starting to go through the songs and thankfully, Cody Dickinson and Terrence Grayson had listened to the demos and had a pretty good idea of the songs. I pre-produced demos just to indicate the feel. And of course, I left it open to their interpretation. We were able to start tracking songs right away and just playing live together as a band, which for me is really part of the whole idea. I don't like sitting down and overdubbing guitar solos because I think it changes your perspective on what it is. Responding to the drums and bass when I'm playing–that's the whole thing. We pretty much recorded all the songs live together and I went back and did all the vocals. I did the vocals in about an hour for the whole album.
Martine: Oh, my goodness. And your voice sounds better than ever on this album.
Eric: Thank you. It was the last day of recording and it was like, well, if we can't get all this done, then we'll come back later, but let me just go one song after another.
Martine: Did you have a vision for the album? A certain feel you were going for?
Eric: I had an aesthetic idea. I really wanted to more deeply connect with where all of my influences cross over. When I pick up a guitar, I have a deep love for the blues. I also went through different periods of my life, where I was making rock music. I'm certainly not a traditional blues player by any means. Some might not even call the album "Blues." I don't really get caught up in what things are and what they aren't in terms of genre. But I wanted to get to the core of what I liked about early Blues music, but in a form that was true to what I like to do now with an electric guitar and thinking through my own life and experiences. I had an idea of what I wanted to try to get across. A lot of it is dealing with some of the twists and turns of my life and coming back to New Orleans and what that meant to me.
Martine: How does the culture of Louisiana influence your songwriting and your sound? I was thinking about "Buried Above Ground."
Eric: The song "Buried Above Ground," as you may know, is a literal reference to the way that people are buried in New Orleans, which is in these above-ground tombs because of the water table being so high. But it's also referenced to picturing my life being here in New Orleans, and that this is where I belong. I grew up in Louisiana and I didn't necessarily see all the ways that the culture had influenced me until I left and came back.
Martine: Are you talking about going on tour with Cyril Neville?
Eric: I'm talking about moving to New Zealand after Katrina.
Martine: Tell me about that.
Eric: I got wiped out and lost everything in hurricane Katrina and moved to New Zealand just basically to just start over.
Martine: Wow.
Eric: I started to realize over time that there was a lot more that was particular to New Orleans culture and the musical culture of Louisiana that I had not seen, or had taken for granted. Growing up down here, even when I was listening to hard rock music or whatever it was, there was always other music that I was exposed to in more traditional styles like blues and funk. When I started to learn how to play guitar, the first people I was able to jam with were older musicians who were playing blues. Looking at the instrument as not just a way to present your own original ideas that you had created and only learning your own band's repertoire, but the idea that the instrument is something where you join into a conversation that has already been going on. A lot of people have learned cover songs and then maybe join a band or they write some songs and they know that repertoire, and that's what it means to play their instrument for them. One of the things that is very common amongst Louisiana musicians is this idea of being able to get up on stage and not know what you're going to play and just join into that conversation together. That's part of all of the musical styles from down here, whether it be Zydeco or funk or blues.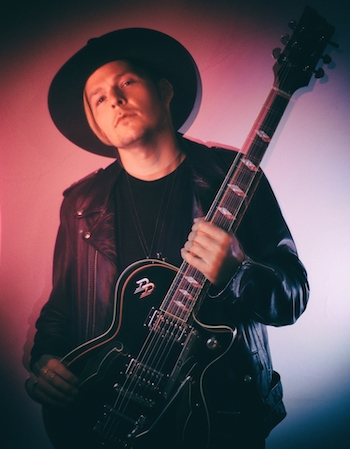 Martine: It sounds like you're talking about improvisation.
Eric: Yeah. That improvisational aspect, it's not just expressing yourself through a song that you wrote but the idea that you're expressing yourself tonight, right here, and the notes that are coming out of you are being created right here. That is such a common feature in all the different musical styles that I mentioned from New Orleans and from Louisiana. I realized that was really important to me and that it had defined my way of interacting with music. I do think that I was always influenced by Louisiana. I just didn't see it until I left and came back.
Martine: You use references to some of the culture and the people of Louisiana in your music.
Eric: Yeah. When I did come back to New Orleans, which was in 2010, I was really starved for all the culture here. I was out at shows every single night. I was seeing different bands. I'd go from one place to another. This is one of the cities with an incredible amount of live music for the size of the town. It's seven nights a week, it's all over town. I was just soaking it all in. Some of the people that I played with like Cyril Neville really got me more interested in the Mardi Gras, Indian culture and I got to meet people like Chief Monk Boudreaux, who I'm still friends with. I don't really play jazz, so I don't play some of the music that people associate with the city, but I interpret the sights and sounds and the vibe in my own way, and express that through electric guitar and more rock blues elements that are more a part of my vocabulary.
Martine: You have a very distinct sound. To me, your music sounds like roots/rock, rock, blues/rock. How would you describe it?
Eric: I've thought about that a lot because I've heard a lot of people say, "I don't usually like blues, but I like your music." I don't know if maybe its blues inspired rock music or roots/rock that is inspired by the blues. I suppose it would definitely be some form of rock music. I like a cranked up electric guitar and that makes it rock but there's all kinds of influences in there. And I do think that the blues is a big part of it.
Martine: To get back to your album for a second, "Never Tomorrow" is a great song. How did you come up with your guitar riffs and your solos on that song? Did you prepare loosely ahead of time or did it just happen spontaneously in the studio?
Eric: The solos are pretty much spontaneous. I didn't write any solos or think about that. I mean, I really like to respond to the feeling of the moment.
Martine: Back to the improvisation you were describing earlier.
Eric: Yeah, just jamming with the band and doing whatever feels right. I really look up to that way of going about it, and I try not to overthink solos and guitar parts too much. It's funny how simplicity says something stronger than complexity sometimes. It's a very simple song. It's one of my favorites as well.
Martine: I want to hear about your songwriting. Tell me about "Dose of Forget" or "Have Mercy." They're both the heavier side of blues rock.
Eric: Those songs are inspired by the gritty side of New Orleans. There is a dark side to the city or a seedy side, which I think is well known. But a lot of people tend to write about the gumbo and Mardi Gras. And it's a very high crime city; it's a city that's got some interesting historic levels of corruption over the years. With "Have Mercy," I was just having fun with these scenes that are so much part of the picture, whether it's tourists on Bourbon Street wearing Mardi Gras beads in the middle of summer or people doing the Tarot readings and the ghost tours and all these things that intersect with superstition. That whole side where people are interested in the spooky side of New Orleans and how that intersects with the tourism and the business people at conventions going to strip clubs and just getting crazy. The city has a lot of different elements to it, a lot of different sides to it.
There's a beauty to the chaos here. With that song, I was just looking at things that are part of the realities of New Orleans.
Martine: I really appreciate you talking with me today. Is there anything you want to add or what's coming up for you?
Eric: I'm working right now on a little release of acoustic covers.
Martine: You are? That's cool.
Eric: Yeah, which I hope to have out in the spring. Partially that's from requests I've had from a lot of people that have been watching the livestream every week. I thought, let's do it, it's a good thing to do in between albums while I'm thinking about the next one coming together. I think you got to keep doing what you can do and it's likely that the touring world is going to be still be slow to come back this year. In the meantime, I just would like to do some more recording and get some more things out there.
Martine: Sounds good to me. I look forward to the acoustic covers album. Thank you for making the time to talk with me today.
Eric: Thanks for the good conversation.
Martine: Thank you. It was really interesting talking to you.
For more information on Eric Johanson: