We are pleased to premiere the video for the title track "Heart of Fire" from Ally Venable's new album, Heart of Fire out February 26, 2021 on Ruf Records, produced by the renowned Jim Gaines and featuring guest spots from Devon Allman, Kenny Wayne Shepherd, and Cody Dickinson. A triumphant blues rocking song from Texas' favorite guitarslinger, singer and songwriter, "Heart of Fire" defies these challenging times with Venable's message of hope and encouragement.
With crunchy, tight guitar riffs and powerful vocals with enviable range, Ally Venable's video "Heart of Fire" fuels the very young and grown with energy to keep their internal flame alive even when faced with challenges. It's a testament to the maturity of this young musician, still in her early twenties, to provide inspiration when times get tough. Not even a global pandemic could derail Venable's momentum. Heart Of Fire finds Venable laser-focused on her songcraft, challenging herself to write with unguarded honesty.
Ally Venable says, "'Heart of Fire' is about letting your light shine even when you're in the dark. This song is about getting through those hard times and reaching your goals and aspirations. I hope everyone can relate and rock out to it."
A multi award-winner including "Female Guitarist of the Year" and "Entertainer of the Year," Ally Venable explodes on the scene with her new and fourth album, Heart of Fire with the spirt of past greats combined with her own fearless creativity and impressive musical chops. Defiant, passionate and raw, Heart of Fire is a record these times demand by an artist who refuses to wait for the storm to pass but prefers to dance in the rain. A guiding light for those affected by the pandemic's crushing blow to the music industry, Venable proves she is a force.
Watch "Heart of Fire"

A powerhouse, Ally Venable has been igniting excitement in the modern blues and roots scene for almost two decades. Early releases include No Glass Shoes (2016) and Puppet Show (2018) which earned her international fans, Top 10 chart placings and ETX Awards, but it was 2019's #2 Billboard-charting Texas Honey and house-rocking sets on that year's Blues Caravan tour that sent her stratospheric. Now, with Venable's fanbase snaking further around the block every time she blows into town, Texas roots icon and Texas Honey producer Mike Zito says, "Ally is the future of blues and the crossover music of American roots-rock."
Known for her electrifying live shows, Ally Venable is currently touring. See her tour schedule here.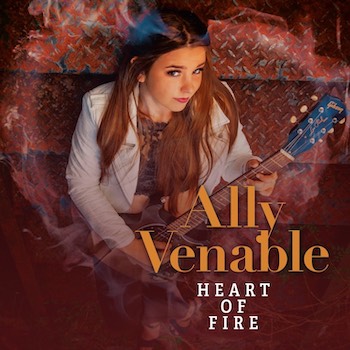 Order link for Heart of Fire 
Ally Venable