Reverend Peyton's Big Damn Band Releases New Single "Too Cool To Dance"
Plans (Safe) Tour Dates
Set To Release New Album, 'Dance Songs For Hard Times' out April 9, 2021
NASHVILLE, Tenn. — The new album from Reverend Peyton's Big Damn Band, Dance Songs for Hard Times, produced by four-time Grammy Award Winner Vance Powell (Chris Stapleton and Jack White) is scheduled for independent release April 9, 2021 via Thirty Tigers.
Reverend Peyton's Big Damn Band have been nominated for a Blues Music Award (their second) for Best Blues Rock Artist. Their second single and video "Too Cool To Dance" is released on March 9, 2021. "'Too Cool to Dance,'" Rev. Peyton says, "might be interpreted as the album's centerpiece for its message of not taking things for granted. The seize-the-moment anthem offers the chorus, 'We may not get another chance. Oh, please don't tell me you're too cool to dance.' I was thinking about all the times where I've been somewhere and felt too cool to dance. I didn't want to be that way. Not being able to do anything last year, I had this feeling of, 'Man, I'm not going to waste any moment like this in my life — ever.'"

The album as a whole conveys the hopes and fears of pandemic living. Rev. Peyton, the Big Damn Band's vocalist and world-class fingerstyle guitarist, details bleak financial challenges in "Ways and Means" and "Dirty Hustlin'." He pines for in-person reunions with loved ones on "No Tellin' When," and pleads for celestial relief on the album-closing "Come Down Angels."
Far from a depressing listen, Dance Songs lives up to its name by delivering action-packed riffs and rhythms across 11 songs. The country-blues trio that won over crowds on more than one Warped Tour knows how to make an audience move.
"I like songs that sound happy but are actually very sad," Peyton says. "I don't know why it is, but I just do."
Of course, the greatest front-porch blues band in the world found itself sidelined from a relentless touring schedule because of the coronavirus pandemic. Peyton says he was surprised when his mind and soul unleashed a batch of new songs in March and April of 2020.
The band has also announced a late spring tour, emphasizing safety first: "The Reverend Peyton's Big Damn Band takes the safety of our fans very seriously. Our commitment to your safety requires masks to be worn for entry, maintaining social distances, podded seating where necessary and reduced capacities. Thank you for your cooperation and we look forward to seeing you at a show again soon."
TOUR DATES (on sale now):
Thurs., April 15 NASHVILLE, TN City Winery – outdoors
Sat., April 17 CLARKSDALE, MS Juke Joint Festival Ground Zero
Sun., April 18  CLARKSDALE, MS Juke Joint Festival Cat Head – outdoors
Thurs., April 22 KANSAS CITY, MO Knuckleheads – outdoors
Fri., April 23 COLUMBIA, MO Rose Park – outdoors
Sat., April 24 ST LOUIS, MO Big Top – outdoors
Sat., May 15  OAK HILL, WV New River Gorge Festival – outdoors
Fri., May 21 CINCINNATI, OH Riverfront Live  – outdoors
Sat., May 22  INDIANAPOLIS, IN Hi Fi Annex – outdoors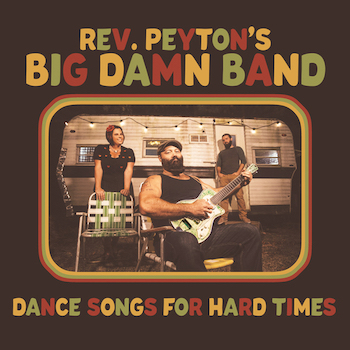 Pre-order Dance Songs for Hard Times by Rev. Peyton's Big Damn Band