We are pleased to premiere the video "Broken" by blues/rock power trio Dustin Douglas & The Electric Gentlemen, directed by award-winning director, Jonathan Edwards and shot in the band's hometown of Wilkes-Barre PA, in the historical Irem Temple Theatre.
"Broken" is a soul-cleansing shot of progressive blues/rock minimalism that's as much about the space between the notes as the notes themselves. Dustin Douglas is a first-class guitar shaman, weaving together spellbinding riffs and solos that transport listeners directly into his world. His vocals are strident and strong, expressing the hard blues inherent in 21st Century life.
Classic elements of Dustin Douglas and The Electric Gentlemen infuse their trademark sexy grooves, infectious rhythm and Douglas' soaring guitar work and unmistakable vocal. "'Broken' is a very good sonic explanation of who we are as a band," says Douglas. "Classic rock with a modern twist. We do our best to carry the torch of our power trio forefathers. The spirit of 'The Jimi Hendrix Experience', Stevie Ray Vaughan and Double Trouble, Cream, and Mountain runs deep in my veins."
The video was shot in the Irem Temple Theatre, currently a restoration project, and was Wilkes-Barre's primary performing arts venue in the early 1900's. It's known for its Moorish Revival architecture, towering minarets and stained-glass dome. "The fact this beautiful 'Broken' theatre exists right in our backyard is amazing," says Douglas. "There was no doubt this was the perfect location for this new video."
Watch "Broken"

Led by lead guitarist, singer, songwriter Dustin Douglas (Lemongelli, The Badlees), The Electric Gentlemen include Tommy Smallcomb on drums and Matt 'The Dane' Gabriel on bass.
The much anticipated new single "Broken" is released on April 30, 2021 and available on all digital platforms. Recorded at 8 Days a Week Studios in Northumberland, PA, and produced by revered engineer/producer and former Badlees/Cellarbirds bassist, Paul Smith, the song is the group's first new music since their full-length album, Break It Down (2018).
The band will celebrate the release of their new single/video with its first limited capacity theatre show of the year, due to the pandemic, at the Mauch Chunk Opera House in Jim Thorpe, PA on Saturday May 1, 2021 at 8pm.
Dustin Douglas and The Electric Gentlemen have won numerous Steamtown Music Awards including, Blues Artist of the Year, Album of the Year, Guitarist of the Year, Video of the Year, Live Performances of the Year. They also received an Independent Blues Music Award nomination for Blues/Rock Song of the Year for their 2019 "Out of My Mind."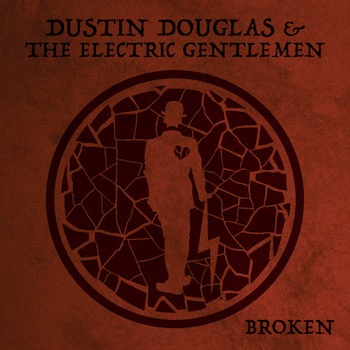 Order link for "Broken" 
Spotify link for "Broken" 
Dustin Douglas & The Electric Gentlemen Online
Website
Facebook 
Instagram