We are pleased to premiere the video "Tax Man" by Damon Fowler, Florida-based blues/roots rocker and master guitarist from his new album, Alafia Moon, produced by Fowler and George Harris (Cheap Trick, Rick Derringer, Brian Johnson from AC/DC.)
Damon Fowler deals out some hard blues we can all feel in his new live video "Tax Man." It's a two-fisted slow burner that lets Fowler get hot on vocals and slide guitar with the assistance of his ultra-capable band. Fowler leads the tune through the kind of dynamic highs and lows needed to express the pain of paying the cost to the boss. Strong, sweet, and sublime.
Damon Fowler says, "In 2013 I played a club in the Midwest  for 600 dollars on a wed…at the end of the year that club accidentally reported that I was paid 60000 dollars… The IRS contacted me somewhere around 2016 about the report and my 2013 tax statement .. It took me over a year to prove that I didn't make 60000 the entire year of 2013..much less wed night in the Midwest."
Watch "Tax Man"

Now, there is real impetus for writing a blues song like "Tax Man" about an unwanted visit from the tax collector. From Fowler's outstanding album, Alafia Moon, the band includes Damon Fowler (guitar, slide guitar, vocals), Chuck Riley (bass), Justin Headley (drums), T.C. Carr (harmonica), Mike Kach (keys), Betty Fox (backing vocals), Josh Nelms (bottles and background.) The album was recorded at Creative World Recording and features 11 tracks of blues, roots rock, and sacred steel, out on Landslide Records.
Tampa's Damon Fowler, a masterful singer, guitar player, and songwriter has absorbed the best of and furthered the region's definitive artists' work. A hard-driving troubadour, his music is steeped with soul and representative of the many styles that make up American music's roots. He has gained his peers' respect given his featured slot in Butch Truck's Freight Train band and his side gig as guitarist in the Dickey Betts Band. Critics have compared Fowler's guitar work to Johnny Winter and Jeff Beck, while his slide guitar is reminiscent of the late Duane Allman. Fowler can play fiery guitar runs with the best of them, and his lyrical work on lap steel and dobro makes him a stand out performer among the legions of guitar heroes. His new release, Alafia Moon, combines all the influences that have shaped his distinctive blues career.
On the strength of Fowler's hybrid of roots rock, blues, and sacred steel, the Florida native started wowing audiences with his musical exploits as a teenager, building a reputation as one of the hottest young players on the scene.
Damon Fowler has worked with Delbert McClinton, Chris Duarte, Buddy Guy, Johnny Winter, Edgar Winter, Jeff Beck, Robin Trower, Gregg Allman, Rick Derringer, Little feat, Jimmie Vaughan, Victor Wainwright, Butch Trucks, Dickey Betts and more.
Fowler's previous albums include Whiskey Bayou Session (Whiskey Bayou Records 2018), Damon Fowler Live (2015), Sounds of Home (Blind Pig Records 2014), Devil Got His Way (Blind Pig  records 2011), Sugar Shack (Blind Pig records 2009), Live at Skipper's Smokehouse (2003), Riverview Drive (1999.)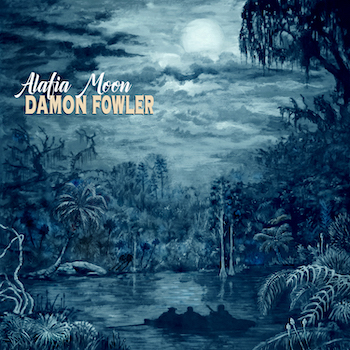 Pre-order link for Alafia Moon 
Damon Fowler Online
Website
Facebook 
Instagram