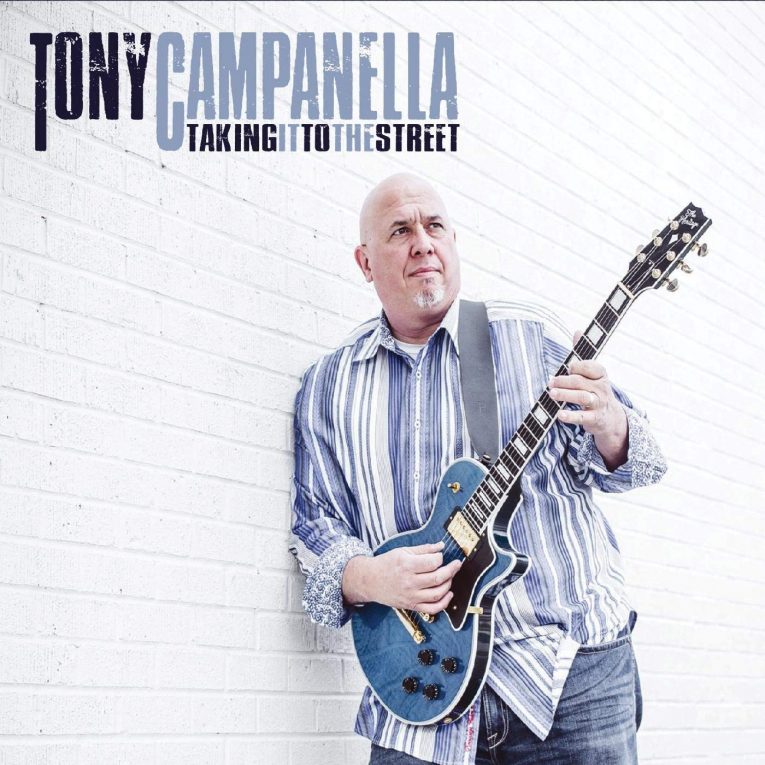 By Cameron Arndt
Virtuoso blues guitarist and band leader, Tony Campanella is set to release his debut album after 25 years in the business. Produced by Mike Zito, Taking It To The Street comes out on April 19th via Gulf Coast Records, the label founded by Mike Zito and Guy Hale. Zito cites Campanella as exactly the type of musician he wanted to sign.
A rocking blues artist from the St. Louis area, Tony Campanella made a name for himself as one of the best guitarists in the city. In the 90's, he performed in the LA West Blues Band with Tommy Bankhead, and then later joined The Sliders. He then started his own power trio, The Tony Campanella Band with twenty-year veterans of the St. Louis circuit. Campanella has also opened for artists such as Etta James, Deep Purple, Kenny Wayne Shepherd, Bernard Allison, Koko Taylor and Robin Trower.
The record kicks off with the rocking title track, built on a heavy guitar riff with shades of Thin Lizzy. Zito's production is crisp and unfussy, allowing Campanella's guitar work and vocals to shine through. The front man is backed by Terry Dry on bass, Matt Johnson on drums, Lewis Stephens on keys and Zito contributing rhythm and slide guitar. The opener may rock hard, but the lyrics provide a nice mission statement with Campanella recalling, 'I've had these blues since I was a little boy. I've been playing this here guitar since it was my only toy.'
As the album unfolds, you're given a window into Campanella's history with the blues. There's a mix of original songs by Campanella, Zito and Hale, plus a few covers. The music encompasses a variety of blues styles from upbeat shuffles to laid back twelve-bars and funky R&B tracks. It's difficult to do something new with the genre, but for me, Campanella's palpable passion and love for the music shines through and elevates this above many of other guitar-heavy contemporary blues records out there.
If "Taking It To The Street" made me sit up and take notice, it was "One Foot In The Blues" that hooked me in. A slow blues that takes it time to unfold with Campanella's vocals and guitar intertwining with soulful intensity. His six-string licks shiver and are drenched in tone, railing against the constraints of the song, as all the best blues performances do. When he lets it rip he does so without losing a sense of the piece, building up his solo in a way that grabs the listener.
There are nods to the past on Campanella's muscular, but respectful, versions of blues standards like "Checking On My Baby" and humor in Eddie Vinson's "Mr. Cleanhead," a witty story of a man who doesn't let his lack of hair curtail his success with the ladies.
The album's moodiest track, "Texas Chainsaw" is a standout on the album. The swampy, menacing vibe of the song contrasts with positive lyrics–Campanella sings in his most low-down, rough-edged tones about finding "a home for my music, and a whole lot of people who believe." Atmospheric, dirty blues feel real and play out in a whirlwind of dueling electric and slide guitars.
The final song is also the most traditional, bringing Campanella's journey through the blues full circle, back to his youth listening to Albert Collins and the Three Kings. "Those Are The Times" is a romantic slow blues that recalls B.B. King's take on "Need Your Love So Bad." It's Campanella's best vocal performance, displaying both sensitivity and grit, and his guitar playing, stripped of effects, retains all of its impact – showing that tone and soul, come from the fingers and the player, not the technology.
Taking It To The Street is an album that feels like a labor of love, put together by a musician who has lived and breathed the blues for the better part of three decades. Tony Campanella's reputation for guitar fireworks may be what piques a listener's interest, but it's the obvious joy and affection for the music that make this a standout record.
For more information on Taking It To the Street by Tony Campanella: