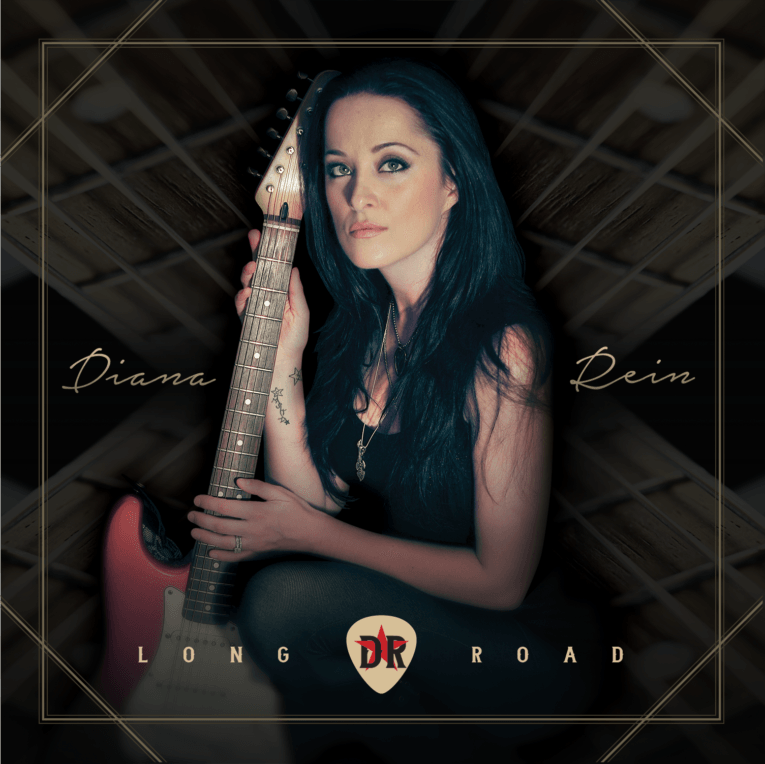 By Martine Ehrenclou
I like to support female guitarist-singer/songwriters in the blues-rock and rock genres, especially if they're good. Enter Diana Rein.
Branded the "Six-String Siren" for good reason, she's not only beautiful but a killer guitar player with a great voice. Raised in Chicago, she's also a musician with an interesting real-life story, one that she shares in a TEDx Talk. To hear Rein tell it, she put her own music aside for a few years after vocal surgery and the birth of her son. Loving motherhood but feeling the ache from the ghost limb of her guitar, she realized that she could no longer neglect her music as it was so much a part of her.
That decision drove Diana Rein back into songwriting, recording and singing while rehabilitating her voice and bettering her guitar skills. Rein renewed her journey of writing songs and recording music. Long Road, her second album, was released on Rude Mood Records in May of 2016 and was on the ballot to be considered for a Grammy Award for Best Blues Album. She took home wins from the 2016 Los Angeles Critic Awards for Best Blues Artist, Best Female CD and more.
Talk about a resurrection.
Rein's story is an inspiring one. She's a multi-talented, driven artist with a promising future ahead. Long Road, is an impressive accomplishment considering she plays all the instruments (drums are programmed,) sings, wrote all 12 tracks, and recorded and produced the album herself.
Since first tracks are important openers for albums, I wish the first song on her album was the rocking, excellent, "Come Back Home," a tune that features the gutsier tones of her voice and captures a certain richness and emotion. Let me just say that her guitar playing is smoking. Her musicianship on all of the tunes of this album smokes, but this song, a real winner if you ask me, captures the whole package—strong, emotional vocals, a great guitar solo with Stevie Ray Vaughan-like tone, catchy rhythm, melody and beat.
The first and title track on Long Road is a ballad with nice, clean guitar licks and enviable Strat tone. Rein's voice is pretty on this tune, but personally, I think she has a lot more to offer on the rest of the album.
On "Wild One," the second track, Rein rocks it with ripping guitar licks. Her voice sails on this one. It's a good song with a blistering guitar solo and hard driving beat—all you rockers out there will groove on it. Rein sings it with passion. The album only gets better from here.
"Living Loud" is a little darker and bold, the guitar enhanced with some reverb. The opening resonates with a rich guitar lick and a slightly ominous tonality. The chorus takes Rein into rock-pop territory and then gracefully back into heavier blues-rock on the verses. Rein's voice has great tone and range—perfectly suited for blues-rock and even for some less hard rock styles as you can hear on a ballad later in the album that allows for her voice to be used to its fullest.  But I have to say, her guitar playing is pretty stellar.
The production on the track, "Green Light," a catchy, rocking song, favors her guitar playing rather than providing a balance with her vocals, something that occurs with a few tracks on the album. Since her playing is so good, I can easily see how this would happen. I kept thinking how this song would sound if Rein had a producer who coaxed the depth of her voice to some of the same heights as her guitar playing. It's a good song nonetheless.
I love the rhythm and guitar riff on, "The Real Thing," which showcases Rein on a stinging guitar solo that sounds like it might be played on a Les Paul. The contrast between the Strat and the fatter sound of the LP is a nice touch. This song grew on me the more I listened to it. Rein dips into her lower vocal tones on the tune which gives her voice a textured and rich feel.
"Done Me Dirty," a rock ballad, features some outstanding guitar playing by Rein with hints of, dare I say, Mark Knopfler.
Another ballad on the album, the one I referred to earlier, "Don't Walk Away," features Rein's voice in a way that stands out on the entire album. Of course, it's a ballad and not a rock tune, but still, here her vocals are just beautiful. She sings this song like she means it, and her voice packs an emotional punch. The guitar solo, a backdrop to the vocal melody, works well. This track shows the balance of vocals and guitar. "Don't Walk Away" is a standout.
Listen to "Wicked" for an inspired guitar solo played by Rein.
The album closes with, "Peace," an instrumental song that's haunting and beautiful. A stunner.
I believe we'll see a lot more of Diana Rein. She's a young artist with years ahead to hone all of her skills. Talk about potential. This female guitarist-singer/songwriter has it all.
Long Road is available: 
Website: http://www.dianarein.com
Facebook: https://www.facebook.com/dianareinmusic/
Spotify: https://play.spotify.com/album/4GdEeF8wTgVI5dcpi6zpa2