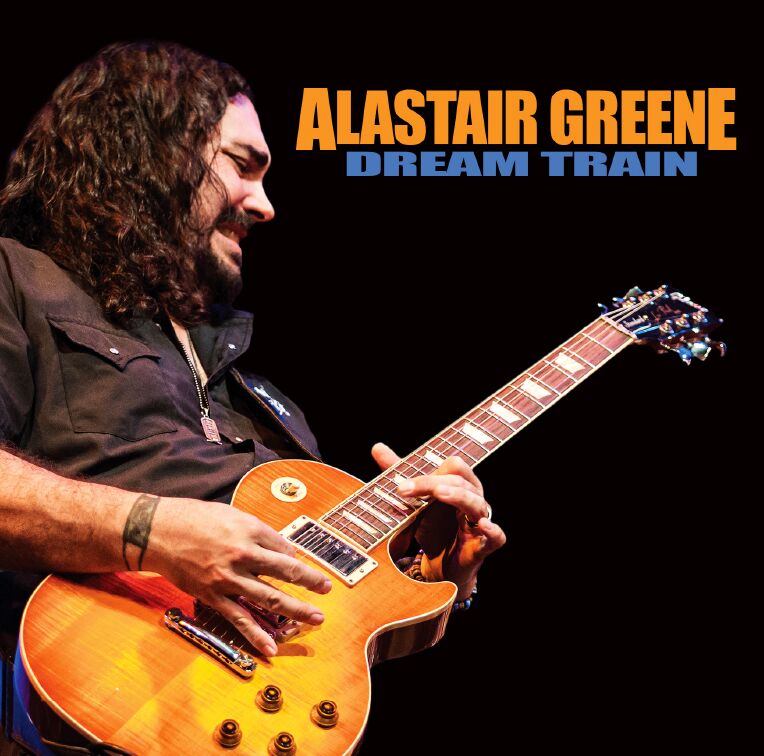 by Tom O'Connor
After seven enriching years as Alan Parsons' touring sideman, Alastair Greene steps out with his new solo album, Dream Train, due on October 20th from Rip Cat Records. With this thirteen song collection Greene proves he deserves the spotlight. I could sum up this record with a three-word review: "The Real Deal" …but my editor expects more column inches than that and I do like to keep her happy, so let's dig in.
Greene knows enough to keep it simple here. Sure, there are some outstanding guest appearances on various tracks from Walter Trout, Mike Finnigan, Dennis Gruenling, Debbie Davies and Mike Zito, but at the core of everything is a tight, bluesy three-piece featuring Austin Beede's crisp, snappy drumming and solid support from Jim Rankin on bass and back-up vocals. These two set the stage for Greene's vocals and impressive, confident guitar.
In traditional style, the title track is also track one. "Dream Train" lets you know exactly what you're in for, not just in vibe and tone, but also in theme and feeling. I rarely comment on lyrics but this song is a clear declaration of intent, and a promise to the listener that is kept through the dozen tracks that follow.
"Big Bad Wolf" grabs your attention with a scuttle-buttin' shuffle and a tale of bad decisions made more than once. That leads to the only song in the collection not written by Greene. "Nome Zayne," a previously unreleased tune written by Billy Gibbons that dwells in the dynamic and strange-in-a-good-way realm beyond straight Blues that ZZ Top discovered before anyone else.
The hard Blues come back in a big way on the moving "Another Lie." The heavy vibe, Greene's wounded vocals and focused, dynamic playing make this one of the collection's stand-out tunes. The short, soft acoustic break, "Song For Rufus" that follows, dials back the intensity, giving listeners a chance to catch their breath before the power of the blues is unleashed again.
"I'm a Taker" and "Daredevil" continue to deliver on that promise made in the opening track. "Taker" explodes with a wah-pedal solo, then "Daredevil" follows with a classic shuffle and wobbly organ tone that would energize any crowded honkytonk.
Another standout track is "Grateful Swagger." The aptly-named instrumental, featuring guest guitar by Debbie Davis, is a funky-fine workout for the entire band that takes its time and goes in its own jam band-y direction.
After that excursion, Greene gets back to the blues with the swampy, throbbing "Rain Stomp" and the slow-building "Demons Down." The band then takes off on another well-timed exploration with "Iowa." Another instrumental, this one hints at everything from the Allman Bros to the Grateful Dead to something I can't quite name. Definitely a song you just have to feel.
Dream Train closes with plenty of energy. "Down to Memphis" hits hard and continues the story of how a guitar player decides to become a capital "M" Musician, no matter the cost.
Album closer and video premiere, "Lucky 13" kicks off with Greene's punchy guitar riffs and soulful vocals. Mid tune, Greene nails a ripping guitar solo. It's a toe-tapping number and flies with a confident swagger.
I imagine it must be very exciting and gratifying to tour the world, playing with a musical legend like Parsons. It takes next-level conviction and confidence to step away from a gig like that to strike out on your own. Alastair Greene made the right decision.
For more information on Dream Train and Alastair Greene:
Website: http://agsongs.com
Facebook: https://www.facebook.com/AlastairGreeneOfficial/
Amazon: https://www.amazon.com/Dream-Train-Alastair-Greene/dp/B074RNQ26D
Apple/iTunes: https://itunes.apple.com/us/album/dream-train/id1273029428