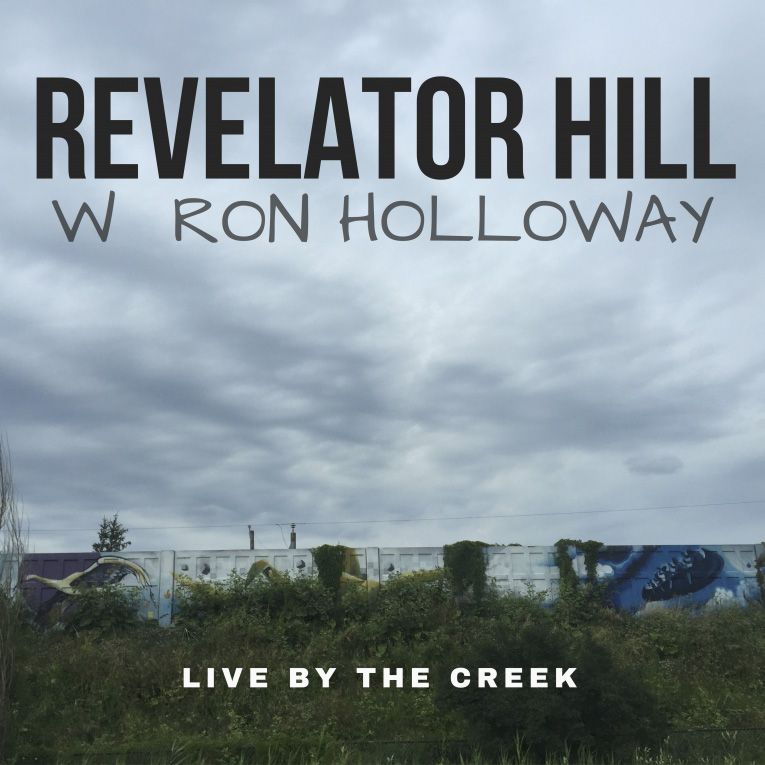 By Dave Resto
Virginia based blues-rock band, Revelator Hill (with Ron Holloway) cracks 2018 with an outstanding compilation of blues-rock tunes with a rock edge. Live by the Creek (Root Nine Records) to be released January 26, 2018, chronicles the band's inspired performance before an audience of two hundred on a hot summer night in 2017.
Masterful guitarist/singer/songwriter, Bobby Thompson, has been a fixture of the Washington D.C. regional music scene for years. In that time, he's gone from sought after sideman to accomplished band leader. Live By the Creek features tenor saxophonist, Ron Holloway, who is known for his work with Dizzy Gillespie, and as a working member of The Warren Haynes Band. He is often seen as a guest of bands Tedeschi-Trucks and Melvin Seals.
Live By The Creek is a first rate blues-rock album with stellar musicians, including Bobby Thompson on guitar and vocals, Seth Morrissey on bass and vocals, Gary Crockett on drums and vocals and Wes Lanich on keyboards.
The first three songs on Live by the Creek—"Bad Luck Goodbye" "Gets Me Over"  and "Look at You Now" are from the band's 2017 studio release, Atlantic Detour. The studio versions of these songs are powerful but concise. The performances here, with the live setting and the addition of Holloway, are more improvisational.
"Bad Luck Goodbye" is a rockin' mid-tempo showpiece to highlight the band's exemplary musicianship. Bobby Thompson's dirty wah-wah pedaled guitar riff, played over a cow bell count-off, sets a surly tone that the band gamely jumps in on. Thompson's smooth and soulful vocals blend nicely with the rhythm section and drummer Gary Crockett (a fearlessly inventive percussionist) – keep things steady but sloshy. That leaves Thompson, keyboardist Wes Lanich and Holloway to takes turns expanding the melodic boundaries. Holloway's sax solo is exquisite.
"Gets Me Over" is a soulful blues rock gem that starts with a trudging back-beat and some fine fingerpicking by Thompson. Morrissey runs a tasteful bass line underneath, as Lanich layers in the keys with a light touch. In the fashion of all good horn players, Holloway lays out until called upon. By the end of the song, as the band has cranked up the intensity, Holloway's sax is on fire and the spotlight is his.
Video Premiere "Look at You Now"
The band is almost menacing on "Look at You Now," about a love gone wrong. Crockett's snare drum sounds deep and wide and Thompson's lap steel sounds just plain mean. There's a breakdown where Holloway wails, screeches and riffs over polyrhythmic drumming that shows just how much these guys are musicians' musicians.
"Nobody's Fool" is a contemporary take on the honky-tonk shuffle. Wes Lanich does a good job of toggling back and forth between organ and electric piano, placing them in just the right spots. Interestingly, the band chose to reinterpret another shuffle, Chester Burnett's (aka Howlin' Wolf) "How Many More Years" and turn it into a straight, slow blues. The change in tempo and groove allows Revelator Hill and Holloway to nastify the song in a new way that is darkly satisfying.
The plaintive love song, "Consider Me," has a warm, familiarity. It wasn't until the lush, rolling keyboard solo that I realized it reminded me of the Rolling Stones' "I'm Free" – specifically, the version on their live album Stripped. (Keep in mind that the tempos are slightly different.)
The opening notes of "Until We Shine" may have you thinking spatially, as well as musically. That owes much to Thompson's other-worldly, Indian ragga-mimicking slide work in the beginning. That carries our ears into the sliding landscape of sounds that the band creates as we follow them down the rabbit hole. Crockett's fragmented beats add to our musical disorientation. Again, Holloway holds off for a good part of the song but when he chooses to play in, his jazz chops enhance the already hypnotic feel.
The album ends with a cover of Eric Clapton's "Bottle of Red Wine." There wasn't much to embellish on this old blues-rock nugget, so the band just plays the hell out of it, as they're well-suited to do. It works very well as a show closer.
Revelator Hill are accomplished players who can clearly hold an audience of music aficionados. Their performance here with Ron Holloway, as captured by recording engineer Luis Chavesta and mixed and mastered by Jim Fox, make Live by the Creek one to add to your permanent collection.
For more information on Live by the Creek and Revelator Hill:
Website: http://www.revelatorhill.com
Facebook: https://www.facebook.com/revelatorhill/
Bandcamp: https://revelatorhill.bandcamp.com/album/live-by-the-creek-january-2018