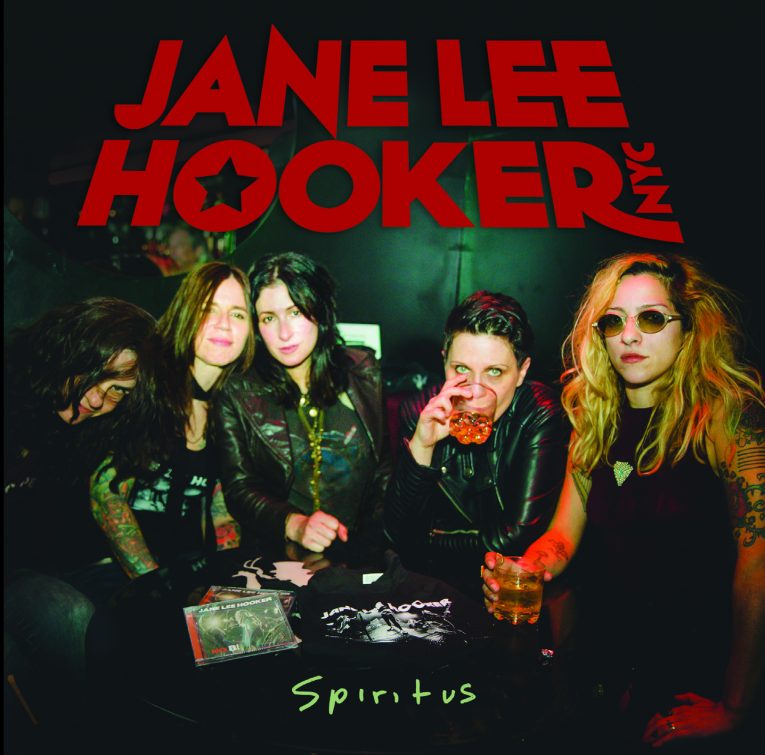 By Tom O'Connor
Fierce NYC rock quartet Jane Lee Hooker is scheduled to release their second record, Spiritus (Ruf Records) on January 26th, and it is no sophomore slump. With double lead guitars, a hard driving rhythm section, and scorching vocals, the Jane Lee Hooker band delivers modern blues with an aggressive rock and roll edge.
It is clear that producer Matt Chiaravalle and the band were on the same page with this one. With no over-dubs or effects, it isn't about "radio ready," heavily compressed sonic hi-jinks. It is about delivering the chemistry and attack these five musicians generate when they play together. Just plug in, hit the record button and let it fly. The resulting collection of eight originals and two covers does not disappoint.
Featuring former members of the bands Nashville Pussy and Bad Wizard, the ladies come out of the blocks at full speed on album opener, "How Ya Doin?" A blues-rocker, you're introduced to Dana "Danger" Athens' powerful voice and some tasty extended guitar breaks (three of them!) from both Tracy "Hightop" and Tina "T-Bone" Gorin. With their power established, the band dials back the tempo on "Gimme That," but the groove remains solid and chugging thanks to Melissa "Cool Whip" Houston's drums and "Hail Mary" Zadroga's steady bass.
"Mama Said" is an album standout, and the band plays like they know it too. Solid, hopeful lyrics ride over the top of a mid-tempo thump that I'm sure hits you hard in the chest. A bit of an anthem for anyone who ever got good advice from mom.
The band stays in a semi-
Rolling Stones
mid-tempo sweet spot for "Be My Baby," again giving the guitarists the room they need to feed off each other in service of the song. The tempo gets a little slower, and the tone a little more serious on "Later On."  Athens' vocals open up to show some vulnerability as the band holds together the loose progression. This might sound odd, but it puts me in mind of Skynyrd's "Tuesday's Gone."
A fairly punkified cover version of Big Mama Thornton's "Black Rat" comes next and it sounds legit enough to me. I've seen some serious mosh pits spin up from ravers not half this good. I imagine that is why they paired it with the next track, "Ends Meet," which I'm guessing is a standout as well when played live. Halfway through the song, (and I mean almost to the second) they boost the tempo in a way that's guaranteed to take any audience over the falls with them, willingly. . The guitars, again sounding particularly "Ronny & Keith," as they push each other to keep up with the galloping rhythm section. I bet the band makes a meal out of this tune when they play it live, stretching it to, who knows? Ten minutes? Play it until the audience drops. They'll thank you for it.
After all that rave-up mayhem, piano-driven ballad "How Bright the Moon" is there to give you a breather. Obviously, a vocal showcase for Athens (who also plays the piano on it) the rest of the band is clearly present and in full support.
The party vibe comes back with their playful cover of "Turn on Your Love Light." They do a fun and bouncy version of the tune, and I'm sure it is a blast to play it live – in fact I know it is, because I've played it live more than enough times myself. The feel-good jam-band vibe seems kind of "off-message" for this collection, even though they do play the hell out of it.
The album closes out strong and bluesy with "The Breeze." By far the longest track on the album at nearly ten minutes, none of those minutes are wasted. On this song in particular you're reminded that what you're hearing is five people listening to each other, vibe-ing and feeding off what the others are doing, in real time. I'm convinced that is what Jane Lee Hooker wanted this album to convey in no uncertain terms–they're a band, a unit that is equal to more than the sum of their five parts. That's what is captured and comes through here.
For more information on Spiritus by Jane Lee Hooker
Website: https://www.janeleehooker.com
Facebook: https://www.facebook.com/JaneLeeHooker/