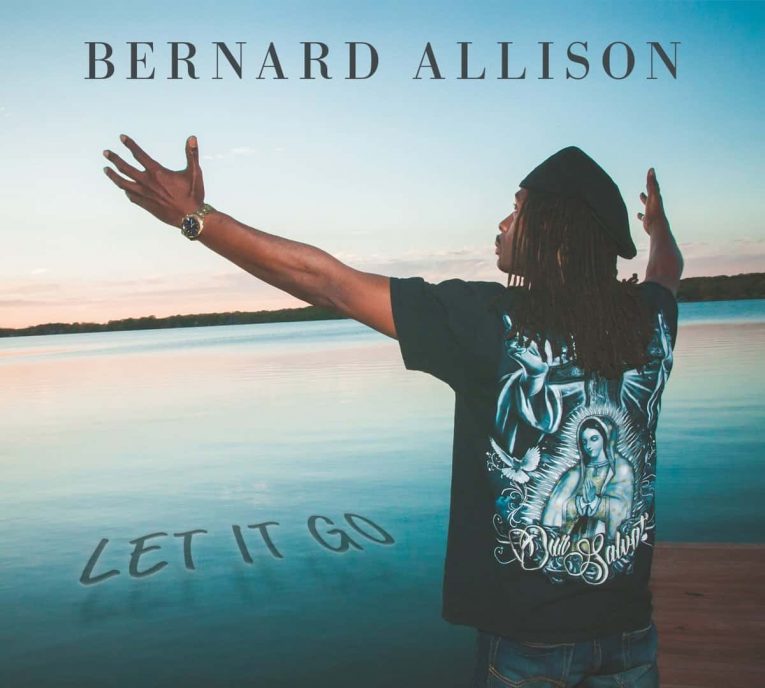 By Martine Ehrenclou
Let It Go, the new album by guitar slinger and blues funk master, Bernard Allison, released February 2nd, cracks the start of 2018 with a blues-bang.
The incredibly talented guitarist, vocalist, songwriter, Bernard Allison (son of the late, blues heavyweight, Luther Allison) put together a funky blues album that rocks. There's something for everyone on Let It Go, including jazz and rock tunes. Produced by the legendary Jim Gaines, Let It Go is Allison's return to Ruf Records.
Allison is the king of groove and smokin' guitar chops, and Let It Go showcases plenty of soul-satisfying guitar work. It's an upbeat, and even uplifting record with genre bending tunes that Allison largely wrote himself, with the exception of two covers and two by his father.
The 12-track album kicks off with, "Cruisin' for a Bluesin," a rhythmic groove with a foot-stompin' beat. The perfect album-opener with a mighty fine guitar solo and smooth, soulful vocals by Allison. This tune must be experienced at high volumes to capture the excellent musicianship by Bernard Allison (vocals, lead guitar, slide, B3,) John T. McGhee (rhythm guitar) George Moye (bass) and Mario Dawson (drums.)
Next up, "Same Ole Feeling" offers a sweet R&B groove with tasteful guitar work, courtesy of the versatile Allison. Talk about making a guitar sing. He makes his guitar whine, croon and belt. Something about his guitar solo reminded me of George Benson, but with a tone and style all his own. Just listen to it and you'll see what I mean.
"Back Door Man" opens with talk box, adding interesting texture to the intro. Allison takes a spin on slide guitar, making this track a standout on the album. This is funky fun.
"Let It Go" introduces a different feel. It's more of a rock song about love gone wrong. Again, Allison kills it on guitar and vocals. The guitar solo, in a word, is beautiful. The rhythm section is tight, perfectly in sync.
"Night Train," another standout, is a rockin' funky blues tune with some interesting jazz flavors and once again features outstanding musicianship from Allison and the band. "Night Train" is also about good storytelling. What better than a tale about going to a club, a hole in the wall, and playing music until dawn. The band is so tight-knit you can hear their connection. Allison's stunning guitar riffs ride the bass line and he plays another ripping solo. It's funky but has a whole lot more going on.
Versatility is the name of the game for this record, which isn't surprising given Allison's breadth of skills to draw from. He began playing professionally at the age of 13 on his father's records, and went directly from high school into Koko Taylor's Blues Machine. This began several decades of a prolific solo career, 19 albums, and performing and recording with many blues greats.
"Kiddio," a Brook Benton jazz number, features a beautiful sax solo played by Jose Ned James. It's a laid back tune, but don't let that fool you—it's expertly played with plenty of soul and groove.


"Leave Your Ego," a plea to allow music to heal your soul, is a rock song, Hendrix-esque if you will, and it reveals yet another side to Allison with a ripping guitar solo and plenty of wah. It's a rock anthem of sorts and a nod to Allison senior. "It's all about my dad saying, 'Leave your ego, play the music, love the people.' We honour that quote every day", said Bernard Allison.
A 12-bar blues, "Blues Party" is Bernard Allison's vision of a celestial blues jam with fallen blues legends, from John Lee Hooker to BB King, a party we'd all love to attend. Allison's guitar solo is exquisite, playful and fun.
Allison throws himself vocally into the Luther Allison cover, "You're Gonna Need Me," and it pays off. Another Luther Allison tune, "Castle," closes the record as another standout.
Let It Go is another impressive addition to this blues heavyweight's expansive catalogue of music.
Bernard Allison is currently touring on the 2018 Ruf's Blues Caravan with Vanja Sky and Mike Zito. See here https://www.facebook.com/bluescaravan/?fref=mentions
For more information on Let It Go by Bernard Allison:
Website: https://www.bernardallison.com
Facebook: https://www.facebook.com/BernardAllisonMusic/