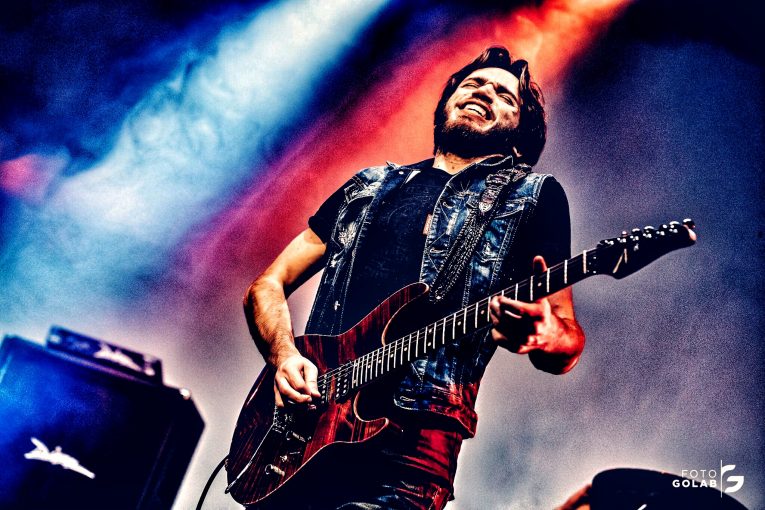 By Martine Ehrenclou
One of the joys of Rock and Blues Muse is discovering thrilling new music. I stumbled upon Eric Steckel's new-ish album, Polyphonic Prayer, released early 2018. I wish I'd tripped the sound of this six-string powerhouse guitarist/vocalist before now. Polyphonic Prayer is Steckel's 10thalbum and a follow up to his 2015 Black Gold record.
As soon as I heard the opening, "Waitin' For the Bus" (ZZ Top cover,) I grabbed the album on Spotify. This was no ordinary cover—Steckel's version is similar in guitar tone only. His vocals are gutsy, bluesy and soulful. Steckel is an innovative and energetic guitar player with a killer style, and really, who can cover an early ZZ Top song and do it better?
Dare I say, Steckel himself. And I'm a Billy Gibbons fan, so that says a lot.
I'd actually asked Eric who played the piano on the next tune, "We're Still Friends" as the beginning is all piano and it's played beautifully. It's Eric himself on piano and Hammond B3. This song begins quietly with his voice sweeping the keys. And what a great voice he has. The guitar solo is in one word-inspired. Okay two words—stunning. Tone, feel, everything. One would need a vast vocabulary to capture Eric Steckel's talents.
When asked about his record, Eric said, "I wanted to return to my Blues roots a bit on this album, while still having a modern rock/metal production style." The album was produced by Eric and offers six covers (blues classics) and four originals. He plays all of the instruments on the record except for drums– guitar, piano, B3 and bass.
"She's 19 years old" is foot-stompin' dirty blues-rock. This is to be blasted through great quality headphones or speakers. Yes, it's that good.
Exquisite guitar players don't always come with ear-pleasing, soulful vocals, and if they do, the vocals can sometimes lack emotion. Not with Eric Steckel. Whew, this guy is good. The guitar solo, as with others on this album, will, for many, tease the hair on your arms as it did mine. This 'aint no ordinary 12-bar blues.
No wonder the young Steckel was invited by blues legend, John Mayall, to appear with the Blues Breakers in Sweden, Norway and Denmark during their Scandinavian tour and to play on one of their albums.
"Unforgettable" is a mournful rock tune with crossover appeal by way of the vocals and melody. But when Steckel's guitar rages in, we're right back in rock territory.
"Tennessee" circles back to the blues-rock groove Steckel is right at home with. It's a rocker, a tune that will thrill rock and guitar fans alike. With a virtuosic grasp of the guitar, his playing is a guitar feast.
If you're in the mood for a 12-bar blues song that's prime for a roadhouse bar, listen to "It's My Own Fault." His vocals shine when he sings the blues, right down to the vocal phrasing. Again, his guitar work is downright brilliant. A bullet to the heart. Listen to it loud.
The album closes with "Make It Rain" a beautiful interpretation of a Foy Vance song, also done by Ed Sheeran. But there's no vocal processing on this singer's vocals. It opens with piano, Hammond B3, and Steckel's moving vocals. He transforms this song into a blues scorcher. It's hard to believe that Steckel's virtuoso talents translate to the organ as well, but they do. There is quite an organ solo that graces the mid-section of the tune.
Polyphonic Prayer does offer a couple of tunes that push the envelope of mass market appeal. This might just be experimentation or an attempt to broaden the market of listeners.
But in an era where pedal boards, laptops and vocal processing have become the norm, it's refreshing and exciting to listen to an artist whose music is authentic and whose talents are the real deal.
I welcome your comments. Please comment below.
For more information on Polyphonic Prayer and Eric Steckel:
Website: https://www.ericsteckel.com
Facebook: https://www.facebook.com/eric.m.steckel
Apple/iTunes:https://itunes.apple.com/us/album/polyphonic-prayer/1336628292