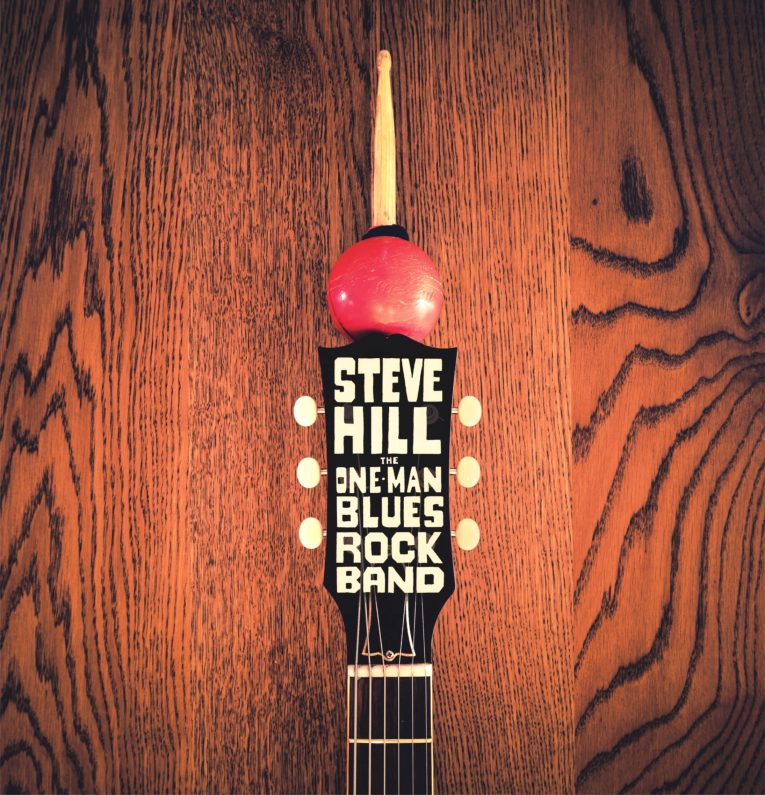 By Scott Bampton
Out Friday May 11th, The One-Man Blues Rock Band is the first live album from multi-instrumentalist Steve Hill. The 14-track live recording was captured at La Chapelle, Quebec in November of last year at one of Hill's headline shows. Punctuated by some impressive support slots, Hill's headline roadshow has taken the French Canadian virtuoso all over North America, as well as across the Atlantic. And as a frequent visitor to the UK, Hill may be aware of the curious British idiom, "It does exactly what it says on the tin." Without doubt, that phrase applies to this record. In short, it means there is zero ambiguity about what this album is. It's blues rock. It's live. And it all comes courtesy of one man – Steve Hill. Though, just how that's physically possible is genuinely baffling. Because when opening track, "Rhythm All Over" kicks in, it legitimately sounds as if there is a full three-or-four-piece band backing Hill up.
The lyrics only strengthen Steve Hill's one-man-band claim further, as he verbally directs himself through the steps of mastering perfect blues rhythm. "You start off with the left foot, the right one will follow," he proclaims, as he thumps out the bass drum rhythm in isolation. He adds snare, cymbals and guitar, all courtesy of a different limb, until he resolves, "I got rhythm now, rhythm all over." And by the name of Bonham, this guy has serious rhythm. So much so that a little fact checking was necessary to ensure Hill wasn't somehow hiding a full band behind a curtain somewhere. As this live video from his set in Edinburgh last year confirms, that really is Hill doing everything himself – exactly what it says on the tin.
Furiously swinging his drumsticks, which are fixed to his guitar headstock, Hill pounds his stand-up drum kit through "Go On" and "The Collector," hard rock-infused blues stompers that will have you both nodding your head in agreement and shaking it in pure disbelief. By the time Hill slides and hammers his way through the guitar solo in the ZZ Top-esque, "Damned," it becomes completely unfathomable that a single musician can possess so much talent.
Without digging out further video evidence, it's hard to ascertain exactly where Hill's bass tones are coming from. Presumably, he uses his thumb to pick his top guitar string in time with his left foot, while picking the higher strings with his fingers. But for Hill, that's nothing. Restless at merely being bass player, vocalist, guitarist, and drummer, Hill adds harmonica to the mix on the Johnny Cash-inspired country blues ballad, "Tough Luck." It's also where Hill showcases the impressive extent of his vocal capabilities. Departing briefly from his usual tuneful mid-range timbre, Hill reaches right down into his boots and pulls out quite a beautiful baritone husk.
The majority of Hill's setlist on this record are taken from his "Solo Recordings 1, 2, and 3" releases, with Hill breezing through "Never Is Such a Long Time," "Hate to See You Go," and a handful of other crowd favourites without seeming to break a sweat. He certainly doesn't miss a single beat as he arrives at his cover of the legendary "Voodoo Child" (the slight return version) to close out his set. Doing Hendrix serious justice, even the late, great man himself would likely look on in wonder as Hill effortlessly executes the guitar licks while also filling the shoes of a full band.
As The One Man Blues Rock Band takes its bow, one question lingers on the mind–how is it physically possible for Steve Hill to do what he does? How did it take nearly 20 years for him to earn his call-up to the blues big leagues? And how long will we have to wait for his next album? Here's hoping it's not long.
For more information on The One-Man Blues Rock Band by Steve Hill:
Website: http://www.stevehillmusic.com
Facebook: https://www.facebook.com/stevehillmusic
Apple/iTunes: https://itunes.apple.com/ca/album/the-one-man-blues-rock-band/1371013230