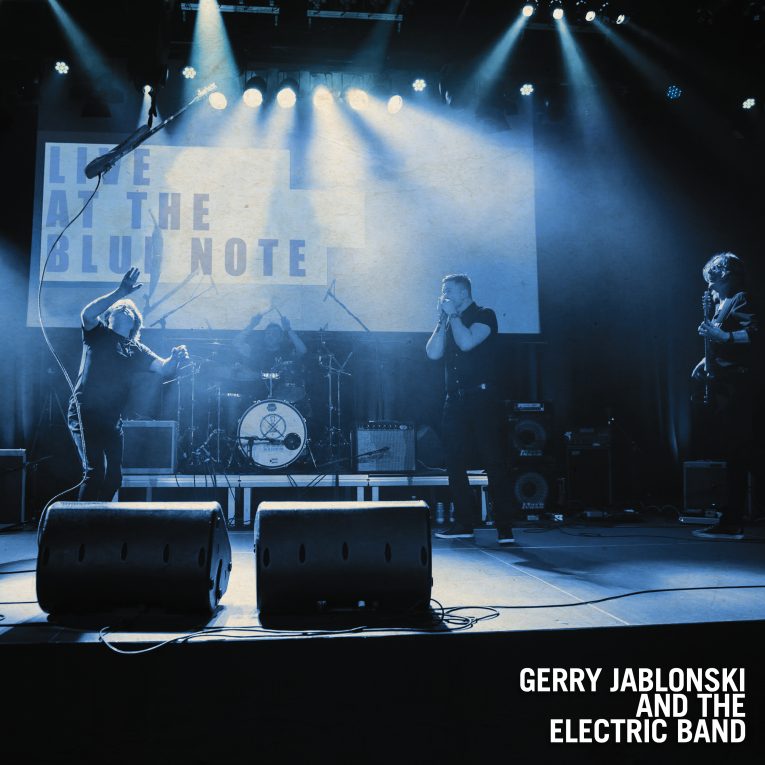 By Tom O'Connor
With the July 29th release of Live at the Blue Note, Gerry Jablonski and his Electric Band have finally released a collection that fully showcases the energy, commotion and emotion of the band's live shows.
Previous attempts at live recordings haven't quite captured that elusive "locked-but-loose" band vibe that this collection of solid musicians is capable of. They nailed it this time.
UK Blues Awards 2018 nominees, Gerry Jablonski and The Electric Band are dynamic and brawling right out of the gate with "Sherry Dee" for an audience that sounds like they know what is in store for them, but likely found their expectations exceeded by the time the first chorus rolls around. There is a little more swing in "Soul Sister," which is designed with plenty of room for funky interplay between harmonica and Jablonski's guitar before his extended, gritty guitar solo powers you through to the big finish.
There is a bit of an SRV-goes-uptown strut on "Two Time Lover," with plenty of room for punctuation, and a pretty powerful lead break, from Peter Narojczyk's harmonica, while Grigor Leslie's bass holds down the rhythm along with Lewis Fraser's focused yet reactive-to-the-moment drumming. This all, of course, sets the table for another scorching big finish from Jablonski's guitar.
Album standout track "Black Rain" is a powerful song and clearly a band favorite as they all lean hardinto the groove on this one and seem to be racing each other back to "the One" in every bar. There is room for everyone to shine on this seven minute ode to that kind of bad love the Blues was invented for.
"Fork Fed Dog" is more of a quick-paced, light-hearted and scrambling appreciation of that kind of girl who makes you re-evaluate everything you thought you knew. This is a driving beast of a tune, once again custom made for another harmonica and guitar duel in which everyone wins, especially the listeners. Next up "Angel of Love" opens a little more soulfully, with a clean bell-toned intro that effortlessly slides into scuttle-buttin' tale of a lovesick, or perhaps just lust-struck, guy who pays the price when he gets blindsided by his idea of Heaven on Earth. By the time we get to the multi-part instrumental break, the band is burning at full intensity and everyone gets to have their say while the barn, already fully engulfed in flames, burns to the ground. The album closes with "Broken Heart" a full-power raver that looks at healing a broken heart from another angle while giving you one last taste of pull-out-all-the-stops guitar and harmonica interplay that really highlights the whole point of "live in concert" albums.
The studio might let you go back and fix the occasional beefed note, or off-kilter syllable. The studio might help you capture nuance and passing notes that would otherwise be lost in the mix, but the trade-off is the loss of spontaneity and the possibility of capturing some magic moment in time. In a live recording like this one, which is as well-engineered as it is well-played, you hear both the wild abandon of musicians who know they can really cut loose because they trust each other, combined with the respect, reaction and focus required to listen and respond to each other, the audience and the vibe in the room, in that particular moment in time. That's always where the Blues truly reveals its power to move people and stir souls.
Take this ride.

For more information on Live at the Blue Note by Gerry Jablonski and The Electric Band: