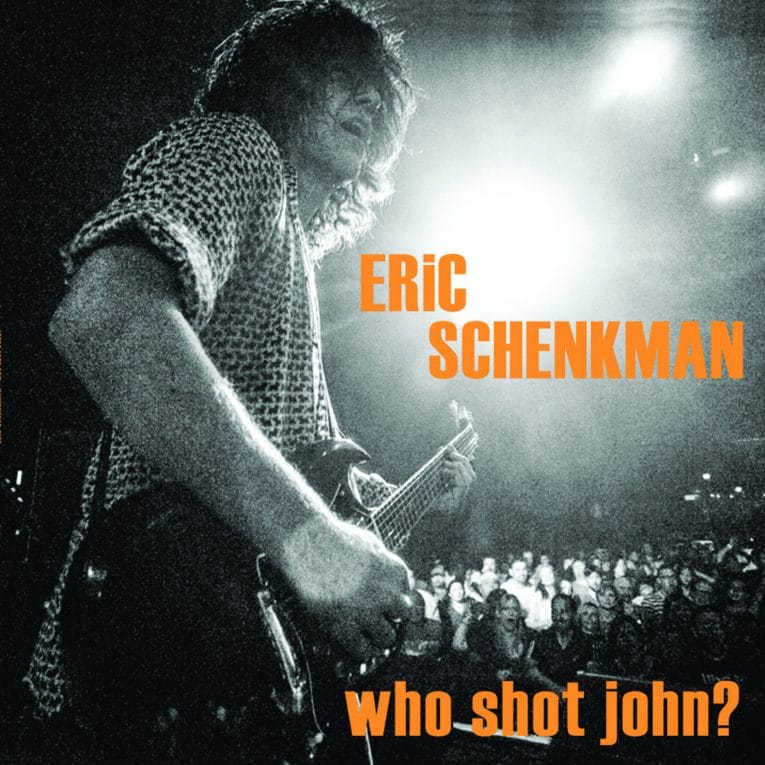 By Tom O'Connor
Eric Schenkman and Vizztone Label Group get your new year off to a blistering good start with the January 11th release of Who Shot John? Best known as the guitarist and co-songwriter from The Spin Doctors, with this album Schenkman reminds everyone that he has more to say and more musical joy to spread. A virtuoso guitarist, Eric Schenkman has also worked with Carly Simon, Chico Hamilton, Natalie Merchant and many more. His third self-produced solo album, Who Shot John? showcases the many sides of Eric Schenkman, from rockin' blues to funk, soul and pop.
I'll admit this high-octane collection caught me by surprise and has propelled me online to find Schenkman's two previous solo albums. It shouldn't come as a surprise to anyone that the co-writer of a fistful of Top 10 hits brings more to the table than just a whole lotta big guitar chops. The guy knows how to write catchy earworm tunes that swing mightily while still staying within a radio-friendly timeframe. Try it, it isn't easy.
By keeping it simple with a tight trio format consisting of respected drummers Van Romaine (Enrique Iglesias,) Cody Dickinson (North Mississippi Allstars) and co-producer/bassist Shawn Kellerman (Lucky Peterson), and keeping the song structures relatively simple, Schenkman has created a platform that showcases his formidable chops and unique styles while always leaving room for everyone to contribute.
Opening track "I'm Alright" starts the collection off with some straight-up blues-rock that, as hard as it hits, also manages to flash some of Schenkman's familiar playfulness in both the lyrics and guitar fills. That talent for impish, conversational lyrics continues on the shuffle grooviness of "Locked in the House." After just two tracks what is really standing out so far is the "live" vibe these guys have created in the studio. The players feel especially connected, not just to the songs, but to each other. This locked-in connection is especially powerful on "Lincoln's Feat," which hews the closest so far to old-school Lead Belly-esque porch stomping blues. Eric and the boys preach it and you believe.
Good-timin' title track "Who Shot John?" bounces on an almost ska-like rhythm as it tells a tale of a Mardi Gras misadventure. Schenkman's guitar has a field day on this one. The band shifts styles, because it can, into a more hard rock stomp with "No Pain" but even here, Schenkman's trademark songwriting swing and springiness can't be denied. The slow-walking blues of "Sign of the Times" is a rare gem. It sounds both new and classic (no easy trick.) Even on first listen you can tell this is a song that guitar players andvocalists, male and female, will want to cover and make their own. The band follows up those heavy-ish blues with "Far Away," the most Spin Doctor-y tune in the bunch. Schenkman's guitar soars over this bright and cheerful ditty that'll get any crowd moving. An unusual mid-song break in "Only A Fool" seems to be there to make sure you're still paying attention, but trust me, you will be focused for this soul rockin' love song.
The album closes with two strong tunes and possibly some of the most memorable playing on the album. The angular rhythm of "Fortune Teller" is another showcase for a band so tight you couldn't slip a piece of paper between them. The final tune "Agent Orange Blues" is a serious piece of work that finds the band going out on their hardest and grungiest groove, which constantly teeters on the brink of spinning out of control. I can easily see the band destroying audiences with this one at every live gig.
This is my first review of the new year. If this album is any indication, it is going to be a good year for groove-tastic music and it's just what we all need.
For more information on Who Shot John? by Eric Schenkman: