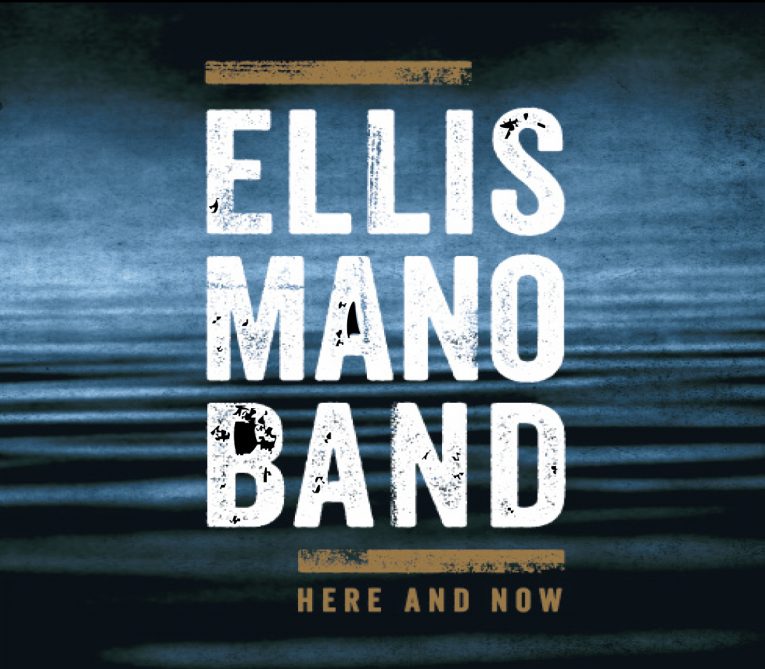 By Martine Ehrenclou
In Switzerland, all four members of the Ellis Mano Band made names for themselves as in-demand studio musicians, who for many years backed other artists on their albums, TV shows and concert tours. They rarely had time to make their own music. But now, after a year of collaboration, Ellis Mano Band has created a set of searing rock and blues-inspired songs that make up their debut album, Here And Now, out May 3, 2019.
The all-original 10-track album is a mix of blues-rock with some serious grooves and flavors of soul. There is some inspired songwriting on Here And Now, particularly as you get deeper into the tracks. The band is led by vocalist Chris Ellis, who was a regular on Swiss and German television and radio, and guitarist Edis Mano who backed all top names in Switzerland, top session bassist Severin Graf, and drummer Nico Looser (toured with Tracy Chapman and others.)
"Whisky" jumpstarts the album, a heavy blues-rock number with steady drums and dirty guitar riffs. Chris Ellis' smoky, rocking vocals grace this tune of heartbreak. It's a big rocker with organ fills, and a memorable guitar solo by Mano.
The second and title track, "Here And Now" is where you can start to hear the true quality of this band's talents, both musically and in the creative, visual storytelling. This blues-rock-soul tune features Ellis' soulful vocals and Mano's compelling, rhythmic guitar riffs.
By the time you get to the third song, a consistent theme of regret emerges, a desolate feel to the rock stomping beats and big sound. The lyrics are authentic and sincere about life's challenges, the loves lost, the battle against oneself—introspection you don't expect from a rocking band like this. Until you get to the fourth, standout track. "Goodbye My Love" is a beautiful and moving song with interesting chord changes and innovative songwriting. Ellis' voice is expressive and rich, the band tight with the soft touch of drummer Nico Looser. It's blues but with country-ish flavors. The lyrics are poetic, courtesy of Shane Brady, Chris Ellis and Edis Mano. This song, to my ears, kicks off a string of great, inventive tunes that showcase what this band is truly capable of.
The haunting and powerful "A Lifetime" opens with spare guitar and plenty of mood. Ellis' power vocals drive the song of regret, along with honest lyrics that tell the story of having missed the opportunity to share feelings of love for a woman who is now committed to someone else. The song is a slow, hard driving rock ballad of loss and anguish. It's another gem, both musically and lyrically. The way Ellis sings, "If I had only lived another life, if I had only been a better man, well maybe wishful wishful thinking, you may not have become his wife," it could bring you to tears.
Another standout, "Badwater," is Southern-rock-roots music. Like the last two tracks, the song is filled with visual imagery and features fresh songwriting. A rocking song with a catchy guitar hook, it has a swampy feel underpinning the rock. The chorus is almost classic rock with high pitched vocals (Ellis has quite the vocal range,) rhythmic drums, and some ominous lyrics about a gun and a perilous decision. Ellis' voice, combined with the band's outstanding musicianship and lyrics, makes the song almost play out like a movie soundtrack filmed somewhere in the acrid desert of Arizona where betrayal and anger are the theme.
What's unique about the Ellis Mano Band is that they seem to have a gift for not just introspective songwriting and superb musicianship, but for fueling the lyrics with emotional playing in just the right places. Ellis and the band are tuned into each other and into the emotion of each song.
Yet another standout, and a radical shift in genre is "Georgia," a much lighter track with some kind of rhythm guitar and great groove. This bluesy- soul song shifts keys—just when you think you're in for an easy ride, the song incorporates minor chords, which adds to the track's fresh sound. It ends with a build, Ellis singing in his upper vocal register "ah—yeah" and a tasty guitar solo by Mano.
Ellis Mano Band creates fresh melodies and their songs tell stories with a number of visual cues. On "Bad News Blues" (a great tune) Ellis sings it with so much passion that you could almost swear the romantic break up happened to him. After a guitar solo with tone to die for, it builds to a crescendo with horns and rumbling drums.
The Ellis Mano Band has a bright future ahead. If this is their debut album after collaborating for just a year, imagine what's in store next. I look forward to that.
For more information on Here And Now by the Ellis Mano Band: