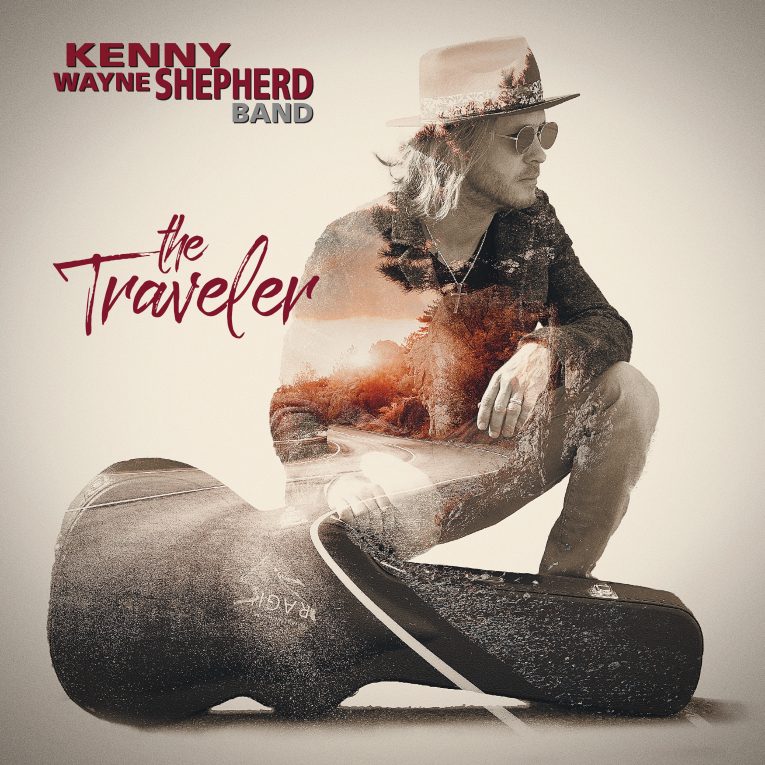 By Mike O'Cull
Kenny Wayne Shepherd has been making records for nearly 25 years now and has gone from a teenage blues prodigy to a fully-developed songwriter, guitarist, and bandleader in that time. His latest effort, The Traveler, comes out May 31st, 2019 on Concord Records and proves that Shepherd has, indeed, traveled the distance between being a hot-handed guitarist in the blues world and becoming the big-picture-oriented musician responsible for this incredibly engaging band and album.
The Traveler is a cohesive and powerful "band" recording full of outstanding songs, great grooves, and the sound of talented musicians who are a perfect fit for each other. Shepherd still has guitar chops to burn but this record never tries to be a shred showcase. The group sound is clearly the focus and it makes all the difference.
Shepherd tracked The Traveler in Los Angeles when he and the band were on a break from their eternal touring schedule. Co-produced by Shepherd and Marshall Altman, the set includes some of the strongest songs he has ever recorded. The current KWS Band includes vocalist Noah Hunt, drummer Chris "Whipper" Layton (formerly of Stevie Ray Vaughan's Double Trouble), bassist Kevin McCormick, and keyboardists Jimmy McGorman and Joe Krown, a top-flight assemblage of players who create an identifiable sound built on road miles shared and houses left rocked. All of this adds up to an eminently listenable record that is easily among the best releases of 2019 in any style.
Shepherd turns the heat on from the opening cut, "Woman Like You," a strutting, hook-filled blues/rock tune with an extra-large infusion of soul from vocalist Hunt and the big beat of Chris Layton on the drums. Shepherd smokes on the guitar in between them but never overpowers the hip-shaking groove and well-written lyrics. In a better, vanished time, this would be a platinum-selling single heard blasting out of every car stereo in town all summer long.
"Long Time Running" is a straight-ahead driving rock song that takes the energy level even higher and features an extremely well-phrased guitar solo from Kenny Wayne in a spot where lesser minds would play like they were getting paid by the note.
"I Want You" brings the band back to the blues, giving Shepherd a chance to stretch out some over a sultry, heavy pocket. Kenny's Stratocaster tones are full and defined on both lead and rhythm and he uses them to put his skills right out front, daring anyone to say he's lost a step. "Tailwind" shifts the band into a more mellow gear in the cleanup spot, smoothing out the vibe with acoustic guitars and a more delicate, mid-tempo approach. The song also gives the album its title and puts Noah Hunt's vocals at center stage. Hunt has an exceptional presence to his voice that's more than big enough to compete with the heavyweights behind him and listening to him here will heal your spirit.
Shepherd
includes two inspired covers on
The Traveler
to keep things unpredictable and pay tribute to music he loves. The first is a dangerous-sounding rendition of Buffalo Springfield's "Mr. Soul" that was inspired by performing the song at a benefit show with Springfield founders
Stephen Stills
and Neil Young. It's all horns, vocals, and ripping guitars and will catch listeners by surprise on their first pass through the album. The record closes with a gritty reading of
Joe Walsh's
"Turn to Stone," a song Shepherd first performed at a fundraising concert honoring Walsh.
The best thing about The Traveler is that it's only ten songs long and every one of them matters. The digital age has left us with too many 19-song albums that ultimately crush under the weight of their own filler. Shepherd opts for a more focused "all thrill no swill" mentality here and it makes the album go down like a bare-knuckle classic from guitar music's two-sided glory days.
Kenny Wayne Shepherd has consistently done himself proud since first hitting the scene back in the day but The Traveler is a high-water mark by any metric you'd care to employ. These songs communicate the experiences of Shepherd's life to date and show the world that time has taken no toll on his musical power.
Kenny Wayne Shepherd Online