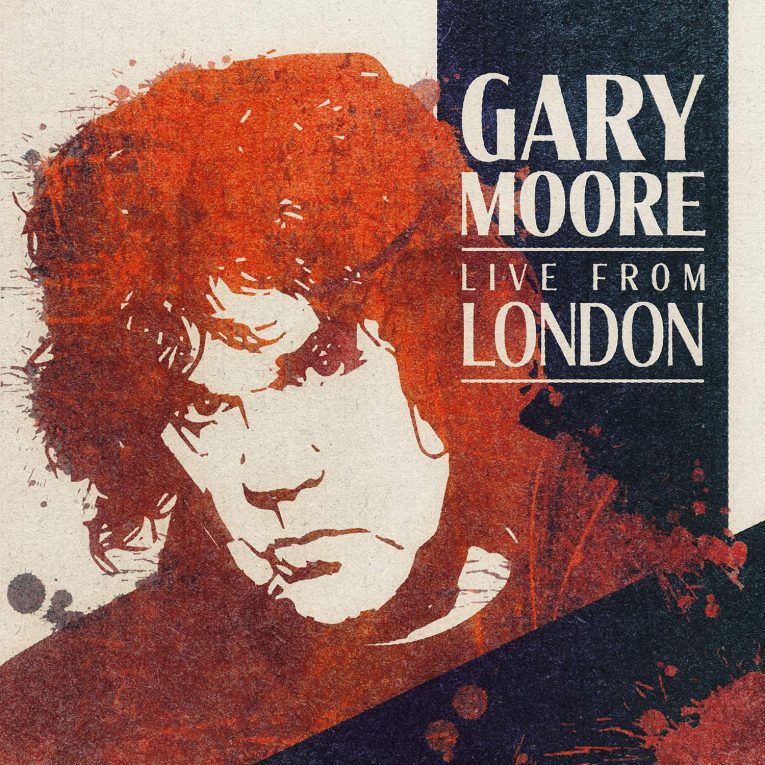 By Mike O'Cull
Irish guitar legend Gary Moore rips again on the brand new live album Live From London, which sees the sunshine on January 31st, 2020 via Provogue/Mascot Label Group. The record captures Moore at the top of his game in a small club performance at London's Islington Academy on December 2nd, 2009. The show was a one-shot deal, putting one of the world's finest blues/rock guitarists in front of a nightclub crowd, letting him work his magic, and recording the whole thing. Nobody knew at the time that Moore was nearing the end of his days. He went to that Great Gig In The Sky a mere 14 months after this show went down, succumbing to a heart attack in his sleep on February 6th, 2011. Since then, this particular show has become meaningful to Moore's fans as one of his last great moments and those lucky enough to have attended cherish its memory.
Originally from Belfast, Moore had a 45-year career that saw him tackling many different genres including blues, rock, heavy metal, jazz-fusion, and more. He was a virtuoso guitarist who spent time with Irish rockers Thin Lizzy, British jazz/rock outfit Colosseum II, and was successful as a solo artist, as well. Moore charted 11 Top 40 singles in the UK and shared stages with the likes of B.B. King, Albert King, John Mayall, Jack Bruce, Ginger Baker, Albert Collins, George Harrison, and Greg Lake. He was a ferocious soloist and is best remembered for his searing tone extracted from vintage Les Pauls and high-gain amplifiers.
The show preserved on Live In London is truly one for the ages. Moore still had every bit of his powers on that never-repeated night and gave those assembled the kind of explosive performance they came to see. Opening with "Oh Pretty Woman," Moore immediately takes control of both the band and the crowd and goes for broke. His fat, saturated tones and aggressive style are the epitome of second generation post-Clapton blues/rock. Moore shows that room who's boss in a matter of moments with chops that have rocked stadiums around the globe and it's wondrous to behold.
The set continues with "Bad For You Baby," a rough-hewn shuffle that reminds us all that Moore handled the lead vocal spot with as much aplomb as did the guitar. His mighty voice and distorted rock tone give no quarter and Moore plays his blues with lots of hard-nosed attitude. The rest of the band is strong behind him but Moore is clearly the star of this show. He's equally impressive on a cover of Otis Rush's moody masterpiece "All Your Love (I Miss Loving)." Moore turns in a dynamic take on this eternal classic, going from slow and low to launching melodies into the night sky with a twist of his volume knob.
His vocals and guitar skills reach their zenith on Moore's signature song "Still Got The Blues." The emotive ballad gives him the ideal vehicle to take both blues and rock playing past their typical limits and turn them into something else, entirely. Moore burns brightly with each note, word, and phrase, displaying a level of soul that usually eludes players with his sort of high-velocity skills. The impact of this up close must have been immense.
Moore lights them up with rowdy versions of "Walking By Myself" and "The Blues Is Alright" before closing the show with another of his best-known cuts "Parisienne Walkways." He gives the audience some of his most powerful and emotional playing on this rock-influenced ballad, pushing the boundaries of sustain, speed, and vibrato in the final minutes of this incredible night. Moore is vital, alive, and fully present, giving no one there any cause whatsoever to think that he'd soon be gone. Live In London documents one special, sold-out show in which Moore actually lived the cliche and left it all out there. He was a towering talent that can never be replaced. This record is proof of just how much was lost with his passing. If you ever need to make someone understand the power of the electric guitar, play them this record.

Order Link for Live From London
Gary Moore website