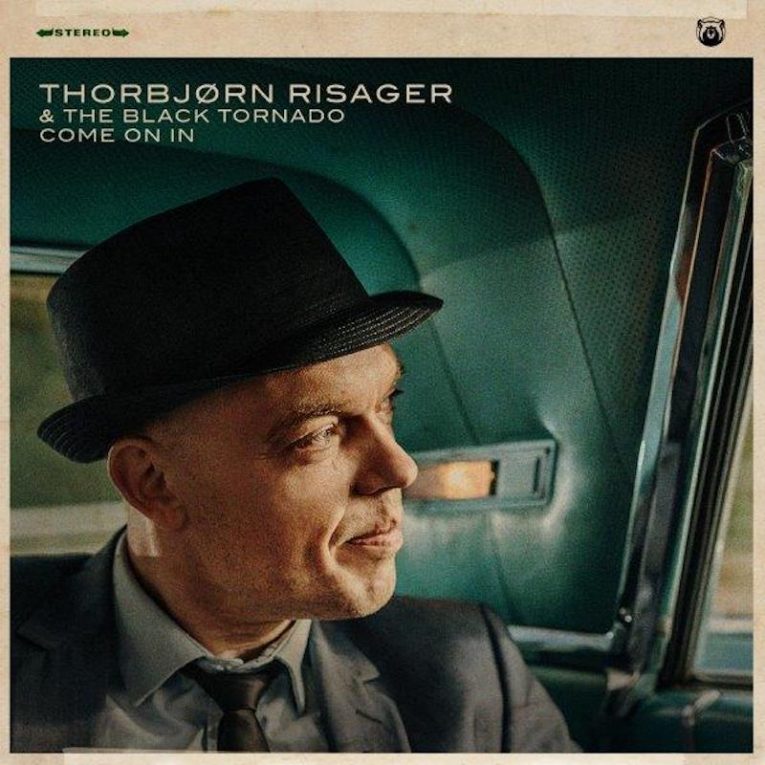 By Mike O'Cull
Danish blues dynamo Thorbjørn Risager & The Black Tornado will bless the music world with a brand new album, Come On In, that comes down January 31st, 2019 on Ruf Records. It's Risager's tenth release as a leader and he takes this award-winning eight-piece ensemble on a forward-thinking and innovative journey through the sounds of blues music. The record contains joyous moments fit for leaving one's troubles behind and other more somber portions perfect for studying the color of melancholy. Risager puts forth the wisdom and maturity only time can provide and fiercely addresses complicated topics ranging from his own age to the political realities of life in today's world. Though not a traditional blues release, Come On In presents listeners with one possible future evolution of roots music that'll please many fans looking for a new sound.
After more than 1,000 gigs in 21 different countries, Risager and the band still make their music the way they've always done it. Thorbjørn writes at home on an acoustic guitar, constructing and aligning the core elements of each song. He then enters the studio with the rest of the musicians and lets them react to the tracks, contributing their own parts and ideas. Everyone involved seems to understand each other creatively on a deep level and the results of this process are songs with strength and identity.
The record opens up with the title track "Come On In," a slowly-burning hip-shaker that invites us all into a roadhouse paradise. The song drives straight ahead with restrained authority and illuminates its edges with moody surf guitar and tasteful horn parts. Risager has a distinctive vocal tone that sets him apart from most blues singers and it's in fine form here, giving the song its own personality and vibe. "Last Train" follows, starting off bare bones with acoustic guitars and vocals before building up a boiler full of steam. The song seems to be about facing the existential dread of getting older and realizing the end of the line is coming. Risager gives it a dramatic performance that'll give you those Robert Johnson/John Lee Hooker chills up your spine almost at once.
"Two Lovers" is even more mournful, atmospheric, and cinematic. It's a song about "two lost souls drowning in a sea of salty tears" and sounds like a broken heart trying to survive until sunrise. Risager goes deep into his emotional bag here, coming off as wounded and detached. It's an especially artful moment that absolutely hits its target. "Never Givin' In" is swampy and cool, built around some classic guitar/vocal doubling. The horn section bridges take it to another place, however, and give it a delicious otherworldly quality that feels like a dream.
"Over The Hill" is a rollicking jump blues that gets back to the partying side of this band. The rhythm section swings hard, the sax tears it up, and Risager sounds great on this much more upbeat song. This is a cut meant for sweating your cares out on the dancefloor and it succeeds famously.
Come On In closes out with the Lightnin' Hopkins-ish "I'll Be Gone," which gets about as lowdown as the blues can go and pumps out a tough acoustic groove. It's a perfect final track for a set such as this that focuses so much on the moods and emotions of the blues and shouldn't be missed. Thorbjørn Risager & The Black Tornado are a singularity in the blues world and have one of the most unique sounds going right now. Savvy listeners sick of the same old thing should bump this band to the top of their playlists.

Thorbjørn Risager & The Black Tornado Online