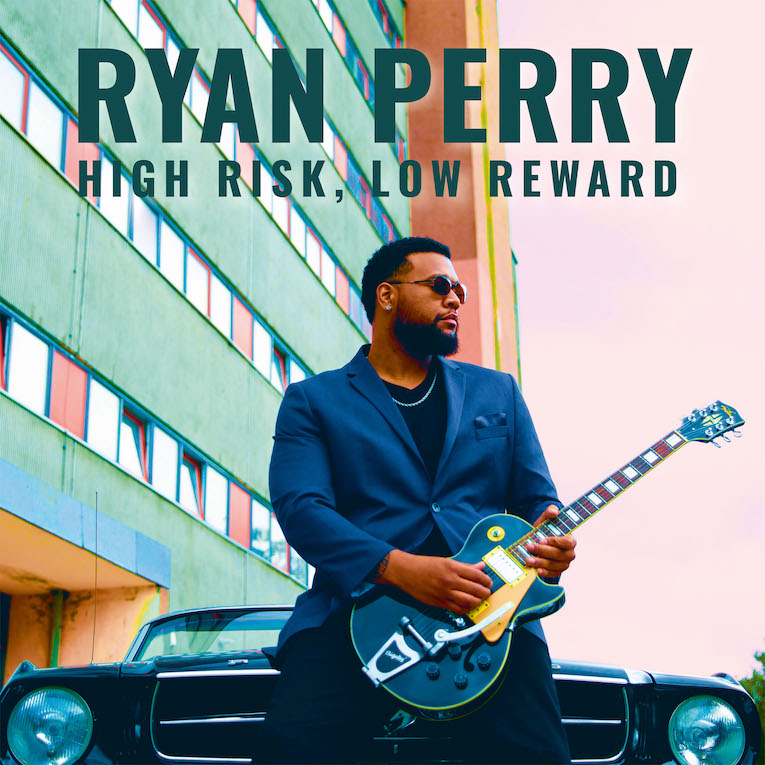 By Mike O'Cull
Blues guitarist, vocalist, and bandleader Ryan Perry takes a new-school approach to his sound on his latest record High Risk, Low Reward. The set dropped March 13, 2020 on Ruf Records and shows the prodigiously talented Perry moving the sound and content of blues music into a modern, progressive mode. He has clearly studied the players who first made this music great but, for his solo debut, chose to remake the vibe of the genre his own and to use lyrical themes that present the blues as people are living them today. The end result of those decisions is a stunning new album that redefines contemporary blues and puts Perry at the vanguard of current artists who are actually making currently relevant art.
Blues fans may well know Mr. Perry as the leader of the award-winning Homemade Jamz Blues Band, a mighty outfit that won second place at the 23rd International Blues Challenge in Memphis when Perry was only 13 years old. Now in his mid-twenties, Ryan is at the peak of his powers and is developing his own personal style of playing, singing, and songwriting that refuses to be bound by the past, only informed by it. Perry tracked 11 songs at Berlin's Studio Erde with producer Roger Inniss at the desk that acknowledge the changes in blues music over that last 20 years and ponder where the genre will be in another 20. He sings to the hard times that exist in the America of right now and has put down tracks that will touch all generations of listeners.
Perry gets things going on High Risk, Low Reward with the dramatic stop-time funk of "Evil Is Going On." His powerful baritone voice and wah-laced guitar lines put forth an immediate presence that is irrefutable and bold. Though he's still a young man, Perry tells the tales of a veteran road warrior who understands the eternal truths of this hard world and has survived them all. His vocal tone is huge, natural and instantly commands center stage. From the jump, you just know that this is going to be an extraordinary session.
"Hard Times" is swampy, heavy, and lyrically terrifying. Perry digs into the Mississippi Hill Country blues for this song that starts with a bad hangover and a lost job. The bad luck just keeps on coming but is tempered by the observation that "I did this to myself again." The track throbs like a morning-after migraine and underscores the bleak reality of Perry's words, which outline the downward spiral of many folks' lives. It's a piece of sad, mean, brilliant blues on the emotional level of John Lee Hooker that demands to be heard and understood.
"Ain't Afraid To Eat Alone" is a soulful Southern funk jam about a man who's getting played by the woman he's given so much to who has the strength of character and self-knowledge required to put her out and never look back. We feel the pain of the lyrics acutely but Perry takes us out the other side rather than leaving us stranded in yet another heartbreak. The groove has a little Albert King to it but Perry adds stinging rock-tinged guitar across the top that could only come from his hands.
Deeper into the record, Perry throws down a mid-tempo version of B.B.King's "Why I Sing The Blues" that captures the spirit of the song while adding in cool touches of individuality like the octave-pedal guitar hooks that kick it off. It's a tip of the hat to one of the blues' grand masters but never becomes a history lesson. Perry plays it his way and puts out enough power to light up Buddy Guy's Chicago nightclub on a Saturday night.
Perry's hard-edged side comes back out on his title track "High Risk, Low Reward" in a big way. It's another heavy cut about some tough wisdom that only comes from being knocked in the head by life. He lays down a one-chord vamp that's the perfect vehicle for his pavement-pounded lyrics and economical guitar playing. Be sure to also get down with other standout cuts including "A Heart I Didn't Break" and "Oh No." High Risk, Low Reward is a progressive blues masterpiece that puts Ryan Perry on a trajectory to be considered a legend in his own right. He has the songs, skills, and depth to break out to a large audience and attract new fans to the blues genre. Do yourself a solid and start listening.

Ryan Perry Online