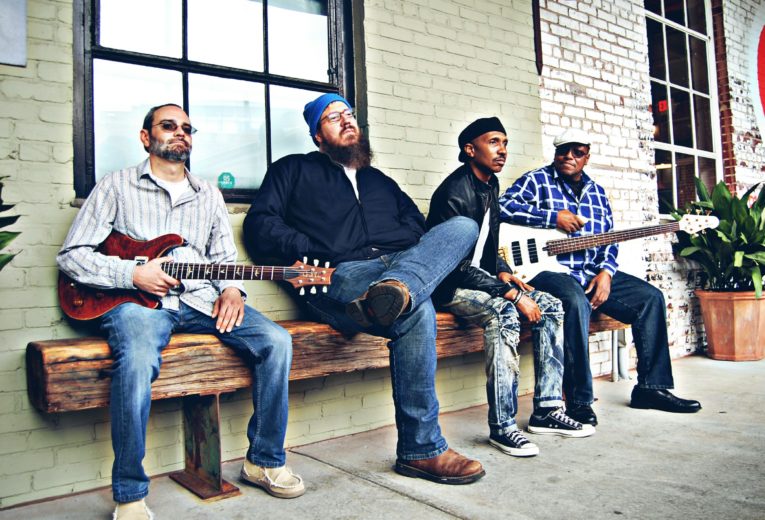 By Derek Malone
Recorded at the legendary Fame Studios in Muscle Shoals, the title of the Velvet stones new album, Musical Solution, belies a rather impressive debut album, which has recently landed none too softly on our shores. This new quartet, who look like they could be the proprietors of one hell of a roadside BBQ joint in another life, have served up a ten-song musical feast in a style they call, "Original Southern Roots Soul." This seems appropriate enough, given the myriad ghosts of music past that are conjured up here.
Based in Atlanta, GA, the band evolved out of a friendship between veteran session players, vocalist-keyboardist Shan "Souljohn" Wossilek and guitarist Jason Beard (though it's Wossilek who has the really epic beard.) Bassist Larry Thomas and drummer Bobby "Skeet" Henderson later completed the line-up. They are consummate live performers who can really play, like the great southern rock bands of old, such as the Allman Brothers. They are also exceptional songwriters, better than many of their contemporaries. This became more and more apparent to me with each listening.
Stylistically, the record runs the gamut between soul, blues-rock, gospel and funk, as their aforementioned mantra suggests.
Wossilek dominates the proceedings with a big and downright authoritative voice. He emotes powerfully and with an absolute authenticity in his rendering of simple, easy-to-follow lyrical stories, often in a deep, soulful baritone, or in a tear-jerking falsetto, and many points in between.
Beard's guitar provides a kind of bold, secondary voice, with catchy and memorable leads and melodic soloing throughout, while the rhythm section of Thomas and Henderson seem straightforward and unobtrusive, the nuances and complexity of their playing not immediately apparent, though there is plenty there if you listen for it.
Additionally, a bevy of Fame session players augment all the songs with layers of light percussion, a funky horns section, and lush 70's-style string arrangements. Ubiquitous gospel singers sweeten a procession of big choruses. It's quite the production.
"Rocket Ship" opens the record. It's an energetic, guitar-driven blues-soul number with a catchy vocal hook, and a mid-song breakdown that's all the more fun because it's so expected that it's practically demanded by the time it arrives. A somber tale of romantic dejection, "Candlelight and Dress Clothes" follows. "Stay Together" picks up the pace again in what is perhaps the album's highest peak in terms of joy and spirit.
"Woo Hoo" is a delightfully funky number as is its companion piece "Afraid to love." "Right Here" is a melancholy, but gorgeous ballad. Truly lovely. Again, there's a certain authenticity in the execution that can't be stressed enough,
The album arrives at a fitting denouement with the rousing neo-spiritual, "I Still Work," which brings it all home.
In fact, there's really not much filler on this record. It is as Earnest Hemingway once described his own writing when edited down to it's essential near-perfection–"All blood and bone." I don't want to spoil it for listeners by describing it in more granular detail. Enjoy it for yourselves.
The Velvet Stones are learned and loving disciples of a certain tradition, one that they have breathed new life into. Indeed, it's not hard to imagine several of these well-crafted songs being big radio hits in a pre-hip hop era.
And as much I appreciated this loving invocation of music from a bygone era, at times I couldn't help but wonder what new ground they could possibly break by experimenting with different styles outside of their comfort zone, and adding some modern sounds to the mix. On the other hand, such an approach could topple the entire enterprise. I really don't know for sure. What I do know is that these guys are some truly good songwriters and musicians. I do believe they are a band to watch.
Musical Solution by The Velvet Stones can be found at the following:
Website: www.thevelvetstones.com
Amazon: http://amzn.to/2n2lkIR
iTunes: http://apple.co/2mD6khH
Spotify: https://open.spotify.com/artist/2Q6EUDqQB2iRIYRNNNgDaq