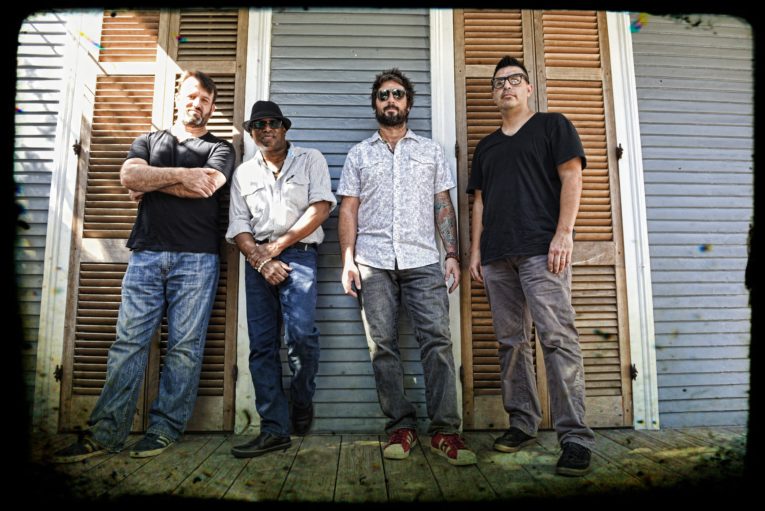 By Martine Ehrenclou
You want your blues funked up? You've come to the right place with contemporary blues band, Anthony Rosano and the Conqueroos. This band is rockin' and it's definitely tight. From Norfolk, VA, Anthony Rosano and the Conqueroos mix heavy doses of blues with funk, rock and jam band influences. Their self-titled album, produced by Mike Zito and engineered by Grammy winner, David Farrell, will be released April 11, 2017.
It's no wonder Anthony Rosano and the Conqueroos have twice been named International Blues Challenge Finalists and earned "Best Blues" awards from the VEER music awards for several years in a row. Their music is blues rocket fuel.
With all original 11 tracks, Anthony and the Conqueroos is our pick for New Artist Feature. It's such a pleasure to turn people on to new, great music. And these are really talented musicians. You can hear it in the sound, in the songwriting, in the quality musicianship. The band is made up of Anthony Rosano on guitar and vocals, Jeremy (J.B.) Bustillos on harp and sax, Paul Warren on bass, and Scott Smith on drums.
Having a blow out barbecue? Put on the new album by Anthony and the Conqueroos. Or if you prefer, crank up the volume and enjoy the party in your head. This is feel good blues with soulful vocals by Anthony Rosano, principal songwriter, who also plays some ripping guitar solos.
But don't let the blues-bash feel of some of the tunes fool you. Their music has some depth. Some darkness too, like relaxing into a crowd at a blues club, and closing your eyes to the groove of the music, only to feel a hand grab you from behind.
"You Don't Know Me" is one of my favorite tracks on the album. It's a kick-ass blues number with catchy guitar licks, a dynamic harp solo, tight drums, and in the pocket bass. This song just works. And it's fun.
"Wicked Grin" is an up-tempo rock tune, reminiscent of a George Thorogood beat or rhythm. Listen for the slide guitar and sax solo on this tune. Nice, just nice.
"Revolve" is another standout track on the album. It opens with funky guitar riffs and glides into blues-rock with a 70's flavor. Anthony's voice has a haunting quality in the intro, showcasing this vocalist's true rock and blues rich tone. The tasty guitar solo is of the classic rock variety.
"Love Got a Hold on Me" is an ode to the trappings of love, or rather love gone bad to worse. It's an interesting rock tune with expressive sax runs. But I'll tell you, I wouldn't want to be on the other end of that song.
Love make your weary, Love make you fly
Love is like an anchor when you're reaching for the sky
It's a tender bed of nails, the laughter while you weep,
Love take the best of you and then throw away the key…
But it really got a hold on me…Love got a hold on me…
Listening to "Shaken in the Veins," I was impressed by the slide guitar, the giddy-up rhythm and harp riffs. I took a look at the lyrics. They kind of gave me the chills. The upbeat rhythm and melody line are a bit deceiving with the symbolism in the lyrics about a drug addict. There's gold in them thar hills, to borrow a phrase from Mark Twain. There's meaning in these songs; you just have to look.
"Bound To You" opens with a beautiful guitar solo and is a blues-rock, dark tune, that speaks of sex, and maybe what one will do for that moment in the hay. It's a gut wrenching melody that yanks me back to darker days. Once again, Anthony Rosano's lyrics aren't what they seem. They have subtext and symbolism.
"Blackbird" (not that Blackbird) opens with lovely acoustic guitar played by Rosano, his vocals graced by a whiskey scratch. The band moves the song into a classic 70's rock groove with robust guitar solos.
The album concludes with "Proud of My Sins" with mandolin, harp and acoustic guitar. It's as close to a country song that I can think of and the only one on this album. I wondered if the band just threw it in there or if they decided to give listeners a little kick in the shins to wind up the 11 tracks.
Anthony Rosano and the Conqueroos is a stellar band with a bright future ahead of them. They're on tour now so check their schedule to see if they're coming to your town.
The band's music is available on:
Amazon: http://amzn.to/2nL6Ee5
Facebook: https://www.facebook.com/Anthonyandtheconqueroos/
Spotify: https://play.spotify.com/artist/40icsRJFNjzE4EOCglkyO2
Website: https://conqueroos.com/home