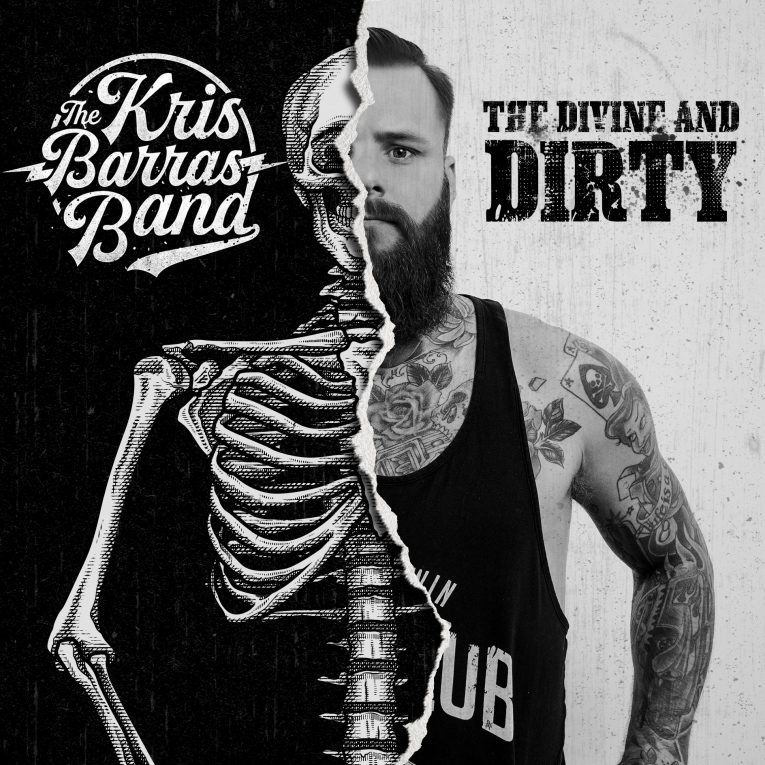 By Tom O'Connor
The Kris Barras Band, led by British-born blues powerhouse Kris Barras has scheduled a March 23rd release for The Divine and Dirty. The potent eleven song collection is the band's debut release for the Provogue/Mascot Label Group.
Singer/guitarist Karras' years of experience as a professional MMA fighter carry-over into his musical career and songwriting style most clearly in his lack of posturing or pretense. What you're going to get from this album is everything he has to give; a fearless unleashing of his energy/sweat/blood and whatever else it takes to get his point across. That point is easy to grasp: the sweetness of this life is often found in the struggles and whatever grace we can gather comes from meeting the challenges with both courage and heart. … and some kickass rock and roll.
"Kick Me Down" does exactly that, starting the whole record off with a killer central riff and some soulful backing vocals at just the right moments, along with the first taste of Barras' textured guitar-playing. Next up, the backing vocals return to help launch "Hail Mary," but make no mistake, the backbone of this music is Rock, the big kind. The chorus sounds arena-ready along with some of the vaguely Eagles-y bridges between the verses and, once again, some solid guitar breaks from Barras.
The rock stays big but leans a bit toward Country for "I Don't Owe Nobody Nothing." The processed/distorted vocals, paired with a scuttlebuttin' riff, and don't-tread-on-me lyrics, make this track as authentic a Southern-flavored declaration of independence as you're going to hear for a long while.
The band shows off their smoother, groovier radio-friendly side on "Propane." From the polished chords to the barbs hidden in the lyrics, it really makes some more Eagles comparisons almost impossible to avoid. The band takes us back to the honky-tonk on "Wrong Place Wrong Time" a piano-driven raver that makes being in that wrong place sound like exactly where you want to be. The band stretches out a bit more on this one and it gives KB a chance to show a little razzle-dazzle with a solo that would make Pat Travers proud. Making another fairly major sonic transition sound easy, the band goes from that toe-tapper to a full-on foot-stomper with "Lovers and Losers." Built with a solid and unstoppable slide riff locked onto a simple-ain't-easy beat, this workingman's lament will sound as real live in a stadium as it will on the drive home after too much overtime.
Of course, any hard-working person knows that you can't dwell on the heavy stuff all the time. "She's More Than Enough" is a fun workout on a lighthearted song about "that" girl, right down to the 80's-esque "woah-oh" backing vocals from the boys. The party continues, but in a more grown-up vein on "Stitch Me Up" which rocks hard with some Black Crows-flavored swagger thrown in to make 'em all shimmy.
That faint echo of 80s Rock structure washing over the classic sounds can again be felt in power ballad "Hold on for Tomorrow." Sincere and powerful, with an impressive, soaring lead to go with the big, also soaring, backing vocals, it sounds good and familiar, possibly because you could also imagine hearing it at a Journey concert. Built to be played in equally big venues "Blood on Your Hands" sounds like a born set-closer, giving everyone from the pianist to the backing vocals some room to run before Barras lets loose with one more strong song-ending guitar section.
Barras and the band have saved a last, new facet for the final track of the collection. While Kris digs deep to personalize the lyrics on "Watching Over Me," the band shows it is unafraid to keep things slow and heavy when the song calls for it. Everyone involved is letting you know that, on this polished, mid-tempo gem, every note and every syllable counts, and has been sweated and bled over… because that's the only way to make them gleam the way they do.
For more information on The Divine and Dirty by The Kris Barras band:
Website: http://www.krisbarrasband.com
Facebook: https://www.facebook.com/krisbarrasband