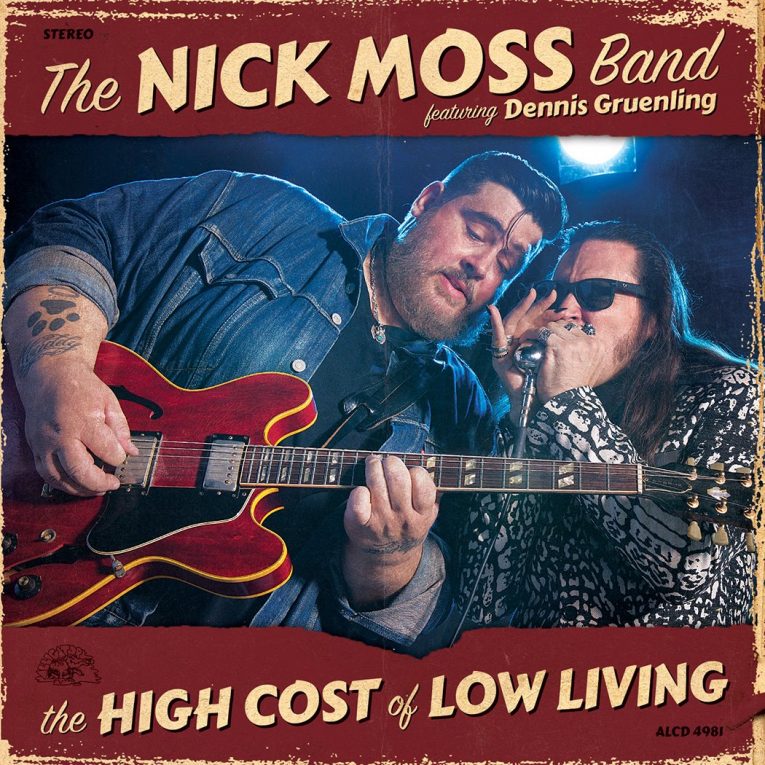 By Dave Resto
The Nick Moss Band, featuring Dennis Gruenling, released The High Cost of Low Living (on Alligator Records, produced by Kid Andersen and Nick Moss) in March, 2018. It is the debut effort for both Moss and Gruenling on the label.
The High Cost of Low Living is a blistering Chicago blues album with top shelf guitarist/singer/songwriter, Nick Moss and master harmonica player/vocalist, Dennis Gruenling. With eight originals by Moss, two by Gruenling, and three covers, each track is rooted in classic blues with a rock and roll twist. Moss and Gruenling began playing together in 2016 and their new album is a blast of collaborative fireworks.
Nick Moss has received 21 Blues Music Award nominations and has shared stages with Buddy Guy, Kenny Wayne Shepherd, Gary Clark Jr, and more. The Nick Moss Band is also nominated for "Band of the Year 2018" by The Blues Music Awards.
Moss' opening guitar licks on "Crazy Mixed Up Baby" immediately transport the listener to the best seat in a rundown Chicago night club. His authentic "Windy City" bluesman vocal delivery completes the experience. Dennis Gruenling's simmering harmonica solo rides the lazy, flat tire shuffle that the band puts down, where he's joined later by Moss' biting guitar solo.
The Moss composition, "Get Your Hands Out of My Pockets" is an up-tempo swing, rich with blues harp by Gruenling. It's a rocking foot-stomper, guaranteed to get people on the dance floor.
On the title track, "The High Cost of Low Living," Moss puts an Elmore James slide guitar riff to good use, as it bounces along to a lively blues shuffle. Guitar, harmonica and piano all get room to rip it up, while giving us some time to consider Moss' thoughts about the price of too much fun and not enough responsibility.
Thanks to Tom Hysloo for the video.
Dennis Gruenling's two songwriting contributions, on which he also sings, are both faithful homages to old school roots music. "Count on Me" is a revved up, rockabilly, barn burner. Keyboardist, Taylor Streiff, channels Jerry Lee Lewis beautifully, as Moss once again adapts his stellar guitar chops to cover the genre. Gruenling defines rockabilly harmonica for the books. "Lesson to Learn" takes on a much darker tone, working a Bo Diddley beat as a back drop to Gruenling's powerfully overdriven sound. The pacing of his playing is thoughtful and measured with a tinge of black magic.
The three cover songs on this album are well chosen and admirably performed. Otis Spann's hyper honky-tonk, "Get Your Hands Out of My Pockets" turns the heavy lifting of soloing over to Streiff's piano and Gruenling's harp. Santo and Johnny Farina's "All Night Diner" is a not to be missed instrumental performance. Featuring the frenetically swinging drumming of Patrick Seals, this one is bright and bouncy with room for the entire band to stretch out and have fun. Moss' guitar is nimble, Streiff's organ is florid and bassist Michael Archer keeps it deep in the pocket. Gruenling carries the part originally written on pedal steel guitar, which is the signature riff to the song.
The third cover, Boyd Gilmore's "Rambling on My Mind" closes the album on an appropriate note. It retains its original delta blues feel but is imbued with a touch of big city Chicago.
Nick Moss and Dennis Gruenling have an undeniable chemistry. The natural pairing of these two talents is a winning formula for Alligator Records which is sure to spin the blues into gold.
For more information on The High Cost of Low Living and The Nick Moss Band:
Website: https://www.nickmossband.com
Facebook: https://www.facebook.com/nickmossmusic/