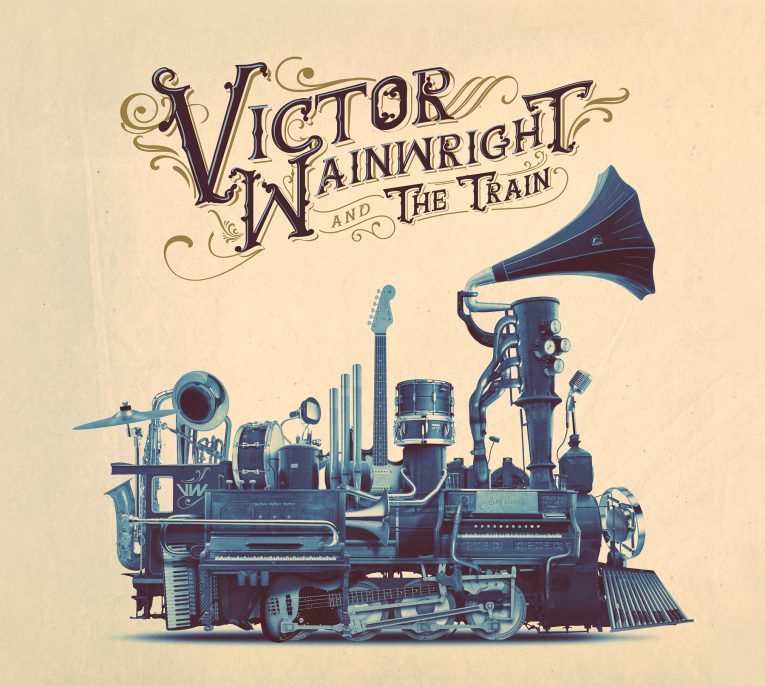 By Martine Ehrenclou
Multiple award-winner, Victor Wainwright, has a new band and a new album, Victor Wainwright and The Train, out on Ruf Records. With the force of a racing locomotive, Wainwright and the Train put together an electrifying, feel-good record with plenty of heart and soul. The musicianship is downright exquisite on the 12 all-original tracks.
I'm new to Wainwright. I had zero expectations. This record completely knocked me out, and not because I'm a big fan of boogie-woogie. Victor Wainwright and The Train has boogie-woogie on it, but so much more. This album is funky, it's rockin', it's bluesy roots music, with genre bending styles. The common thread throughout this expertly produced record, is Wainwright's soulful, punchy, right-on-target vocals and blow-the-roof-off piano playing. Each musician in the band offers off-the-charts performances, including the fantastic guitarist, Pat Harrington, drummer/percussionist Billy Dean, bassist Terrence Grayson, a full-on horn section, and plenty of featured guest musicians.
This album has the energy of a freight train, but it's artfully channeled by Wainwright and the band. Sometimes records with this much energy can fall off the rails. Not so with Victor Wainwright and The Train.
"Healing" opens the record with Wainwright's mastery of the keys and a chugging, get-out-of-your-seat kind of vibe. It's fun and kicks off the record right.
"Wiltshire Grave" is a swampy, funky, blues groove with a New Orleans twist. What I love about this song are the syncopated rhythms and how Wainwright's vocal phrasing is so in sync with the lyrics and melody. The song loops in with a guitar riff and muted trumpet by Doug Woolverton. Harrington's guitar solo punches through the bridge and matches Wainwright's top-notch skills on the B3–that says it all right there. You can envision this tune performed live in a New Orleans club with the audience dancing in the aisles.
This is one strong band with tons of talent and Victor Wainwright is dead center in the middle of it.
"Train" takes off with Wainwright's award-winning piano playing. Energy is the name of the game with this fun, boogie-woogie number. Wainwright sings, "If you want to boogie-woogie, get up on the train. Get yourself a ticket or get out of the way." All aboard. It's not easy to swing a full horn section into place, especially on a fast-paced tune like this one but the band does it, and does it in style.
Quick-fingered guitar player, Pat Harrington works his magic with an outstanding solo. Seriously, this guitarist is really something and the piano by Wainwright is downright masterful. And fun.
"Dull Your Shine" is a standout track, not just because it's a beautifully written song about support for a friend, but because of the groove, the jazzy chord progressions, and… because Wainwright's vocals really shine on this tune. Smoky, deeply soulful and tight with the rhythm, this guy has it down. This tune reminds me of the quality songs written by Randy Newman. Wainwright's piano chops are exquisite and played with passion. The guitar sings with beautiful tone and precision, and I might add, without losing one ounce of feeling.
It's no wonder Wainwright has won so many music awards, including the "BMA Pinetop Perkins Piano Player of the Year Award" three times, and the coveted, "BB King Entertainer and Band of the Year Award."
Another tight and rhythmic, syncopated winner is "Money." It's funky, blues, roots fun. This song is all about the rhythm, Wainwright's creative vocals and outstanding piano playing. His piano solo gave me chills. No joke.
Wainwright's gift as a story teller and songwriter are all over this album, but in particular with songs like "Everything I Need" "Righteous," the aforementioned, "Dull Your Shine" and the funny, "I'll Start Tomorrow."
For an almost instrumental treat, listen to "Sunshine." It opens with a monster slide guitar part that's very much like an acapella vocal with spare backing from the band, complete with mood and feeling. The song shifts to a jam-band section that showcases the musicians' talents, of which there are many. The guitar playing at minute 3 is stunning. I have to guess that solo is courtesy of Pat Harrington because there are five (yes, five) guest guitarists on the album. Wainwright then graces us with another example of his command of the keys but this time on the B3. The horn section, coming in toward the end of the track, is exceptional.
You can hear that Victor Wainwright and The Train are having a blast. He said, "We wanted to capture how we feel performing right smack-dab on this record, and I believe we've done that."
I believe it too. They are so present, so together, it doesn't take much to envision them performing live simply by listening to the record.
A+ album.
For more information on Victor Wainwright and The Train:
Website: http://victorwainwright.com 
Facebook: https://www.facebook.com/VictorWainwrightFan/ 
Apple/iTunes: https://itunes.apple.com/us/album/victor-wainwright-and-the-train/1348861997