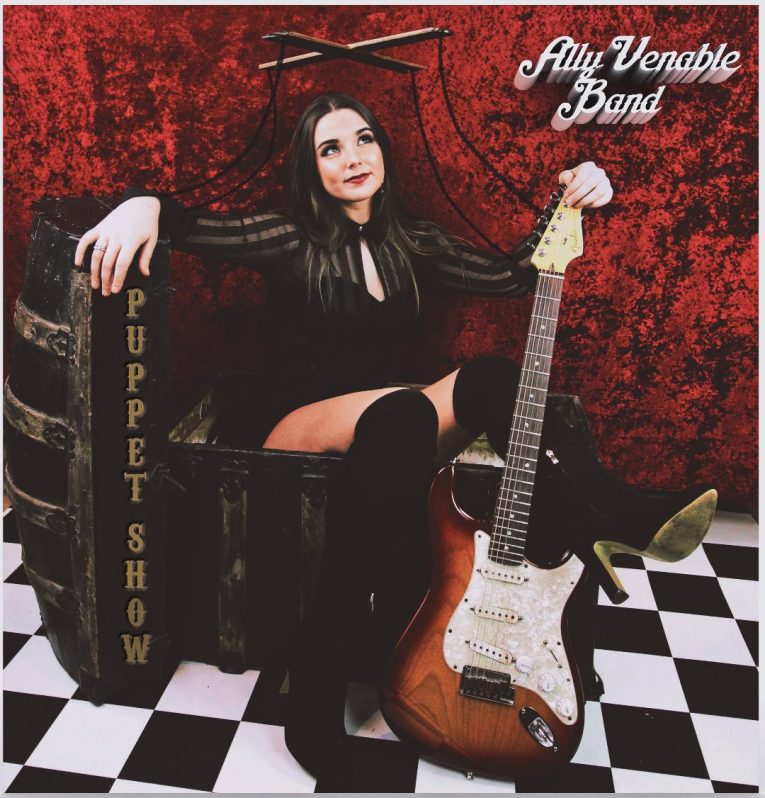 By Tom O'Connor
East Texas has produced yet another formidable young guitar player with award-winning, Ally Venable on her newest Connor Ray Music release, Puppet Show, due out April 13th.  Powerhouse singer and guitar player, Ally Venable was the 2014 and 2015 East Texas Female Guitarist of the Year, and the Ally Venable Band won 2015, 2016, and 2017 honors as East Texas Blues Band of the Year.
Ably backed by drummer Elijah Owings and Bobby Wallace on bass, along with some thrilling and enthusiastic guest appearances by guitarists Gary Hoey and Lance Lopez, and Eric Steckel on keys, Puppet Show features eight originals and two covers. It is another solid step forward in the early stages of what will likely be a long and interesting career for the still teenage blues sensation, Ally Venable Band.
The collection starts with the powerful, riff-driven "Devil's Son." The impressive guest guitar work from Gary Hoey is almost beside the point as we're introduced to Venable's powerful vocal belts and confident guitar-handling.
Two more scorchers follow with "Bridges to Burn" and "Cast Their Stones" both raising the stakes with sharp vocals, tight and more-complicated-than-they-might-sound rhythms and the kind of guitar work you've already come to expect from Ally, even if all you've ever heard before is the opening track of this album. "Bridges to Burn" also features guitar slinger, Lance Lopez.
"Back Water Blues" gives the listener a bit of breather, taking you back to the front porch at twilight with some sweet vocals, harmonica and unadorned guitar – for the first minute. Of course, the intro interlude soon gives way to a beer-soaked Texas-blues style rave-up. This is the tune that could go very long in a live set and no one would probably complain. Next up, we hear Ally's unique take on Taj Mahal's "She Caught The Katy." Though not quite as gritty as the well-known Blues Brothers cover, her powerhouse vocals will still definitely hold your interest.
Landing near the middle of the collection, the title track "Puppet Show" gives us a hint at the decades of solid songwriting and lyrical soul-baring we are all hoping lies ahead for Venable and her band. She also demonstrates some adult touches in the tender vocals of torch song-y "Comfort in My Sorrows" that still leave room for her equally expressive and atmospheric guitar break.
A warbling and insistent organ sound drives "Survive" giving the tune that big ol' Blues Hall weight and groove that you can feel the entire band leaning into with gusto. The additional organ sound also gives Ally something new for her guitar to play off of, raising the intensity for everyone. In fifteen or so years "Waste It On You" will be a classic song about no-good men. For now, it is a good song about clueless boys, but I have a feeling this tune will age well and take on new meaning for Venable – and for her many fans.
The album closer "Sleeping Through The Storm" rolls in a more bouncy style than most of the tracks on the album, but it gives Venable's lead guitar one last spotlight while it manages to touch on the central themes that played out in the nine songs before it: Ally is sharing her message of hope and perseverance in the face of the struggles and battles that everyone is going to have to face sooner or later, and isn't that usually the whole point of singin' (and listening to) the blues?
For more information on Puppet Show and Ally Venable:
Website: http://www.allyvenableband.com