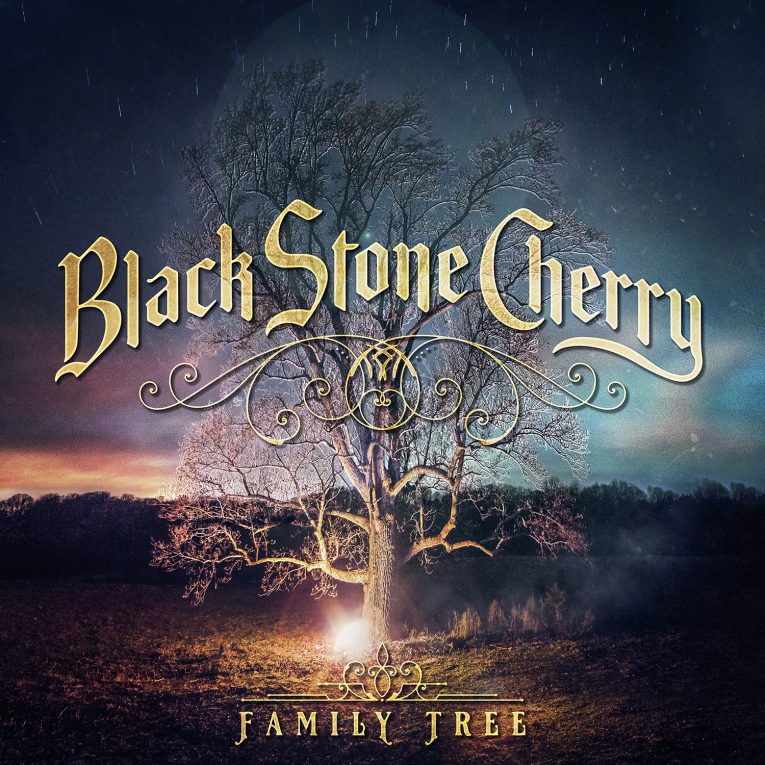 By Tom O'Connor
Kentucky flamethrowers Black Stone Cherry release their sixth full-length collection Family Tree on April 20th through Mascot Records on the Mascot Label Group. I've got just two words for ya–brace yourself.
Black Stone Cherry doesn't just "perform" on this record, they testify. This self-produced wonder will remind anyone of a certain vintage of everything they miss about hard-hitting Southern rock and it'll make the more fresh-faced listeners among us finally understand what they've been missing in today's metronome EDM and by-the-numbers pop. In a less compartmentalized era, this album might likely turn into a generational touchstone from that "Best Summer Ever" in 2018.
The collection opens with the blistering, "Bad Habit." Give 'em the hook with big dual guitars played by Ben Wells and Chris Robertson and a few subtle sonic surprises, then halfway through, yank the whole tempo and groove 90 degrees to the left so that any lightweights who can't hang, just slide off into oblivion. This short and sweet (only 3:15 min) album opener is swaggering and unapologetic, in all the right ways. Next up "Burnin" also advances the Black Stone Cherry agenda, which is, as always–kick some rock/roll ass.
"New Kinda Feeling" continues with a razor sharp ZZ Top vibe that compliments Robertson's vocals, which here especially, sound as good as Robert Palmer at his best. The drums and bass of John Fred Young and Jon Lawhon, also rock solid throughout, lock in especially tight on "Carry Me On Down The Road," which immediately jumps to near the top of any playlist of classic (or classic-to-be) Southern Rock "ramblin'" songs.
Black Stone Cherry widens the sonic pallet on "My Last Breath" while hewing closer and closer to the band's core truths. Easing into this album standout with naked vocals and ethereal organ tones, this ode to home and family will crack your heart open before they even get to the male/female background call-and-response. Another winner, just waiting to become a classic.
On "Southern Fried Friday Night" some of the band's modern tendencies and techniques manage to compliment the absolutely classic "let's raise some hell after a long week" themes on this dialed-in party anthem for the people. Not that they need any help, but next up, Gov't Mule's Warren Haynes adds some additional guitar scorch on "Dancing in The Rain." The fit of Haynes and BSC is that seamless. I didn't think it was possible, but they find yet more balls-out swagger on "Ain't Nobody." At this point in the album, you'll find yourself thinking, "This isn't a band, it's a juggernaut."
…And then they throw you another couple of curveballs.
"James Brown" is pure swampy funk rock with plenty of good stank on it. From the "oh-hoo" back-up vocals between sections to the searing wah-wah guitar break, you can't help but shake what God gave ya. I don't think the Godfather of Soul would disapprove. The funk groove gets harder edged and uncompromising on "You Got The Blues." As the lyrics say, "The only thing I wanna do is satisfy your soul." Between those lyrics, the dueling guitars and the brick-cracking beat, all I can say is–mission accomplished.
By the time "I Need a Woman" and "Get Me Over You" unspool in your earbuds, you're believing every note from the band, every syllable from Chris Robertson, and you're wondering why you've ever let yourself buy a car with fewer than eight cylinders. The breakdown bridge in the middle of "Get Me Over You" gives you the slightest of breathers–your first in several songs–but you better breathe fast because they're pumped back up to eleven before most bands could find the distortion box again.
The album closer is also the title track. By sticking close to BSC's deepest themes: home, family and connection, "Family Tree" is the perfect song to send you back into a world that you now know desperately needs more outstanding rock and roll.
It used to be that one of the main perks of being a record reviewer was that you got to keep, a whole lot of great CDs and albums after you reviewed them. But now, in this vaporous world of digital files, we don't get that little bonus. Most of the time I download an album, listen for a few days or weeks, write the review then just delete the tracks – even for records I like ALOT.  When I finish this review, I'll be dragging "Family Tree" into my "keepers" folder. It is, seriously, that impressive.
For more information on Family Tree by Black Stone Cherry:
Website: http://www.blackstonecherry.com
Facebook: https://www.facebook.com/blackstonecherry/
Amazon: https://www.amazon.com/Family-Tree-Black-Stone-Cherry/dp/B079J8RD3C