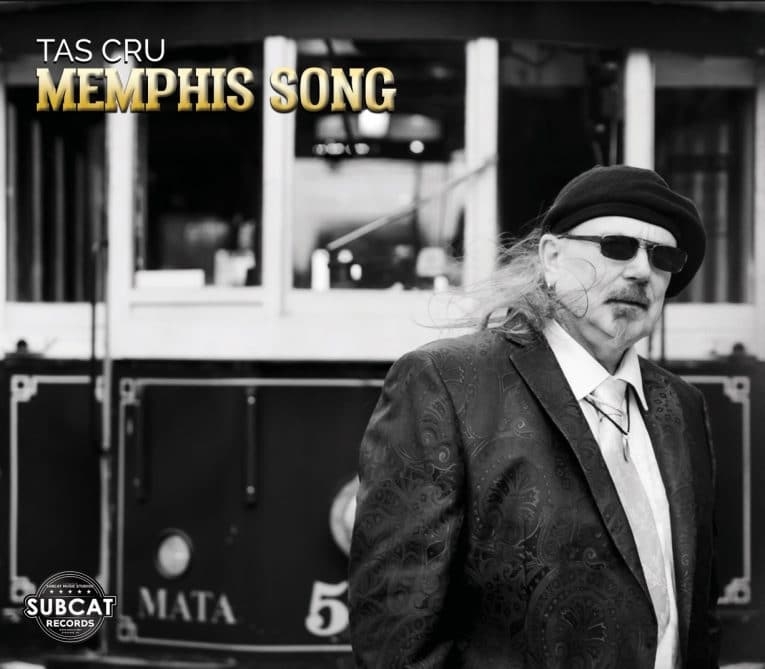 By Tom O'Connor
Hot off of a 2018 Blues Music Awards nomination for "Best Emerging Artist" for last year's stellar Simmered and Stewed album, central New York blues master Tas Cru is set to invigorate blues fans once again with his new 12- song collection, Memphis Song, out June 1ston Subcat Records.
As the album title suggests, every track in this collection by Tas Cru, one way or another, pays tribute to the city-soul of American Blues on the banks of the Mississippi. Memphis is clearly also a muse and source of inspiration for Cru himself. The rest of his band, including Bob Purdy on bass, Dick Earl Ericksen on harmonica, Andy Rudy on piano, and Guy Nirelli on organ, are equally committed to putting forward some sincere and no-nonsense blues for the people. You can feel cohesion and single-minded purpose in their dialed-in rhythms and the joy of their solo moments.
The collection kicks off with "Heal My Soul," a toe-tapper that puts you on that Mississippi riverside seeking that indelible blues benediction. Dick Earl Ericksen's harmonica immediately impresses and speaks volumes about the confidence of Cru as a guitar player–he isn't afraid to share the spotlight with players with serious chops. Title track, "Memphis Song" continues that spotlight sharing with guest musicians crushing their sections, from Pat Harrington's smooth slide guitar and Victor Wainwright's routinely award-winning piano playing, to some tasty acoustic guitar from backing vocalist Mary Ann Casale. The band then has its way with "Fool for the Blues," holding down a locked-but-loose rhythm that Cru himself finally takes advantage of with his first standout lead in the collection. His Strat soars over the organ swells and back-up vocals exactly the way it should.
The tempo swings slower and slinkier on story song "Give a Little Up" which also includes some tasty featured vocals from Casale, along with some heavier-than-usual vibrato on the guitars and plenty of stank on the harmonica that runs through the heart of the tune. Tas and the band keep the beat slow but with more ominous intensity on the Clapton-esque slow-walker, "Daddy Didn't Give you Much."
The album switches back into blues-party gear with the bar-friendly ditty "Have a Drink" which I'm sure is a set favorite at club gigs. The party then rolls into "That Look," an ode to the girls who look so good it doesn't matter that they're bad news; an anthem for bad decisions made with a smile. Rounding out the trifecta, "One Eyed Jack" is a popping story-song about the joy of betting it all, even when you know the house always wins. Steered by Ericksen's crisp harmonica riffs and graced by an echo-y guitar break, this tune gives the devil his due.
Exploring another mood, "Queen of Hearts" is a slow-walking and sultry lament that would sound at home on any
Robert Cray
album. Stretching out over six full minutes, the song feels as much like a meditation as it does a nice, roomy (and moody) jam. This is Cru at his most deliberate and tasteful. The shimmy comes back, in the form of fat and thick organ tone,  on "Don't Lie to that Woman" where Cru shares another bad boy story about a girl better than he deserves.
The album closes strong with two showcase-y tunes, just in case you needed reminding of just what a powerhouse band you've been listening to. "Feels so Good" is a thank-you note to the audience that gives every band member a closing chance to distinguish themselves. Driven by a determined bass beat, Cru's guitar breaks bounce over organ chords and between harmonica fills, scratching every itch a blues fan could have, all in one song.
The album then closes with the longest and moodiest and most atmospheric track in the bunch, Over several diverse sections on "Can't Get Over the Blues." Cru and his crew give you one more glimpse of a well-oiled blues machine firing on all cylinders – which is especially impressive on snaky mid-tempo songs like these where less experienced musicians have a tendency to over-play instead of letting the silences be a build-up to just the exact right couple of notes. Blues is a feeling that Tas Cru & his band feel on that deep and necessary level, and in a way that would make any of the blues ghosts haunting the streets and venues of Memphis nod in spectral recognition.
For more information on Memphis Song by Tas Cru: