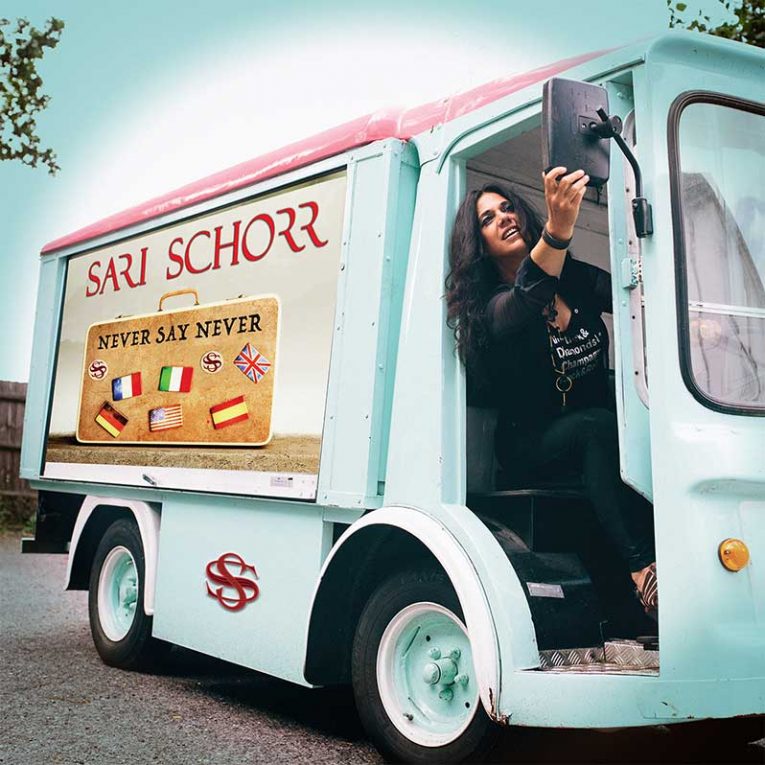 Sari Schorr, the acclaimed blues rock vocalist, will release her sophomore album, Never Say Never, on Manhaton Records on Friday, October 5th. The new album was recorded in The Grange Studios in Norfolk and features Bob Fridzema (ex-King King) on Hammond and keyboards, Ash Wilson on guitar, Mat Beable on bass and Roy Martin on drums.
Sari Schorr has a voice like no other, hyper powerful, husky, muscular, with an incredible texture and range. She delivers sentences as a boxer would throw an uppercut to his opponent.
In 2016, Sari first burst onto the Blues-Rock scene with her critically acclaimed debut album, A Force of Nature, produced by iconic British Blues pioneer Mike Vernon (David Bowie, Eric Clapton, John Mayall, Fleetwood Mac, Peter Green).
Now, two years later, Sari is breaking new ground with her sophomore album, Never Say Never. Sari insisted that the album be recorded live to capture the raw energy of her music.  She has ventured deeper into her personal life. In the process, Sari has revealed herself with a vulnerability and honesty that she admits was as painful as it was healing. Her songs are highly crafted with vibrant lyrics that highlight just how good Sari is at invoking passion, grit, and empathy.
Sari's success comes after years trudging the rugged road of life of the hard-working Blues woman. From her humble beginnings, working the music scene in the legendary fierce South Bronx of New York and on Manhattan's Lower East Side, to a performance at Carnegie Hall, the operatically trained tornado stood her ground as a phenomenal Blues-Rock singer who would not be denied.
Sari's home is her suitcase and her path has always taken her on the road less traveled. Her life is a story of never giving up, being true to yourself and pursuing your passions against all odds. It's a story that is incredibly inspirational and a reminder why we should Never Say Never!
"Songwriting is like running through the sand in stilettos. You really can't get anywhere until you bare your soul." Sari Schorr.
Track Listing
King of Rock and Roll
Thank You
Ready For Love
Valentina
The New Revolution
Beautiful
Turn the Radio On
Maybe I'm Fooling
Back To LA
Freedom
Never Say Never
An Album in a Suitcase – A note from Sari
"Over the last 18 months, I have travelled from a loft apartment in New York, to a finca in Spain, lived over a bakery in Bath, on to a factory in Germany, stayed for a while at a sheep farm in Wales, stopped off at a holiday chalet in Skegness, UK, then to a gîte in France and finally to a barn in Norfolk, England. In each place I have set down my suitcase, full of half-written songs, met up with amazing musicians, writers and producers and finished my second album.
"It has been a long, hard journey, full of trials and tribulations, full of tears, full of joy, full of laughter, full of friendship, but most of all, totally worthwhile. I hope you agree." – Sari Schorr
Sari Schorr will embark on her September tour, see here