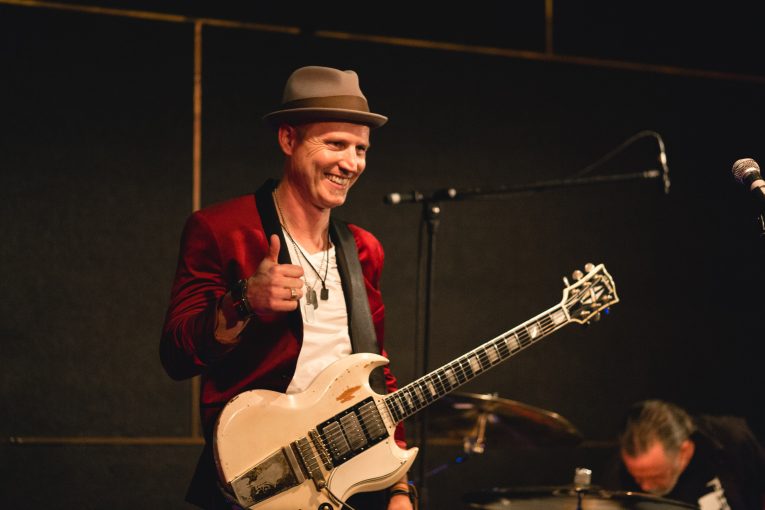 By Martine Ehrenclou
Australian blues musician, guitarist, singer-songwriter, Matty T Wall released his highly anticipated new album, Sidewinder, on Hipsterdumpster Records.
Get ready for the ride of your life.
Produced by the legendary, Grammy-winning producer-engineer, Bob Clearmountain, this album features gritty blues-rock with soul, pop and jazz flavors. Matty T Wall is an extraordinary guitarist who has one hand in blues and roots music, and one eye on what lies ahead. This is a contemporary blues-rock/rock & roll album with several interesting twists. Sidewinder is 12 tracks of edgy, varied styles, featuring outstanding musicianship by Wall and the band.
Sidewinder is brilliant in many ways thanks to the uber-talented Matty T Wall who borrows jazz to expand his blues, rock, soul and pop originals. The extremely tight band is key to the lightning speed riffs and rhythms and almost experimental forays into syncopated, tight beats and varied genres. The band includes Matty T Wall on vocals and guitar, Ric Whittle on drums, Stephen Walker on bass, Gordan Cant on organ, Deli Rowe on backing vocals, Steve Searle on horns, and Jonas Petersen on strings.
The album kicks off with a speeding train, "Slideride," with Wall on slide guitar and energy to burn. This opening track is fast, it's furious and it's rock & roll. Wall's zippy slide guitar riffs dominate this all-instrumental tune, a show-stopper and a whopping choice for the opening track.
The title track, "Sidewinder" is a high energy rocker with top notch rock vocals by Wall. It's almost deceiving as the song initially echoes elements of rock from the 60's, but Wall's voice hurls it into the 21stcentury, his dazzling guitar licks and solos not of this world. Wall is entitled to a little swagger—he has the chops to pull it off. The definition of sidewinder (I had to look it up) is someone who is of a deceitful nature and can't be trusted. The lyrics are from the point of view of a sidewinder, and Wall carries off the persona with sultry vocals and plenty of attitude on the bridge, ensuring he can be trusted, promising to fulfill all needs. Then he sings, "Haha, Sucker." Following that line is a mind blowing guitar solo.
By the time, "Something Beautiful" comes up, I'm ready for a breather.
Not so fast.
An edgy, rhythmic tune supported by a frenetic bass line, "Something Beautiful" really is beautiful, musically spectacular. It's unique and inventive with a jazzy, syncopated feel. Wall's vocals fit this tune neatly with interesting vocal phrasing. His guitar solo, in a word, is outstanding. A standout track.
"Can't Stop Thinking," another standout, is a heavy blues rocker with meaty organ fills by Gordan Cant. Matty T Wall and his band certainly have rhythm down and it shows on this tune  and others. Wall's guitar work is dirty, bluesy—think Gary Clark Jr's guitar effects in a few places. But this track is all Matty T Wall and his guitar chops rock with raw emotion and finesse. You'll see what I mean about his vocal swagger on this tune too.
Yet another standout, "Shake It" hoists you back on the speeding train and takes off. A rhythmic rocker, this tune is rock & roll with a catchy bass guitar line in the chorus. Stunning guitar licks by Wall, reminiscent of Chuck Berry in a couple of places, had me shaking my head with wonder.
After "Going Down," the 60's bring-the-house-down Don Nix cover, comes "Aint That The Truth," which broaches soul, R&B, jazz, and pop territory. Matty T Wall's voice shines on this tune and is well suited for the syncopated, jazzy groove. Lovely backing vocals are offered by Deli Rowe, giving the song an R&B/soul flavor before it shifts into more of a pop track.
This is one versatile band. The variety of styles on the album are welcomed and buoyed by the top shelf musicianship of Matty T Wall and the band.
The all instrumental, "Sophia's Strut" is another track with interesting rhythms, and it showcases Wall's guitar prowess—but more than that—this song has roots in the blues with layers of jazz. The syncopation caught me off guard at first but with Matty T Wall, I should have known better after listening to the album a few times. Clocking in at a 1:43, it's more of an interlude to reset your expectations before the last few songs.
Punctuated by horns, "Walk Out The Door" rides the solid bass playing by Stephen Walker and drumming by Ric Whittle. This blues-rocker has a gospel feel with the layered vocals on the chorus. The guitar solo is pure gold.
"Leave It All Behind" is something else altogether. Acoustic guitars grace this beautiful and melodic song  with no drums—the focus on the vocals and guitars. Wall's voice is vibrant and soulful. The backing vocals, in unison, have an ethereal quality. The lyrics speak of hopelessness, in sharp contrast to the melody and music, which are both uplifting and tranquil. A stunning track.
Closing out the album, "Mississippi Kkkrossroads" is a jazz-rock tune with a message. Opening with a siren and barking dog, the dissonant chords shout a warning. With a spare rhythm section, Wall raps on this one. Once again, his sense of rhythm and timing are pretty impressive. The band is a tight unit, banging it out to drive the theme home.
Whew. This is one remarkable album. The songs aren't glued together with one unifying sound, but with many. Matty T Wall is a powerful, inventive songwriter, guitar player, vocalist and bandleader. I look forward to more.
For more information on Matty T Wall and Sidewinder: