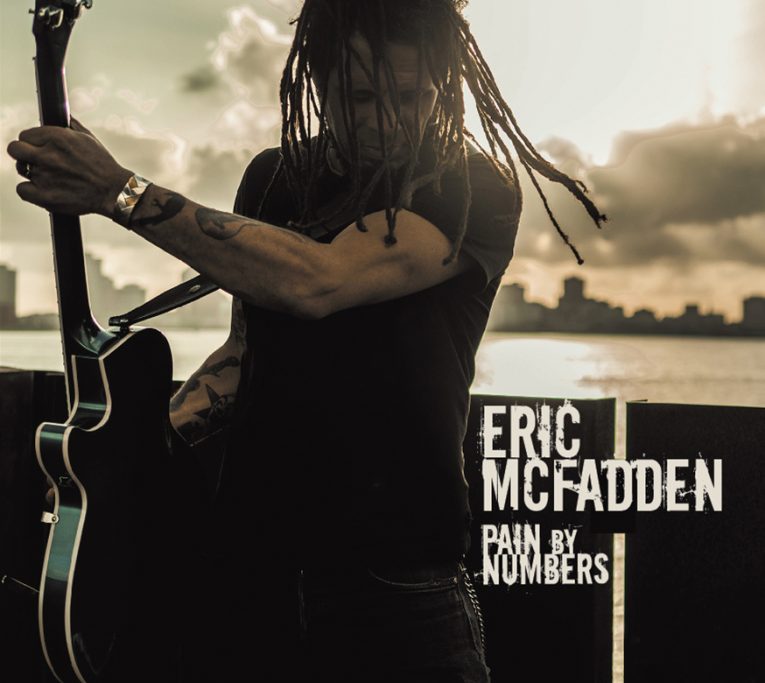 Produced by Tab Benoit, "While You Was Gone" is from the upcoming album, Pain By Numbers by the acclaimed guitarist-vocalist and songwriter, Eric McFadden, out September 7, 2018. Released by Whiskey Bayou Records (Tab Benoit's label) Pain By Numbers offers 12 tracks of dark gospel, compelling rock and dirty blues.
Guitar Player Magazine writes, "If San Francisco is home to anyone approaching the abilities of a modern Jimi Hendrix, it's Eric McFadden."
Encompassing three decades of recording and performing live, McFadden has created his own original style. Dirty blues infused rock with scorching vocals and killer guitar licks, McFadden enlisted renowned musicians to accompany him on Pain By Numbers, including bassist Doug Wimbish from the legendary rock band Living Color, Tab Benoit on keys, and Terrence Higgins on drums (Warren Haynes).
Regarded as a six-string virtuoso, McFadden has toured the world as a solo artist as well as traveling with funk legend George Clinton (Parliament/Funkadelic) and rock legend Eric Burdon (The Animals.) McFadden is also a member of the new supergroup T.E.N and has been collaborating with Fishbone frontman, Angelo Moore. You can also catch Eric on the road with Anders Osborne.
McFadden has an impressive musical pedigree. He has collaborated on stage and in studio with Joe Strummer, George Clinton, Eric Burdon, Stephen Perkins, Bo Diddley, Bonnie Raitt, Stewart Copeland, Pink, Keb' Mo', Jackson Browne, and Ron Wood, to name a few.
McFadden has recorded several independently produced solo and band albums, many of which are regarded as underground masterworks by fans and critics alike. With many albums to his name, his latest releases are the 2011 Bluebird on Fire, and The Light Ahead, an acoustic, unplugged album.
Eric McFadden co-founded The 10-Star Program, alongside his partner in crime, Delphine de St.Paër (a/k/a Queen Delphine). The 10-Star Program provides avenues for artists to work with troubled youth and communities to encourage personal empowerment through music and the arts.
Listen to "While You Was Gone" below.


Track list for Pain By Numbers
While You Was Gone
Love Come Rescue Me
Long Gone
The Girl Has Changed
Skeleton Key
I Never Listened Too Good
So Hard To Leave
If I Die Today
Fool Your Heart
The Jesus Gonna See You Naked
Don't You Wanna Live
Cactus Juice

Eric McFadden is currently on tour. For tour schedule see here.
To pre-order Pain By Numbers
Apple/iTunes
www.whiskeybayourecords.com
For more information on Pain By Numbers by Eric McFadden, produced by Tab Benoit:
Website 
Facebook